Tlhatlhambuto 71: Nungungulu A Tsumbisa Paradise
Tlhatlhambuto 71: Nungungulu A Tsumbisa Paradise
LOWU mufananiso wa paradise kota lezi zi kotekako ku ngha Nungungulu a zi kombisile ka muprofeti wakwe Isaya. Isaya i hanyile xikhatanyana nzhako ka Jona.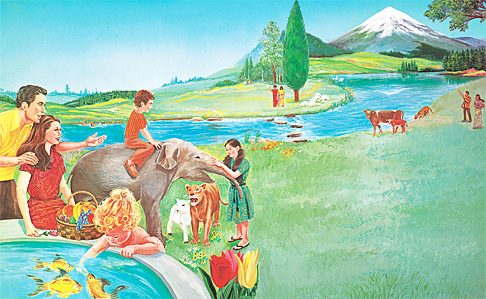 Aku ngalo paradise zi wula ku "simu" kutani "parki." Xana yona ya ku alakanyisa zo kari hi sinako hi zi wonile lomu ka bhuku legi? Yona yi fana nguvu ni simu go saseka legi Jehova Nungungulu a gi maheleko Adamu na Eva, a hi zona ke? Xana yi ta tshuka a misava yontlhe yi maha paradise?
Jehova i byelile muprofeti wakwe Isaya lezaku a tsala hi paradise yiswa yi telako vanhu va Nungungulu. Yena i te ngalo: 'A mahlolwa ni tiyivu zi ta hanya zinwe hi kurula. A marole ni zinghalana zi taga zinwe, na zi hlayisiwa hi zivanana. Hambu xinwanana xi nga ta bayisiwa loku xi hlakanela kusuhani ni nyoka ya wuxungu.'
Vanyingi va taku ngalo: 'Lezo a zi nge tshuki zi maheka. Cima ka kale ku na ni zikarato lomu misaveni, niku zi ta simama ziva kona.' Kanilezi alakanyela hi lezi: I muti wa lixaka muni lowu Nungungulu a nyikileko Adamu na Eva?
Nungungulu i vekile Adamu na Eva lomu paradiseni. Vona va lahlile a muti lowo wabye wo saseka ntsena hi kuva va tsikile ku ingisa Nungungulu, zalezo va khosahala va tlhela vafa. Nungungulu i tsumbisa ku ngalo i ta nyika vanhu lava va mu ranzako a zilo za zinwe lezi Adamu na Eva va zi luzileko.
Ka paradise yiswa leyi yi tako a ku na nchumu lowu wu to bayisa kutani ku hahlula. Ku tava ni kurula ko mbhelela. A vanhu vontlhe va tava ni wutomi gi nene ni kutsaka. Yona yi tava kota lezi Nungungulu a nga yi lavisile zona kusanguleni. Kanilezi anzhako hi ta gonza hi lezi Nungungulu a to zi mahisa zona.
Isaya 11:6-9; Kuvululelwa 21:3, 4.
---
Ziwutiso
I wa hi mani Isaya, i hanyile ka xikhati muni, niku zini lezi Jehova a mu kombileko?
Gi wula yini a gezu "paradise," niku xana gona gi ku alakanyisa yini?
Zini lezi Jehova a byelileko Isaya a kuva a tsala xungetano hi Paradise yiswa?
Hikuyini Adamu na Eva va lahlileko a muti wabye wo saseka?
Zini lezi Jehova a tsumbisako lava va mu ranzako?
Ziwutiso zo engetela
Gonza Isaya 11:6-9.

Xana a Mhaka ya Nungungulu yi kombisa kuyini a kurula loku ku tova kona xikari ka zihari ni vanhu le misaveni yiswa? (Tis. 148:10, 13; Isa. 65:25; Ezek. 34:25)

Kutatiseka muni ka magezu ya Isaya loku ku wonekako hi tlhelo ga moya xikari ka vanhu va Jehova inyamutlha? (Rom. 12:2; Efe. 4:23, 24)

Himani a fanelako kuva ni wudzunzo hi kota ya kuhunzuluswa ka wumunhu ga vanhu zalezi ni le misaveni yiswa? (Isa. 48:17, 18; Gal. 5:22, 23; Fil. 4:7)

Gonza Kuvululelwa 21:3, 4.

Xana a Mitsalo yi kombisa kuyini lezaku a ku Nungungulu a aka zinwe ni vanhu zi wula ku ngalo yena i kona hi kufananisela, na ku nga hi hi xiviri, laha misaveni? (Levi 26:11, 12; 2 Kro. 6:18; Isa. 66:1; Kuv. 21:2, 3, 22-24)

A mihloti ni kubayisa lezi zi to fuviswa, xana za lixaka muni ke? (Lu. 8:49-52; Rom. 8:21, 22; Kuv. 21:4)