Ehokololo 56: Saul—Omukwaniilwa Gwotango gwaIsrael
Ehokololo 56: Saul—Omukwaniilwa Gwotango gwaIsrael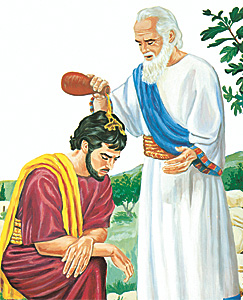 TALA nkene Samuel ta tile omugwayo momutse gwomulumentu. Shika osho yo haa ningile omuntu okuulika kutya ye okwa hogololwa oye omukwaniilwa. Jehova ota lombwele Samuel a tile omugwayo momutse gwaSaul. Ogwo omugwayo gwi ikalekelwa ngoka gwa nika nawa.
Saul ka li a dhiladhila kutya ye omwaanawa a gwana okukala omukwaniilwa. 'Ngame ondomezimo lyaBenjamin, eshonashona muIsrael,' ye ta ti kuSamuel. 'Omolwashike to ti kutya ngame otandi ka kala omukwaniilwa?' Jehova oku hole Saul molwashoka ye ihi iningi ongaangoka omunene nenge a simana. Shika osho molwashono Ye te mu hogolola a kale omukwaniilwa.
Ihe Saul ke shi ohepele nenge omushona. Ye okwa za muukwanegumbo uuyamba, noye omulumentu e na ondjelo ombwaanawa nomule noonkondo. Ye omule e vule ayehe muIsrael! Saul oha vulu wo okumatuka a mana mo noku na oonkondo odhindji. Aantu oya nyanyukwa sho Jehova a hogolola Saul oye omukwaniilwa. Yo ayehe otaa tameke tayi igidha: 'Omukwaniilwa na kale nomwenyo omule!'
Aatondi yaIsrael natango oye na oonkondo ngaaka ngaashi shito. Yo otaye etele natango Aaisrael uupyakadhi owindji. Mbala sho Saul a gwayekwa omukwaniilwa, Aayamoni otaa yi ye ke ya kondjithe. Ihe Saul ota gongele etanga enene nota dhenge Aayamoni. Shika otashi nyanyudha aantu noonkondo sho Saul oye omukwaniilwa.
Molweendo lwoomvula Saul ota wilike Aaisrael ya sinde aatondi yawo iikando oyindji. Saul oku na wo omumati ependa gwedhina Jonatan. Jonatan nota kwatha Israel okusinda omalugodhi ogendji. Aafilisti natango oyo aatondi aanenenene yAaisrael. Esiku limwe omayuvi lwomayuvi gAafilisti otage ya okukondjitha Aaisrael.
Samuel ota lombwele Saul a tegelele sigo ye te ya nota ningile Jehova eyambo nenge omagano. Ihe Samuel ite ya mbala. Saul okwa tila kutya Aafilisti otaye ke ya ponokela, nota ningi ye mwene eyambo. Lwahugunina sho Samuel e ya, ye ota ti kuSaul kutya ye okwa li inaa vulika. 'Jehova ota ka hogolola omuntu gulwe oye omukwaniilwa gwaIsrael,' Samuel ta ti.
Konima Saul okwa kala ishewe inaa vulika. Ano Samuel ote mu lombwele: 'Oshi li nawa okukala to vulika kuJehova shi vulithe oku mu yambela onzi ombwanawa. Molwashoka ngoye ino vulika kuJehova, Jehova ite ku kaleke omukwaniilwa gwaIsrael.'
Tse otatu vulu okwiilonga oshilongwa oshiwanawa muka. Otashi tu ulukile nke-ne sha simana okuvulika aluhe kuJehova. Notashi ulike kutya omuntu omwaanawa, ngaashi Saul a li, ota vulu okulunduluka nota ningi omwiinayi. Tse inatu hala nando okuninga aawinayi, hasho mbela?
1 Samuel ontopolwa 9 sigo 11; 13:5-14; 14:47-52; 15:1-35; 2 Samuel 1:23.
---
Omapulo
Samuel ota ningi shike mefano moka, nomolwashike?
Omolwashike Jehova a li a hokwa Saul, nokwa li omulumentu a tya ngiini?
Omwanamati gwaSaul okwa li lye, noshike omumati ngoka ta ningi?
Omolwashike Saul a li a ningi omafikiloyambo pehala lyokutegelela Samuel e ga ninge?
Iiyilongomwa yini tatu vulu okwiilonga mehokololo kombinga yaSaul?
Omapulo ga gwedhwa po
Lesha 1 Samuel 9:15-21 nosho wo 10:17-27.

Ongiini Saul iikala ye yokwiifupipika ya li ye mu kwathele a yande okukatuka oonkatu dhe endelela sho aalumentu yontumba ya popi nokwaahe na esimaneko kombinga ye? (1 Sam. 9:21; 10:21, 22, 27; Omayel. 17:27)

Lesha 1 Samuel 13:5-14.

Uulunde washike Saul a li a longo puGilgal? (1 Sam. 10:8; 13:8, 9, 13)

Lesha 1 Samuel 15:1-35.

Eyono lini lya kwata miiti Saul a li a yono shi na ko nasha naAgag, omukwaniilwa gwAayamaleki? (1 Sam. 15:2, 3, 8, 9, 22)

Ongiini Saul a li a kambadhala okuyukipalitha iilonga ye nokupa yalwe ondjo? (1 Sam. 15:24)

Elondodho lini tu na okupulakena kulyo nena ngele tatu pewa omayele? (1 Sam. 15:19-21; Eps. 141:5; Omayel. 9:8, 9; 11:2)