Ehokololo 26: Job Okwa Dhiginina muKalunga
Ehokololo 26: Job Okwa Dhiginina muKalunga
NGOYE ou uvitile mbela omulumentu nguka te ehama ohenda? Edhina lye oJob, naangoka a thikama mpaka puye omukiintu gwe. Owa tseya mbela shoka ta lombwele Job? 'Tuka Kalunga u se.' Natu tale kutya omolwashike ye a popi iinima ya tya ngaaka iinyanyalithi, nomolwashike Job e li muuwehame uunene ngawo.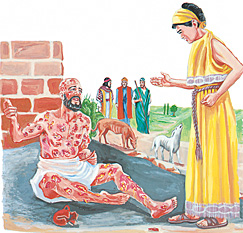 Job okwa li omulumentu omudhiginini ngoka a vulika kuJehova. Ye okwa kala moshilongo shaUs, popepi naKanaan. Jehova okwa li e hole Job unene, ihe opwa li gumwe ngoka e mu tonde. Owa tseya kutya oye lye?
Oye Satana Ondiaboli. Dhimbulukwa, Satana oye omuyengeli omwiinayi ngoka e tonde Jehova. Ye okwa ningitha Adam naEva ya kale inaaya vulika kuJehova, nokwa li ta dhiladhila kutya ye ota vulu okuningitha aantu ayehe ya kale ihaaya vulika kuJehova. Ihe okwe shi vulile ngaa mbela? Aawe. Dhiladhila owala kaalumentu naakiintu ayehe aadhiginini mboka twi ilongo kombinga yawo. Yangapi ngoye to vulu okutumbula po?
Konima sho Jakob naJosef ya si muEgipiti, Job okwa li omuntu ngoka omudhiginini unene muJehova kombanda yevi alihe. Jehova okwa li a hala a tseyithe Satana kutya ye ita vulu a ningithe ayehe ya kale aawinayi, ano ye okwa ti: 'Tala kuJob. Tala nkene a dhiginina mungame.'
'Ye omudhiginini,' Satana ta patana, 'molwashoka owe mu laleke nuuyamba noku na iinima oyindji iiwanawa. Ihe ngele owe yi kutha po, ote ke ku tuka.'
Ano Jehova okwa ti: 'Tsikila. Yi kutha po. Ningila Job iinima ayihe iiwinayi mbyoka ngoye wa hala. Otatu ka tala ngele ota ka tuka ndje. Sa owala oshimpwiyu opo waahe mu dhipage.'
Tango, Satana okwa yakitha po oongombe noongamelo dhaJob kaantu, noonzi dhe odha dhipagwa po. Opo nduno a dhipagitha po oyanamati 10 naakadhona ye koshikungulu. Konima Satana oku umbu Job uuvu uunyanyalithi. Job okwa kala muuwehame uunene. Osho molwashoka omukiintu gwaJob a ti kuye: 'Tuka Kalunga u se.' Ihe Job okwa tindi oku shi ninga. Natango ookuume ke aaniifundja oye ya noye mu lombwele kutya ye okwa li a kala nonkalamwenyo ombwinayi. Ihe Job okwa kala a dhiginina.
Shika osha nyanyudha Jehova noonkondo, nokonima ye okwa laleke Job nuuyamba, ngaashi to vulu oku shi mona mefano. Ye okwe mu aludha kuuvu we. Job okwa li natango e na aanona 10 aawanawa, nosho wo oongombe, oonzi noongamelo oyindji lwaali yi vulithe nale.
Ngoye oto ka kala ngaa aluhe omudhiginini muJehova ngaashi Job? Ngele osho, Kalunga ote ke ku laleka wo nuuyamba. Ngoye oto vulu oku ka kala nomwenyo sigo aluhe uuna evi alihe tali ka ningwa ewanawa ngaaka ngaashi oshikunino shaEden.
Job 1:1-22; 2:1-13; 42:10-17.
---
Omapulo
Job okwa li lye?
Satana okwa li a kambadhala okuninga shike, ihe mbela okwa li ngaa e shi pondola?
Jehova okwa li a pe Satana epitikilo a ninge shike, nomolwashike?
Omolwashike Job omukiintu gwe a li e mu lombwele kutya 'na tuke Kalunga a se'? (Tala kefano.)
Ngaashi to vulu okumona mefano etiyali, Jehova okwa li a laleke nuuyamba Job ngiini, nomolwashike?
Ngele otwa kala aadhiginini kuJehova ngaashi Job, otatu ka mona omalaleko nuuyamba geni?
Omapulo ga gwedhwa po
Lesha Job 1:1-22.

Mbela ongiini nena Aakriste taya vulu okuholela Job? (Job 1:1; Fil. 2:15; 2 Pet. 3:14)

Lesha Job 2:1-13.

Omomikalo mbali dhini tadhi kondjithathana Job nomukulukadhi gwe ya li yi inyenge kokuhepekwa kuSatana? (Job 2:9, 10; Omayel. 19:3; Mika 7:7; Mal. 3:14)

Lesha Job 42:10-17.

Omafaathano geni ga li ge li pokati kondjambi ndjoka Job a li a pewa molwuudhiginini we naandjoka Jesus a li a pewa? (Job 42:12; Fil. 2:9-11)

Mbela ongiini tatu ladhipikwa komalaleko nuuyamba ngoka Job a li a pewa molwokukakatela uudhiginini kwe kuKalunga? (Job 42:10, 12; Heb. 6:10; Jak. 1:2-4, 12; 5:11)