Ikuigbe avọ 105: Ẹhẹrẹ evaọ Jerusalẹm
Ikuigbe avọ 105: Ẹhẹrẹ evaọ Jerusalẹm
AHWO ọnana nọ arọ etenẹ na ilele Jesu. Ayo ẹme riẹ a tẹ doma ji evaọ Jerusalem. Whaọ okenọ ai kpobi a gbẹ jẹ hẹrẹ, edo ologbo ọ tẹ vọ uwou na soso. Yọ o bi do wọhọ edo ofou ọgaga. Kọ oke oye erọo errae i ro muhọ ẹvia evaọ ehru uzou omomọvo ilele na. Whọ sae ruẹ errae na evaọ ehru rai omomọvo? Eme họ otọ riẹ kpobi?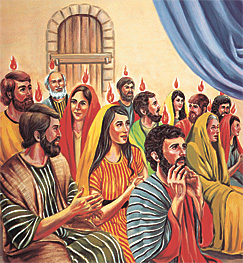 Oware ugbunu orọ! Jesu o zihe ze odhiwu no kuoma gbe Ọsẹ riẹ, o te bi ku ẹzi ọfuafo Ọghẹnẹ ku ilele riẹ. Kọ whọ riẹ oware nọ ẹzi ọnana ọwọ rai ru? Ai kpobi a te mu evẹrẹ efa sasa họ ẹjẹ.
Ahwo buobu evaọ Jerusalem ayo edo na nọ o je do wọhọ ofou ọgaga, a tẹ nyaze re a ruẹ oware nọ orẹ via. Ahwo jọ rai erẹwho efa ano ze enọ e nyaze etenẹ fiki ọ Pẹntikọst eha Ahwo-Izrẹl. Who rri epanọ u re gbe erara na unu te! Nọ ilele na a be rọ evẹrẹ obọ rai ta eware igbunu nọ Ọghẹnẹ o ru yọ a bi yo.
'Ahwo nana kpobi Galili a noze,' ere erara na e tae. 'Kọ ẹvẹ ojẹrọnọ a be sae ta evẹrẹ efa enana sasa erọ erẹwho nọ ma no ze?'
Pita o te dikihẹ re ọfa otọ riẹ kae. Ọ tẹ kpare urru riẹ ọ tẹ ta epanọ a ro kpe Jesu kẹ ahwo jegbe nọ Jihova ọ kpare riẹ no iwhowhu ze. 'Enẹna Jesu ọ rọ obọze Ọghẹnẹ evaọ obọ odhiwu,' ere Pita ọ tae. 'Ẹzi ọfuafo nọ a yaeya riẹ na o te je kue'i ku no. Koye osoriẹ nọ wha jẹ ruẹ je yo eware igbunu enana.'
Whaọ, okenọ Pita ọ ta eware enana, ibuobu rai jọ i te weri gaga kpahe epanọ a ru Jesu. 'Ovẹ ma re ruẹ?' a tẹ nọ. Pita ọ tẹ ta kae: 'Ufore wha nwene uzuazọ rai re wha họ ame.' Fikiere evaọ ẹdẹ ọyena ahwo wọhọ 3,000 a tẹ họ ame a te zihe ruọ ilele Jesu.
Iruẹru 2:1-47.
---
Enọ
Wọhọ epanọ uwoho na u dhesẹ na, eme ọ via kẹ ilele Jesu nọ e jẹ hẹrẹ evaọ Jerusalẹm?
Eware igbunu vẹ erara nọ i kpohọ Jerusalẹm a ruẹ?
Eme Pita ọ ta kẹ ahwo na?
Ẹvẹ oma u ru ahwo na nọ a gaviezọ kẹ Pita no, kọ eme ọ ta kẹ ae nọ a ru?
Bro ahwo a họ-ame evaọ ẹdẹ Pẹntikọst, 33 C.E. yena?
Enọ efa
Se Iruẹru 2:1-47.

Ẹvẹ eme ọ Pita nọ e rrọ Iruẹru 2:23, 36 i ro dhesẹ nọ uwhu Jesu o jọ uzou orẹwho ahwo Ju na soso? (1 Tẹs. 2:14, 15)

Ẹvẹ Pita o ro fi emamọ oriruo hotọ orọ Ikereakere na nọ a re ro lele ahwo jiroro? (Iruẹru 2:16, 17, 29, 31, 36, 39; Kọl. 4:6)

Ẹvẹ Pita ọ rọ rehọ ọrọ ọsosuọ "isiavẹ uvie odhiwu" nọ Jesu ọ yeyaa nọ ọ te rọ kẹe na ru iruo? (Iruẹru 2:14, 22-24, 37, 38; Mat. 16:19)