Ikuigbe avọ 93: Jesu Ọ Kuọ Ahwo Buobu
Ikuigbe avọ 93: Jesu Ọ Kuọ Ahwo Buobu
OWHARE ugbunu jọ ovia no. Anwani kpe Jọn Ọhame na obọna. Ọ were Hẹrọdias, aye ovie na ha, ọ tẹ sai ru ovie na nọ o ro bru uzou Jọn no.
Nọ Jesu o yo kpahe onana, oda riẹ gaga. Ọye omariẹ o te kpohọ oria ofọfọ. Rekọ ahwo a te leliei. Nọ Jesu ọ ruẹ ogbotu na, o te weri kae. Fikiere ọ tẹ ta ẹme kpahe uvie Ọghẹnẹ kae, enọ ejẹ mọ evie rai o te siwae.
Owọwọ oyena ilele riẹ i te bru'ei ze a tẹ ta nọ: 'Oke orro raha no, yọ etenẹ oria ofọfọ. Fikiere vi ahwo na vrẹ re a sae dẹ emu kẹ omarai evaọ iwhre nọ ekẹle na.'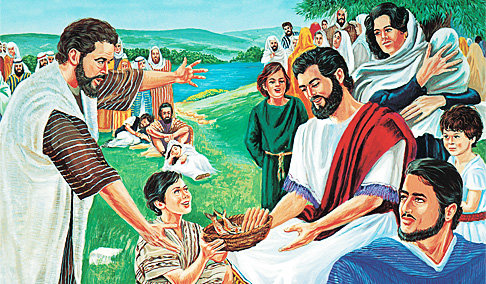 Jesu o te yo nọ, 'Uwoma re a nya vrẹ hẹ. Wha kae oware jọ re a re.' Jesu o te kuaro ku Filip, ọ tẹ ta nọ: 'Bovẹ ma te jọ dẹ emu nọ o re te ahwo ọnana kpobi kua?'
'Igho buobu buobu a rẹ raha dẹ emu re o moto otẹ sai te ohwo,' ere Filip o yo. Andru ọ tẹ ta nọ: 'Ọmọ nana, nọ ọ be wha emu mai na, o wo ikulu ebrẹdi isoi gbe imiyei ivẹ. Rekọ i re te oware ovo kẹ ogbotu ahwo ọnana kpobi hi.'
Ta kẹ ahwo na re a keria ehru ẹbe na,' ere Jesu ọ tae. Kẹsena o te yere Ọghẹnẹ fiki emu na, o te mue'i họ ẹbẹre kpohọ ewewẹe. Ofariẹ ilele na etẹ rehọ ebrẹdi na gbe imiyei na kẹ ahwo na kpobi. Ezae 5,000 ejariẹ, yọ idu eyae na gbe emaha na i buvi ere. Ai kpobi a tẹ re eva etẹ vọ'ae. Nọ ilele na a kua enọ i kiọkọ koko etẹ vọ ikete 12!
Jesu ọ tẹ rehọ ilele riẹ fihọ okọ re a fa abade Galili vrẹ. Oke aso ofou ologbo ọ tẹ ze, ẹkporo ọ tẹ wọ okọ na kpenẹ no ọ vẹ wọe ze enẹ. Ozọ u te mu ilele na gaga. Koyehọ, evaọ udevie aso na, a tẹ ruẹ ohwo jọ nọ ọ be nya ehru ame bru ae tha. A te bo fiki ozọ, keme a riẹ oware nọ a rẹ ruẹ hẹ.
'Ozọ umu owhai hi,' ere Jesu ọ tae. 'Mẹ yọ!' Yọ u ti mua'i ẹro ghele he. Fikiere Pita ọ tẹ ta nọ: 'Olori, otẹrọnọ ghinọ owhẹ, kọ ta kẹ omẹ re mẹ nya ehru ame na bru owhẹ ze.' Jesu o te yo nọ: 'Nyaze!' Pita ọ tẹ kparoma o te mu ehru ame na họ ẹnya! Kẹsena ozọ u te mue'i o te muhọ ediwo, rekọ Jesu o te siyei.
Oke ofa, Jesu ọ tẹ wariẹ kuọ idu ahwo buobu. Ọkpọna kọ ikulu ebrẹdi ihrẹ gbe imiye esese nọ i bu hu. Jẹ ruọ epọvona emu ọ tẹ jẹ vọ kẹ ahwo kpobi. Kọ epanọ Jesu ọ jẹrọ sẹro ahwo o gbe gbunu? Oke nọ o ti suẹ wọhọ ovie Ọghẹnẹ, ma gbẹ te ruawa oware ovuovo ho!
Matiu 14:1-32; 15:29-38; Jọn 6:1-21.
---
Enọ
Oware uyoma vẹ o via kẹ Jọn Ọhọahwo-Ame na, kọ ẹvẹ o jọ Jesu oma?
Ẹvẹ Jesu ọ rọ ko ogbotu nọ i lele i rie, kọ ẹvẹ emu nọ o kiọkọ o bu te?
Fikieme ozọ u ro mu ilele na evaọ aso, kọ eme ọ via kẹ Pita?
Ẹvẹ Jesu ọ rọ ko idu ahwo evaọ orọ avọ isiava?
Fikieme u ti ro woma gaga nọ Jesu o te mu otọakpọ na họ esuo no wọhọ Ovie nọ Ọghẹnẹ o ro mu?
Enọ efa
Se Matiu 14:1-32.

Eme ikuigbe nọ e rrọ Matiu 14:23-32 i dhesẹ kẹ omai kpahe uruemu ọ Pita?

Ẹvẹ okerefihotọ Ikereakere na o ro dhesẹ nọ Pita ọ ghinẹ kpako evaọ iroro uwhremu na je fi uruemu okpakpa riẹ na kparobọ? (Mat. 14:27-30; Jọn 18:10; 21:7; Iruẹru 2:14, 37-40; 1 Pita 5:6, 10)

Se Matiu 15:29-38.

Ẹvẹ Jesu o ro dhesẹ adhẹẹ kẹ ekwakwa iwo nọ i no obọ Ọsẹ riẹ ze? (Mat. 15:37; Jọn 6:12; Kọl. 3:15)

Se Jọn 6:1-21.

Ẹvẹ Ileleikristi nẹnẹ a sai ro lele oriruo Jesu kpahe egọmeti? (Jọn 6:15; Mat. 22:21; Rom 12:2; 13:1-4)