Ikuigbe avọ 89: Jesu o ru etẹmpol na fo
Ikuigbe avọ 89: Jesu o ru etẹmpol na fo
JESU ofu oghine mue'i etenẹ, ogbẹrọ ere? Whọ riẹ onọ osoriẹ nọ ofu o je mue'i tere? Keme ahwo ọnana nọ a rọ evaọ tẹmple Ọghẹnẹ obọ Jerusalem a the uvou gaga. A be dawo epanọ a re ro wo igho buobu mi ahwo nọ a ze obonẹ te gọ Ọghẹnẹ.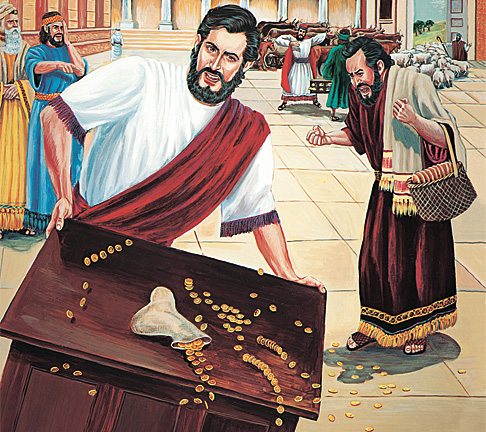 Kọ whọ ruẹ upelẹ iruẹ ezae eyena kpobi gbe igodẹ avọ ilekuku? Whaọ, obọ evaọ tẹmple obonẹ ahwo na a jẹ be zẹ erao enana. Kọ whọ riẹ onọ osoriẹ? Keme na Ahwo-Izrẹl a gwọlọ erao gbe evra re a ro dhidhe kẹ Ọghẹnẹ.
Uzi Ọghẹnẹ o ta nọ okenọ Ohwo-Izrẹl o te ru thọ, kọ o re dheidhe kẹ Ọghẹnẹ. Yọ eke efa, erọ re, nọ Ahwo-Izrẹl a je dhe idhe. Rekọ bovẹ Ohwo-Izrẹl ọ te jọ wo evra gbe erao nọ o re ro dheidhe kẹ Ọghẹnẹ?
Ahwo-Izrẹl jọ a wo evra gbe erao. Fikiere a sae rehọ eyena dheidhe. Rekọ Ahwo-Izrẹl buobu a wo erao vievie he hayo evra. Yọ obonọ ejọ erẹ ria otherabọ no Jerusalem gaga, a rẹ sae jọ erao rai rehọ ọjọ ze obọ tẹmple ho. Fikiere ahwo a jẹ ze obonẹ re adẹ erao hayo evra nọ a gwọlọ. Rekọ ezae nana a te bi mi ahwo igho bu hrọ. A tẹ be wha ahwo ria. U te no oye no, ufo re a hẹ zẹ eware evaọ obọ tẹmple Ọghẹnẹ obonẹ hẹ.
Onana họ onọ u ru Jesu muofu. Fikiere ọ tẹ gale emẹjẹ ahwo na avọ igho viotọ ọ tẹ vaha ibigho rai. Ofariẹ, ọ tẹ rehọ ifi ru oriariẹ o te le erao na kpobi no tẹmple no. Ọ tẹ ta kẹ ahwo nọ a be zẹ ilekuku na nọ: 'Wha tọlai no etenẹ no! Wha gbe ru uwou Ọsẹ mẹ họ o ria nọ a jẹ kọ igho ho.'
Ilele Jesu jọ e jọ etẹe kugbei evaọ obọ tẹmple Jerusalem na. U gbe rai unu nọ a ruẹ oware nọ Jesu o re ruo. Kọ okioye na a kareghẹhọ o ria evaọ Ebaibol na o gbe nọ o jẹ ta kpahe Ọmọ Ọghẹnẹ nọ: 'Uyoyou uwou Ọghẹnẹ o te jọ oma riẹ tua wọhọ erae.'
Okenọ Jesu ọ jọ obọ Jerusalem nọ okpohọ eha Ọnyavrẹ, o ru eware igbunu buobu. Oke ofa riẹ, Jesu o te no Judia o te mu onya ezihe kpobọ Galili riẹ họ. Rekọ nọ ọ jọ edhere, ọ tẹ nya ubrotọ Sameria vrẹ. J'oma ruẹ oware nọ ojọ obei via.
Jọn 2:13-25; 4:3, 4.
---
Enọ
Fikieme a be rọ zẹ erao evaọ etẹmpol na?
Eme ọ lẹliẹ eva dha Jesu?
Wọhọ epanọ whọ be jọ uwoho na ruẹ na, eme Jesu o ru, kọ didi ujaje ọ kẹ ezae nọ e be zẹ irueruẹ na?
Nọ ilele Jesu a ruẹ oware nọ o bi ru, eme a kareghẹhọ?
Diẹse Jesu ọ nya vrẹ nọ o je zihe kpohọ Galili?
Onọ ofa
Se Jọn 2:13-25.

Ma te roro kpahe eva nọ e dha Jesu kẹ ahwo nọ a je nwene igho evaọ etẹmpol na, ẹvẹ ma re rri ekiọthuọ evaọ Ọgwa Uvie? (Jọn 2:15, 16; 1 Kọr. 10:24, 31-33)