Ikuigbe avọ 83: Igbẹhẹ Jerusalem
Ikuigbe avọ 83: Igbẹhẹ Jerusalem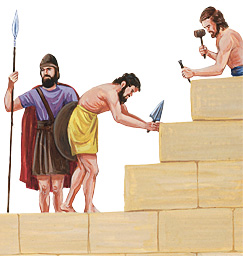 RRI iruo na kpobi nọ a rọ etenẹ ru. Ahwo-Izrẹl a rọ iruo be bọ igbẹhẹ Jerusalem. Okenọ Nebukadneza Ovie ọraha Jerusalem ikpe 152 nọ evrẹno, ọ tehe igbẹhẹ na fihọ otọ ọ tẹ mahe inu okpẹwho na. Ahwo-Izrẹl a wariẹ igbẹhẹ na bọhọ okenọ a tu no Babilọn te uwou obọ.
Ẹvẹ who roro nọ etenẹ ọ ria ikpe enana soso ababọ igbẹhẹ nọ ewariẹ okpẹwho rai họ ọ jọ kẹ ahwo na? A wo omofọwẹ hẹ. Ewegrẹ rai esae nyaze lọlọhọ a vẹ họrai. Rekọ urere riẹ Nehemaya ọzae ọnana o bi fiobọhọ kẹ ahwo na enẹna re a wariẹ igbẹhẹ na bọ. Kọ whọ riẹ ohwo nọ Nehemaya ọ rọ?
Nehemaya yọ Ohwo-Izrẹl nọ o no okpẹwho Susan ze, o ria nọ Mọdekae avọ Ẹsta a be ria. Nehemaya o ru iruo evaọ ọgwa ovie na, fikiere o sae jọ nọ ọ jọ ogbẹnyusu owoma ọ Mọdekae avọ Ẹsta Ovie-aye na. Rekọ Ebaibol eta ha inọ Nehemaya o ruiruo kẹ ọzae Ẹsta, Ahasuerọs Ovie. O ruiruo kẹ ovie nọ ọ rọ kpahiẹe Atagzagzis Ovie.
Kareghẹhọ, Atagzagzis họ ovie owoma nọ ọ rehọ igho eyena kpobi kẹ Ẹzra re ọ wha zihe kpobọ Jerusalem re a rọ bọ tẹmple Jihova. Rekọ Ẹzra ọ bọ igbẹhẹ okpẹwho na nọ ikporo fihọ otọ na ha. J'oma ruẹ epanọ o nya ri nọ Nehemaya o ro ru iruo enana.
U te ikpe 13 no anwẹ nọ Atagzagzis ọ kẹ Ẹzra igho re a rọ bọ tẹmple na. Enẹna Nehemaya họ ọwha-egho ologbo kẹ Atagzagzis Ovie. Otọ riẹ họ ọye ọ rẹ sa udi ovie kẹe, u ve je mue'i ẹro nọ ohwo ọvo ọ be dao re ọnua ovie na ha. Enana yọ iruo nọ i wo uzou gaga.
Koyehọ, ẹdẹjọ Hanani oniọvo Nehemaya gbe amọfa nọ a no otọ Izrẹl ze a te weze bru Nehemaya. A tẹ ta kẹe kpahe ukpokpoma nọ o rọ Ahwo-Izrẹl e te, jegbe epanọ igbẹhẹ Jerusalem i gbe ro hrẹ fihọ otọ. Onana u te ru Nehemaya weri gaga, ọ tẹ lẹ se Jihova kpahiẹe.
Ẹdẹjọ ovie na o te muẹrohọ nọ Nehemaya o bi weri, ọ tẹ nọ: 'Ẹvẹ who jebi weri gaga ere?' Nehemaya ọ tẹ ta kẹe nnọ fiki epanọ oghẹrẹ nọ Jerusalem erọ uyoma hrọ igbẹhẹ na ihrẹ fihọ otọ. 'Eme họ onọ whọ gwọlọ?' ovie na ọ tẹ nọ.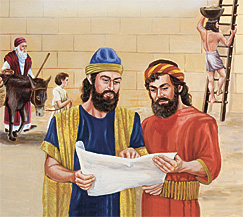 'Jọ me kpobọ Jerusalem,' ere Nehemaya ọ tae, 're mẹ wariẹ igbẹhẹ na bọ.' Ovie Atagzagzis o re yoyou gaga. Ọ tẹ ta nọ Nehemaya ọ sai kpo, o te je fiobọhọ kẹe gwọlọ ire rọkẹ iruo ebabọ na jọ. Okenọ Nehemaya ọ nwani te Jerusalem no, ọ tẹ ta kpahe oma iruo riẹ kẹ ahwo na, iroro na e tẹ werae, a tẹ ta nọ: 'J'oma muhọ ẹ bọ.'
Okenọ iwegrẹ Ahwo-Izrẹl a ruẹ ugbẹhẹ nọ u bi kpehru, a tẹ ta nọ: 'Ma re kpobọ ehru re ma kpai, re iruo ebabọ na edaji.' Rekọ Nehemaya o te yo kpahe onana, ọ tẹ rehọ egbọdọ gbe izuẹ kẹ iruiruo na. Ọ tẹ ta nọ: 'Wha dhozọ iwegrẹ mai hi. Họre kẹ inievo ra, kẹ emọ ra, kẹ eyae rai, jẹ rọ kẹ iwou rae.'
Ahwo na a wharo gaga. A rehọ ekwakwa ẹmo rae thoma tuvo taso, yọ a be bọ vrẹ. Fikiere evaọ edẹ 52 ọvo igbẹhẹ na i te re. Enẹna ahwo na a te wo omofọwẹ evaọ okpẹwho na. Nehemaya avọ Ẹzra a te je wuhrẹ ahwo izi Ọghẹnẹ, eva e tẹ jẹ were ahwo na.
Rekọ yọ eware na e rẹ te jọ epanọ ejọ họ tao re a tẹ rehọ Ahwo-Izrẹl nọ a mu imu kpobọ Babilọn. Ovie Pasia ọye ọ rọ ahwo na esuo yọ a rẹ siẹe ba ẹga ha. Rekọ Jihova ọya eya nọ o re ti vi ovie ọkpokpọ tha, je gbe nnọ ovie ọnana ọ rẹ te rehọ udhedhẹ se ahwo. O no họ ovie ọnana? Ẹvẹ ọ te rọ rehọ udhedhẹ ze akpọ na? Ikpe wọhọ 450 evrẹno tao re a te te yo oware ofa kpahe onana. Ofa eyẹ ọ rọ ọmọ nọ o wo uzou gaga ọ rọ. Rekọ oyena yọ iku-igbe efa.
Nehemaya izou 1 ri te 6.
---
Enọ
Ẹvẹ o jọ emọ Izrẹl oma nọ igbẹhẹ e wariẹ okpẹwho rai Jerusalẹm họ họ?
Ono họ Nehemaya?
Didi iruo Nehemaya o je ru, kọ fikieme u je wuzou?
Usi vẹ o wha ọkora se Nehemaya, kọ eme o ru?
Ẹvẹ Atagzagzis Ovie na o ro dhesẹ ẹwo kẹ Nehemaya?
Ẹvẹ Nehemaya ọ ruẹrẹ iruo ebabọ na họ re ewegrẹ emọ Izrẹl a gbẹ sae whaha iruo na ha?
Enọ efa
Se Nehemaya 1:4-6 gbe 2:1-20.

Ẹvẹ Nehemaya ọ rọ gwọlọ ọkpọvio Jihova? (Neh. 2:4, 5; Rom 12:12; 1 Pita 4:7)

Se Nehemaya 3:3-5.

Eme ekpako gbe idibo iruiruo a re wuhrẹ no ohẹriẹ nọ o jọ udevie ahwo Tẹkoa avọ "ikpahwo rai" ze? (Neh. 3:5, 27; 2 Tẹs. 3:7-10; 1 Pita 5:5)

Se Nehemaya 4:1-23.

Eme ọ wọ emọ Izrẹl ruabọhọ ebabọ ghelọ ọkparesuọ ọgaga? (Neh. 4:6, 8, 9; Ol. 50:15; Aiz. 65:13, 14)

Evaọ edhere vẹ oriruo emọ Izrẹl o rọ rrọ uduotahawọ kẹ omai nẹnẹ?

Se Nehemaya 6:15.

Eme igbẹhẹ Jerusalẹm nọ a bọ re evaọ emerae ivẹ u dhesẹ kpahe ẹgba nọ ẹrọwọ o wo? (Ol. 56:3, 4; Mat. 17:20; 19:26)