Ikuigbe avọ 81: Eva Ifihọ Obọufihọ Ọghẹnẹ
Ikuigbe avọ 81: Eva Ifihọ Obọufihọ Ọghẹnẹ
IDU ahwo buobu e nya onya uthethei na no Babilọn kpobọ Jerusalem. Rekọ okenọ a te o be, yọ Jerusalem ọ raha ruaro. Ivomo ohwo ọ be riae he. Ahwo-Izrẹl kọ koware koware kpobi a rẹ wariẹ bọ.
Eware nọ a kake bọ ojọ rai họ aruẹri. Onana họ oria nọ a rẹ jọ rehọ erao dheidhe, hayo ekẹ erọkẹ Jihova. Emera kakao evrẹno Ahwo-Izrẹl a te mu tẹmple họ ẹ bọ. Rekọ iwegrẹ nọ e be ria evaọ etọ ekẹloma a gwọlọ nọ Ahwo-Izrẹl a rẹ bọe he. Fikiere a tẹ daoma je gueguai rua'i re adobọ ji. Ukuhọ riẹ, iwegrẹ enana i te ru ovie ọkpokpọ Pasia na je uzi re ada obọ iruo ebabọ na ji.
Ikpe etẹze vrẹ. Enẹna u te zite ikpe 17 no nọ Ahwo-Izrẹl a ro zihe no Babilọn ze. Jihova o te vi eruẹaro riẹ Hagai gbe Zekaraya re a ta kẹ ahwo na re a wariẹ muhọ ẹ bọ. Ahwo na a fievahọ obọufihọ Jihova, a te yo ẹme eruẹaro na. A tẹ wariẹ muhọ ẹ bọ, dede nọ uzi o ta nọ a re rue'i hi.
Fikiere ohwo ọkwa-iruo Pasia nọ odẹ riẹ orọ Tat-tenai ọ nyaze ọ tẹ nọ Ahwo-Izrẹl kpahe ẹgba nọ a woi nọ a be rọ bọ tẹmple na. Ahwo-Izrẹl a tẹ ta kẹe nọ okenọ a jọ evaọ obọ Babilọn, Sairọs Ovie ọ ta kae: 'Wha nya, enẹna, kpobọ Jerusalem re wha bọ tẹmple Jihova, Ọghẹnẹ rai.'
Tat-tenai o te vi obe kpobọ Babilọn nyae nọ, jọ Sairọs, nọ owhu no na, ọ ghinẹ ta ere. Ukrihi obe u te no obọ ovie ọkpokpọ Pasia zihe ze. O tẹ ta nọ Sairọs ọ ghinẹ ta ere. Fikiere ovie na o te kere: 'Wha jọ Ahwo-Izrẹl abọ tẹmple Ọghẹnẹ rai. Yọ me juzi kẹ owhai re wha fiobọhọ kae.' Evaọ oware wọhọ ikpe ene tẹmple na i te re, eva etẹ were Ahwo-Izrẹl gaga.
Ikpe buobu efa etẹ vrẹ. Ukri te unwenọ ikpe 48 no nọ a rọ bọ tẹmple reno na. Ahwo nọ a rọ evaọ Jerusalem iyogbe, yọ okpẹwho na gbe tẹmple Ọghẹnẹ iwoma te ere he. Evaọ obọ Babilọn, Ẹzra ohwo Izrẹl ọjọ riẹ nọ ufo re a bọ tẹmple Ọghẹnẹ. Kọ whọ riẹ oware nọ o ru?
Ẹzra ọ nyae ruẹ Atagzagzis, ovie Pasia, ovie owoma ọnana ọ tẹ kẹ Ẹzra ekẹ buobu re ọwha zihe kpobọ Jerusalem. Ẹzra ọ tẹ ta kẹ Ahwo-Izrẹl nọ arọ evaọ Babilọn re a fiobọhọ kẹe wha ekẹ enana kpobọ Jerusalem. Ahwo wọhọ 6,000 a ta nọ a rẹ nya. A wo idọlọ efuafo buobu gbe iro gbe eware eghaghae efa nọ a rẹ wha lele oma.
Ẹzra ọ rọ awa, keme na ahwo oyoma a rọ edhere na. Ahwo ọnana a sai miai idọlọ efuafo gbe iro rai rehọ, a ve je kpai. Fikiere Ẹzra o te se ahwo na koko, epanọ whọ rẹ ruẹ evaọ ifoto na. Kọ ẹsiẹe a lẹ se Jihova re ọthae uke evaọ onya uthetheri rai zihe kpo Jerusalem.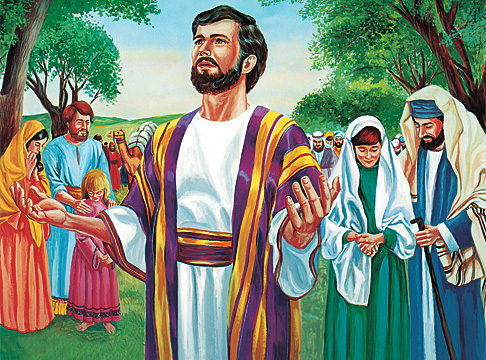 Jihova ọ ghinẹ thae uke. Nọ a te nya emera ene vrẹ no, a te te Jerusalem oma vrẹrẹ. Kọ onana u gbe dhesẹ nọ Jihova ọ rẹ thọ enọ ifi eva hiẹe kẹ obọufihọ?
Ẹzra izou 2 ri te 8.
---
Enọ
Bro ahwo a nya onya ugbothabọ na no Babilọn kpohọ Jerusalẹm, rekọ eme a ruẹ nọ a te obei no?
Eme emọ Izrẹl a muhọ ẹbọ nọ a te obei no, kọ eme ewegrẹ rai a ru?
Amono họ Hagai gbe Zekaraya, kọ eme a ta kẹ ahwo na?
Fikieme Tat-tenai o ro vi ileta kpobọ Babilọn, kọ didi uyo u te rie obọ?
Eme Ẹzra o ru nọ o yo kpahe ẹgwọlọ nọ a rẹ rọ ruẹrẹ etẹmpol Ọghẹnẹ?
Eme Ẹzra ọ be lẹ kẹ evaọ uwoho na, ẹvẹ a rọ kuyo olẹ riẹ, kọ eme onana u wuhrẹ omai?
Enọ efa
Se Ẹzra 3:1-13.

Ma tẹ ruẹ oma mai evaọ ẹkwotọ nọ uvumọ ukoko ahwo Ọghẹnẹ o rrọ họ, eme ma rẹ ruabọhọ eruo? (Ẹzra 3:3, 6; Iruẹru 17:16, 17; Hib. 13:15)

Se Ẹzra 4:1-7.

Didi oriruo Zerubabẹl o fihotọ kẹ ahwo Jihova kpahe ọgwakugbe egagọ sa-sa? (Ọny. 34:12; 1 Kọr. 15:33; 2 Kọr. 6:14-17)

Se Ẹzra 5:1-5, 17 gbe 6:1-22.

Fikieme ewegrẹ na a gbẹ sae rọ whaha iruo ebabọ etẹmpol na ha? (Ẹzra 5:5; Aiz. 54:17)

Ẹvẹ owojẹ ekpako ahwo Ju na o rọ ta udu họ ekpako Ileleikristi awọ re a gwọlọ ọkpọvio Jihova nọ a tẹ rẹriẹ ovao ku otu ọwọsuọ? (Ẹzra 6:14; Ol. 32:8; Rom 8:31; Jem. 1:5)

Se Ẹzra 8:21-23, 28-36.

Taure ma tẹ te jẹ oghẹrẹ owọ jọ kpobi, oriruo Ẹzra vẹ u fo nọ ma rẹ raro kele? (Ẹzra 8:23; Ol. 127:1; Itẹ 10:22; Jem. 4:13-15)