Ikuigbe avọ 60: Abigẹle Avọ Devidi
Ikuigbe avọ 60: Abigẹle Avọ Devidi
KỌ WHỌ riẹ aye owowoma na ọnọ be nyaze ti zere Devidi? Odẹ riẹ họ Abigẹle. O wo emamọ areghẹ, ọ tẹ jẹ whaha Devidi oware uyoma uruo. Rekọ tao re ma te wuhrẹ kpahe oyena, j'oma riẹ oware nọ ojẹ via kẹ Devidi.
Okenọ Devidi ọ dhẹ se Sọl ba no, o te dhere eghogho utho. Inievo gbe ahwo ekru riẹ nọ ikiọkọ a te kuoma gbei eva etẹe. Ezae nọ enya brei kpobi a bu te 400, Devidi o te ziheruọ osu rai. Kẹsena Devidi ọ tẹ nya bru Ovie Moab ọ tẹ ta nọ: 'Iviena jọ ọsẹ mẹ gbe oni mẹ ajọ kugbe owhẹ bẹsenọ mẹ te riẹ oware nọ orẹ via kẹ omẹ.' Uwhremuna Devidi avọ ahwo riẹ a te mu igbehru họ edhere.
Onana o vrẹ no tao re Devidi o te te zere Abigẹle. Ọzae riẹ Nebale yọ ọdafe nọ o wo etọ. O wo igodẹ 3,000 gbe ewe 1,000. Nebale yọ ohwo nọ ọ rẹ gboke gaga. Rekọ Abigẹle aye riẹ o wo erru gaga. Ofa, ọ riẹ epanọ a re ru oware nọ ukiehọ. O tu be siwi ekru riẹ okejọ. J'oma rri epanọ o ru rie.
Devidi avọ ahwo riẹ a ru oware ezi kẹ Nebale. A fiobọhọ sẹro igodẹ riẹ. Fikiere ẹdẹjọ Devidi o te vi ahwo riẹ jọ bru Nebale kpo oyarọ. Ahwo Devidi a tẹ nya bru Nebale yọ ọye avọ ahwo iruo riẹ a bi bru eto no igodẹ. Ẹdẹ ọyena ẹdeha, yọ Nebale o wo eware iwoma buobu nọ a rẹ ria. Kọ enẹ ahwo Devidi a tae: 'Ma ru oware ezi k'owhẹ. Ma tho ogodẹ ra ọvuọvo ho, rekọ ma fiobọhọ sẹro rai. Enẹna, iviena, k'omai emu jọ.'
Nebale ọ tẹ ta nọ, 'Mẹ rẹ rehọ emu mẹ kẹ ahwo wọhọ owhai hi.' Edhere oke ogbọ gaga ọ rehọ ta ẹme, jẹ ta ikpehre eware kpahe Devidi. Okenọ ahwo na aziheze ta eme na kẹ Devidi, eva e tẹ dha Devidi thesiwa. Ọ tẹ ta kẹ ahwo riẹ nọ, 'Wha tọlọ egbọdọ rai!' A te muhọ ẹnya re a nya'i kpe Nebale avọ ahwo riẹ.
Omọvo ahwo Nebale jọ nọ o yo eme oke ogbọ nọ Nebale ọ tae, ọ tẹ ta eware nọ e via kẹ Abigẹle. Abigẹle ọ tẹ nwane ruẹrẹ emuore jọ họ. Ọ tẹ wae họ ehru eketekete jọ o te muhọ ẹnya. Okenọ ozere Devidi, o te no ehru eketekete riẹ, o te kigwẹ te otọ ọ tẹ ta nọ: 'Ivie, olori, whọ kezọ Nebale ọzae mẹ hẹ. Ohwo gheghẹ ọ rọ, jẹ ruọ eware igheghẹ o re ruẹ. Okẹ o na. Iviena rehiẹe, re whọ rehọ oware nọ o via na vrẹ omai.'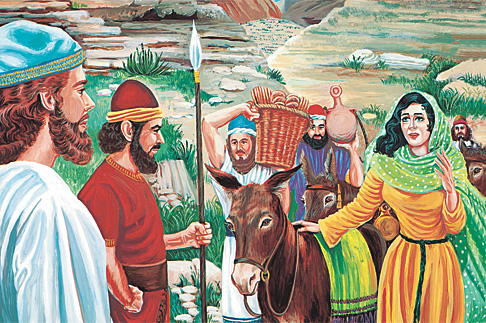 Devidi o te yo nọ, 'Whẹ aye owoareghẹ. Whọ whaha omẹ Nebale okpe rọ hwosa oke-ogbọ riẹ kẹe. Enẹna kpo dhedhẹ.' Uwhremuna nọ Nebale o whu no, Abigẹle o te ti zihe ruọ omọvo eyae Devidi.
1 Samuẹle 22:1-4; 25:1-43.
---
Enọ
Didi odẹ aye nọ ọ be nya bru Devidi ze evaọ uwoho na, kọ oghẹrẹ ohwo vẹ ọ rrọ?
Ono họ Nebale?
Fikieme Devidi o ro vi ahwo re a yare aruoriwo mi Nebale?
Eme Nebale ọ ta kẹ ahwo Devidi, kọ didi owọ Devidi ọ jẹ?
Ẹvẹ Abigẹle o ro dhesẹ nnọ aye owareghẹ ọ rrọ?
Enọ efa
Se 1 Samuẹle 22:1-4.

Ẹvẹ uviuwou Devidi o rọ kẹ omai emamọ oriruo ọrọ epanọ ma rẹ rọ tha ohwohwo uke evaọ okugbe inievo Ileleikristi na? (Itẹ 17:17; 1 Tẹs. 5:14)

Se 1 Samuẹle 25:1-43.

Fikieme a ro dhesẹ Nebale yoma tere? (1 Sam. 25:2-5, 10, 14, 21, 25)

Eme eyae Ileleikristi nẹnẹ a rẹ sai wuhrẹ no oriruo Abigẹle ze? (1 Sam. 25:32, 33; Itẹ 31:26; Ẹf. 5:24)

Eware iyoma ivẹ vẹ Devidi o je ti ru vẹre nọ Abigẹle ọ whaha e riẹ eruo? (1 Sam. 25:31, 33; Rom 12:19; Ẹf. 4:26)

Ẹvẹ owọ nọ Devidi ọ jẹ kpahe eme Abigẹle i re ro fi obọ họ kẹ ezae nẹnẹ wo eriwo Jihova kpahe eyae? (Iruẹru 21:8, 9; Rom 2:11; 1 Pita 3:7)