Ikuigbe avọ 27: Ovie Oyoma O Su Ijipti
Ikuigbe avọ 27: Ovie Oyoma O Su Ijipti
EZAE nọ e rọ etenẹ na a be gba ahwo na họ re a ru iruo. Rri ọzae nọ ọ be rehọ oviaviẹ fa omọvo iruiruo na! Iruiruo na yọ ahwo uviuwou Jekọp, a re sai Ahwo-Izrẹl. Ezae nọ e be gbae họ iruo na yọ Ahwo-Ijipti. Ahwo-Izrẹl na a ti zihe ruọ erigbo kẹ Ahwo-Ijipti no. Ẹvẹ onana orọ via.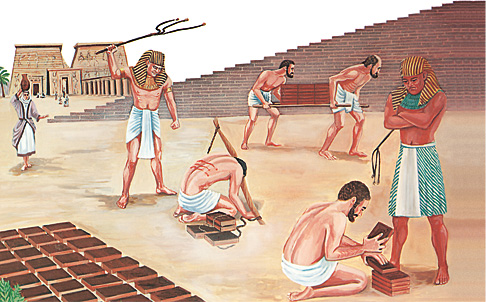 Eva ikpe buobu uviuwou ulogbo Jekọp o ria avọ udhedhẹ eva Ijipti. Josẹf, ohwo nọ ọ mai wouzou kpobi eva Ijipti kẹle Fẹro, ọ jẹ rehọ ẹro tai. Rekọ Josẹf o te ti whu no. Fẹro ọkpokpọ, nọ Ahwo-Izrẹl a were he, o te ti mu ovie eva Ijipti.
Koyehọ Fẹro oyoma ọnana o te ru Ahwo-Izrẹl fihọ erigbo. O te fi ahwo họ uzou rai nọ a geva gaga. A jẹ gba Ahwo-Izrẹl họ ruiruo egaga, be bọ ikpewho kẹ Fẹro. Rekọ dedeghele na yọ Ahwo-Izrẹl a bi bu fihọ. Oke u ti te, ozọ u te je mu Ahwo-Ijipti nọ Ahwo-Izrẹl a ti bu hrọ, jẹ ga thesiwa.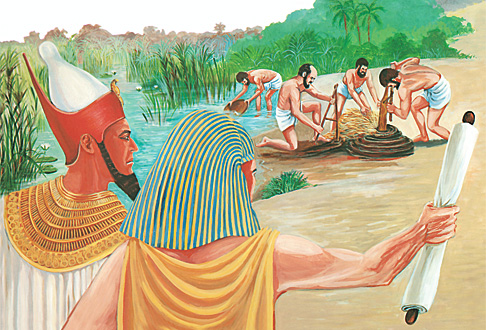 Kọ whọ riẹ oware nọ Fẹro o ru? Ọ tẹ ta kẹ eyae nọ i re fiobọhọ kẹ iniemọ Ahwo-Izrẹl okenọ a bi yẹ emọ nọ: 'Wha re kpe ọmọzae ọfofa kpobi nọ a yẹ.' Rekọ enana eyae ezi gaga, fikiere a gbe je kpe emọefofa na ha.
Fikiere Fẹro o te je uzi onana kẹ ahwo riẹ: 'Wha rehọ emezae efofa Ahwo-Izrẹl re wha kpai whu. Wha jọ emetẹ efofa na evo e jọ uzuazọ.' Kọ oyena o gbẹ rọ ujaje uyoma gaga? Ma rri epanọ a ro siwi omọvo emezae efofa na.
Ọnyano 1:6-22.
---
Enọ
Evaọ uwoho na, ono họ ọzae nọ o kru oviaviẹ na, kọ ono ọ be fa na?
Nọ Josẹf o whu no, eme ọ via kẹ emọ Izrẹl?
Fikieme ozọ emọ Izrẹl u je ro mu ahwo Ijipti?
Didi ujaje Fẹro ọ rọ kẹ eyae nọ i je fi obọ họ yẹ eyae emọ Izrẹl?
Enọ efa
Se Ọnyano 1:6-22.

Edhere vẹ Jihova o ro mu eyaa riẹ kẹ Abraham họ erugba? (Ọny. 1:7; Emu. 12:2; Iruẹru 7:17)

Ẹvẹ eyae nọ i je yẹ eyae Hibru na a ro dhesẹ adhẹẹ kẹ ẹfuọ uzuazọ? (Ọny. 1:17; Emu. 9:6)

Ẹvẹ a rọ hwosa kẹ eyae nana nọ i re yẹ eyae na fiki ẹmeoyo rai kẹ Jihova? (Ọny. 1:20, 21; Itẹ 19:17)

Ẹvẹ Setan ọ jẹ rọ daoma bru ẹjiroro Jihova kpahe Ubi Abraham nọ a yeyaa riẹ na dhe? (Ọny. 1:22; Mat. 2:16)