Ikuigbe avọ 16: Aiziki O Wo Emamọ Aye
Ikuigbe avọ 16: Aiziki O Wo Emamọ Aye
WHỌ riẹ aye nọ ọ rọ eva ifoto enana? Odẹ riẹ Rebeka. Yọ ọzae nọ ọ be nya bru tha na họ Aiziki. Ọ be te jọ aye riẹ. Ẹvẹ onana o rọ via?
Whaọ, ọsẹ Aiziki, Abraham, ọ gwọlọ wo emamọ aye kẹ ọmọzae riẹ. Ọ gwọlọ nọ Aiziki ọ rọo omọvo eyae Kenan he, keme ahwo ọnana eghẹnẹ erue a jẹ gọ. Fikiere Abraham o te se odibo riẹ ọ tẹ ta nọ: 'Mẹ gwọlọ nọ whọ nya kpohọ obonọ imoni mẹ e be ria eva obọ Heran re who wo aye kẹ ọmọzae mẹ Aiziki.'
Ẹsiẹvo na odibo Abraham ọ tẹ rehọ ekamẹle ikpe o te kpohọ ugbo uthabọ na. Nọ ọ kẹle oria nọ imoni Abraham e jẹ ria, ọ tẹ daji akotọ ozae. Yọ oke uvo u thabọ no, oke nọ eyae okpẹwho na e rẹ rọ ze obọ ozae ti vo ame. Koyehọ odibo Abraham ọ lẹ se Jihova: 'Jọ aye nọ o vo ame k'omẹ avọ ekamẹle na ọ jọ ọnọ whọ sanọ re ọ jọ aye kẹ Aiziki.'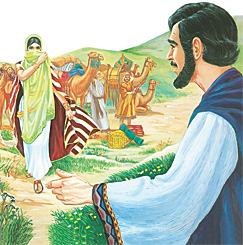 U ri kri hi na, Rebeka ọ tẹ nyaze ti vo ame. Nọ odibo na ọ yariẹe ame, ọ tẹ kẹe. Kesena ọ tẹ nya i vo ame kẹ ekamẹle na kpobi nọ uruame uje kpe na. Oyena yọ iruo egaga keme ekamẹle e rẹ da ame buobu gaga.
Okenọ Rebeka o ru onana no, odibo Abraham ọ tẹ nọe odẹ ọsẹ riẹ. Ọ tẹ jẹ yariẹ sọ ọye ọ sae kpahe obọ uwou rai horioke. Ọ tẹ ta nọ: 'Bẹthuẹl họ ọsẹ mẹ, yọ uvẹ o riẹ nọ whọ jẹ sae ria kugbe omai.' Odibo Abraham ọ riẹ nọ Bẹthuẹl yọ ọmọzae Nehọ, oniọvo Abraham. Fikiere o te kie igwẹ ivẹ o te yere Jihova epanọ o ro sue'i bru imoni Abraham.
Aso ọyena odibo Abraham ọ tẹ ta kẹ Bẹthuẹl avọ Leban oniọvo Rebeka oware nọ osoriẹ ze nọ ọ jẹ nyaze. Ai mava a tẹ rọwo nọ Rebeka ọ sai leliei re ọ rọo Aiziki. Kọ eme Rebeka ọ ta okenọ a nọe? Ọ ta nọ, 'E,' ọ gwọlọ nya. Fikiere okiokiọ riẹ a tẹ ruọ ekamẹle na a te mu erhẹ othethabọ na họ, bi zihe kpohọ Kanan.
A te uwou, eva oke owọwọ. Rebeka ọ tẹ ruẹ ọzae jọ nọ ọ be nya eva obọ otafe ẹwọ. Yọ Aiziki. Eva e were riẹ nọ ọ rọ ruẹ Rebeka. Sera oni riẹ o whu ikpe esa vrẹ no, yọ uweli onana o gbẹ riẹe oma. Rekọ enẹna Aiziki o te ti you Rebeka thesiwa, ọ tẹ te wariẹ wo evawere.
Emuhọ 24:1-67.
---
Enọ
Amono họ ọzae gbe aye na nọ a rrọ uwoho na?
Eme Abraham o ru re o wo aye kẹ ọmọ riẹ, kọ fikieme?
Ẹvẹ a rọ kẹ uyo olẹ odibo Abraham?
Didi uyo Rebeka ọ kẹ nọ a nọe sọ ọ gwọlọ rọo Aiziki?
Eme o ru Aiziki wariẹ wereva?
Enọ efa
Se Emuhọ 24:1-67.

Uruemu uwoma vẹ Rebeka o dhesẹ nọ ọ ruẹ odibo Abraham eva akotọ ozae? (Emu. 24:17-20; Itẹ 31:17, 31)

Emamọ oriruo vẹ ọruẹrẹfihotọ nọ Abraham o ru kẹ Aiziki o rrọ kẹ Ileleikristi nẹnẹ? (Emu. 24:37, 38; 1 Kọr. 7:39; 2 Kọr. 6:14)

Fikieme ma jẹ gwọlọ oke nọ ma re ro roro-didi, wọhọ epanọ Aiziki o ru na? (Emu. 24:63; Ol. 77:12; Fil. 4:8)