Té Wén 6
Kongakando be So ne ge?
Kongakando be So ne ge?
1 Ha ngimo ka wène mgbona a zou nou, Jésus osa ha hio disciple bèa nde mbwa go a wén Kongakando be So. Kongakando ne ma gassa le ka ma kongawan doung a yo. Kongakando be So ne ma nou mbonga ka doung bèa ne te. Yo be de nde ling So a te ne dedea fet. Yo doung bèa zang ngon ne yo bé ba wan a zou nou. Yo be de mo to nde è de a zou nou mo ka sila So ngoya gbesi touka wang ka è de a ngon.—Matthieu 6:9, 10.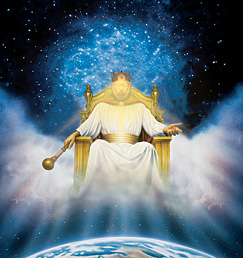 2 So ba gon-nou nde ne Jésus a be tè Kongawan mo Kongakando bèa. (Luc 1:30-33) Ha ngimo ka wène a zou nou, Jésus osa nde wène be doung ne ma dede Kongawan, ka gon kita ne wara, ka doung nzéng. Ha ngimo ka wène sio a ngon, So te ngdé wène ne hasa touka Kongawan mo Kongakando bèa na. (Hébreux 10:12, 13) Hoa bele 1914, lem ne gonanou bèa, Jéhovah ha Jésus ngaya mo tè wan. Angara ngimo ki Jésus te bo a dea tom touka Kongawan ka Jéhovah ngdéa a zang ngon.—Daniel 7:13, 14.
3 Jéhovah kouo fine a zou nou hio ma wowi ne hio ma mgboko ka pam wén So mo to nde mbwa ne a ngon. Mbwa ne a dea tom hine Jésus touka hio wan, hio wan-gonkita ne hio prêtre. (Luc 22:28-30; Apocalypse 5:9, 10) Jésus sa mbwa nde "bebe gili." Mbwa fet ne 144 000.—Luc 12:32; Apocalypse 14:1-3.
4 Ha ngimo ka Jésus tèa Kongawan, a yino Satan ne hio ngdanga ange bèa fet gosi a zou nou. Goto a go, angara a bèle 1914 mo ho mèsè ngdanga mo te bo ne doka a zou nou. (Apocalypse 12:9, 12) Hio bouló, wo, zele, hio wi ka you ké mbonga mo lé na, mo ndong fet osi nde Jésus angara tom touka kongawan kari. Yo osi fine nde o te bo a kpogio ngimo.—Matthieu 24:3, 7, 8, 12; Luc 21:10, 11; 2 Timothée 3:1-5.
5 Mgbona ka ne tikiring, Jésus be tè te gon kita a zou hio wi. A be kapini soko mbwa touka zaolo sami ka kapini soko hio sami ne hio mbori. Hio "sami" ne hio wi ka pama wén be Jésus. Mbwa be kpa touno mo kpo ne kpo a zou nou. Hio "mbori" ne hio wi ka kafa Kongakando be So. (Matthieu 25:31-34, 46) Ha zang ngimo tikiring, Jésus be gbè hio wi fet ka doung touka hio mbori. (2 Thessaloniens 1:6-9) Ka me ngoy mo doung touka "sami" be Jésus, lema nde me ze wén ha zou Kongakando ke ne me de mo a lem ne wén ka me a yamba.—Matthieu 24:14.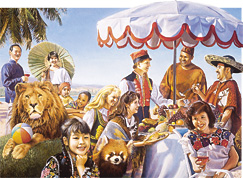 Ha ngimo ba wan be Jésus, sena mae ne gonakita songsi
a zou mae bo fine na
6 Mèsè nou kapana soko ne hio lé ne doka. Lé ndang ndang ne nou mbonga bèa. Hio lé ndong a bio bouló a soko mbwa. Ma Kongakando be So be tè te ba mgbandi hio nou mbonga be hio wi mo nou fet. Ka ne yo ndang a be doung nou mbonga a zou nou fet. (Daniel 2:44) Hapata, bouló bo fine na, gbèa wi ne dea ngaya ne wi kara ne kinong. Hio wi fet be doung ngbandi ndang, ne gaamo ne zea mae.—Michée 4:3, 4.
7 Ha ngimo ba wan be Jésus mo bèle 1 000, hio wi fet ka pama wén So lem doung fine ne sembo na mbwa te bo ne dede te nou fet be tè paradis. Ha kpogio bèle 1 000 ke, Jésus dea mo fet ka So ana wène mo de kari. A be kifiri ne Kongakando ha Bafa. (1 Corinthiens 15:24) Ha wen ge me lem osi ha nam be me, ne hio dan me, mo ka Kongakando be So be de na nde?