Maana 3nan: Cɛɛ fɔlɔ ni muso fɔlɔ
Maana 3nan: Cɛɛ fɔlɔ ni muso fɔlɔ
I ƝƐƐ be mun lo la sisan jaa nin kan? Mɔgɔw lo be yen. Cɛɛ fɔlɔ ni muso fɔlɔ lo. Jɔn lo ye u dan? Ala lo. Yala i be Ala tɔgɔ lɔn wa? A tɔgɔ ko Jehova. Cɛɛ nin tɔgɔ ko Adama, a muso tɔgɔ ko Awa.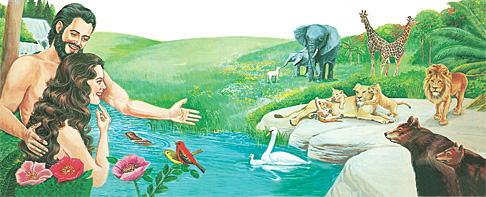 A filɛ Jehova Ala ye Adama dan cogo min na. A ye dugukolo buguri dɔ ta ka cɛɛ farisogo dafalen dilan. O kɔ, Ala y'a dafiɲɛ fiyɛ a nunwow la, ani Adama kɛra ɲɛnamaya la.
Jehova ye baara di Adama ma. A y'a fɔ a ye ko a ka tɔgɔ di bɛgɛn sifaw bɛɛ ma. N'a sɔrɔ Adama tun ye bɛgɛnw kɔlɔsi wagati jan kɔnɔ ka sɔrɔ ka tɔgɔ bɛnnen di u bɛɛ kelen-kelen ma. K'a to Adama be bɛgɛnw tɔgɔ lara, a ye koo dɔ kɔrɔsi. I y'a lɔn koo min lo wa?
A y'a kɔrɔsi ko bɛgɛnw bɛɛ tun be fila fila, cɛɛ ni muso. O cogo la sama facɛmanw ni bamusomanw tun be yen ani jara facɛmanw ni bamusomanw fana tun be yen. Nka, ale Adama tun b'a kelen na. O kama, Jehova ye sinɔgɔba bila Adama la ani a y'a galagakolo dɔ bɔ. Jehova ye o galagakolo kɛ muso ye k'a di Adama ma k'a kɛ a muso ye.
Sisan, Adama ninsɔn diyara kosɔbɛ! Ani i ka miiri k'a filɛ Awa ninsɔn diyara cogo min na k'a yɛrɛ sɔrɔ nin nankɔtu cɛɲumanba ɲɔgɔn kɔnɔ! Sisan, u tun be se ka deenw sɔrɔ ani ka ɲɛnamaya kɛ hɛɛrɛ la ɲɔgɔn fɛ.
Jehova tun b'a fɛ ko Adama ni Awa ka ɲɛnamaya kɛ kudayi. A tun b'a fɛ u ka dugukolo kuru bɛɛ kɛ yɔrɔ ɲuman ye i ko Edɛn nankɔtu. Adama ni Awa tun mana miiri o baara koo la, u ninsɔn tun be diya kosɔbɛ! Yala a tun bena diya i ye ka baara kɛ walisa dugukolo ka kɛ nankɔtu cɛɲumanba ye wa? Nka, Adama ni Awa ka hɛɛrɛ ma mɛɛn. An k'a filɛ koo min kɛra.
Zɛnɛzi 1:26-31; 2:7-25; Zaburuw 83:19, Bible Senuman 1961.
---
Ɲiningaliw
Faranfasi juman be yen maana 3nan ni maana 2nan ka jaaw cɛ?
Jɔn lo ye cɛɛ fɔlɔ dan, ani o cɛɛ tɔgɔ tun ko di?
Ala ye baara juman di Adama ma?
Mun na Ala ye sinɔgɔba bila Adama la?
Adama ni Awa tun be se ka ɲɛnamaya kɛ fɔɔ wagati juman, ani Jehova tun ye baara juman kalifa u ma?
Ɲiningali wɛrɛw
Zaburuw 83:19 kalan (Bible Senuman 1961).

Ala tɔgɔ ko di, ani ale kelenpe be ni lɔyɔrɔ juman ye dugukolo kun na? (Zer. 16:21; Dan. 4:14)

Zɛnɛzi 1:26-31 kalan.

Loon wɔɔrɔnan na, Ala ye mun lo dan k'a ka danni baara kuncɛ, ani danfaran juman tun be o danfɛn ni bɛgɛnw cɛ? (Zɛnɛzi 1:26)

Jehova ye mun lo di mɔgɔw ni bɛgɛnw fana ma? (Zɛnɛzi 1:30)

Zɛnɛzi 2:7-25 kalan.

Adama tun ka kan ka mun lo kɛ ka sɔrɔ ka tɔgɔ la bɛgɛnw ni kongosogow la? (Zɛnɛzi 2:19)

Cogo juman na Zɛnɛzi 2:24 b'an dɛmɛ ka Jehova ka miiriya faamu furu ni farali ni furusa koo la? (Mat. 19:4-6, 9)