Maana 105nan: U be kɔnɔni kɛra
Maana 105nan: U be kɔnɔni kɛra
I ƝƐƐ be mɔgɔ minw na yan, Yezu ka kalandenw lo. U tora Zeruzalɛmu i ko Yezu tun y'a ɲini u fɛ cogo min na. K'u bɛɛ to kɔnɔni na ɲɔgɔn fɛ, mankanba dɔ ye boon fa. A tun be i n'a fɔ fɔɲɔba mankan. U ye nɛnkun dɔw ye i ko tasuma manaw, minw tilantilanna ka sigi kalanden bɛɛ kelen kelen kuun na. I ɲɛɛ tɛ tasuma na u kelen kelen bɛɛ kuun na wa? Nin bɛɛ kɔrɔ ye mun ye?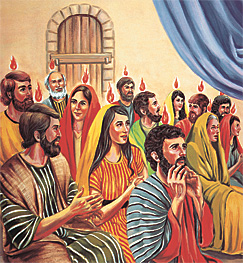 Kabako lo! Yezu kɔsegira sankolo la a Faa fɛ, ani a ye Ala ka hakili senu jigi a ka kalandenw kan. I b'a lɔn o hakili senu y'u lasun ka fɛɛn min kɛ wa? U bɛɛ y'a daminɛ ka kaan wɛrɛw fɔ.
Mankan min kɛra i ko fɔɲɔba, mɔgɔ caaman y'o mɛn Zeruzalɛmu kɔnɔ ani u nana a filɛ fɛɛn min kɛra. U dɔw tun bɔra jamana wɛrɛw la ka na Israɛldenw ka Pantekɔti fɛti la. O lonanw kabakoyara fɔɔ k'a dama tɛmɛ! Kalandenw tun be Ala ka kooba kɛnin minw fɔra, u bɛɛ tun b'o mɛnna u ka kaanw na.
Lonanw ko: "Mɔgɔ minw be kumana wo, u bɛɛ te Galilekaw ye wa? A do kɛra di n'an bɛɛ b'u ka kuma mɛnna an ka kaan na?"
O la, Piyɛri wulila ka kuma ta. A y'a kaan kɔrɔta ani a y'a ɲɛfɔ jama ye cogo min na u ye Yezu faga ani Jehova y'a kunu k'a bɔ saya la. Piyɛri ko: 'Sisan, Yezu siginin be Ala kinibolo fɛ sankolo la. Ani a tun ye layidu ta hakili senu min koo la, a y'o lo jigi an kan. Aw ɲɛɛw ani aw tulow be o lo la.'
Ayiwa, o kuma mɛnnin kɔ, mɔgɔ caaman dusu tiɲɛna Yezu ka tɔɔrɔ kosɔn. U ye Piyɛri ɲininga ko: "An ka kan ka mun kɛ?" A y'u jaabi ko: ' A' ye aw ka ɲɛnamaya kɛcogo yɛlɛma ani ka batize.' O loon yɛrɛ la mɔgɔ waa saba ɲɔgɔn batizera ka kɛ Yezu ka kalandenw ye.
Kɛwaliw 2:1-47.
---
Ɲiningaliw
I ko i ɲɛɛ b'a la jaa kan, ka Yezu ka kalandenw to kɔnɔni na Zeruzalɛmu mun lo kɛra?
Lonan minw tun nana Zeruzalɛmu, mun lo y'u kabakoya?
Piyɛri ye mun lo ɲɛfɔ jama ye?
Piyɛri ka kuma ye mun lo kɛ jama na, ani a y'a fɔ u ye k'u ka mun lo kɛ?
Saan 33 ka Pantikɔti loon na, mɔgɔ joli lo batizera?
Ɲiningali wɛrɛw
Kɛwaliw 2:1-47 kalan.

Piyɛri ka kuma minw be sɔrɔ Kɛwaliw 2:23, 36 kɔnɔ, u b'a yira cogo di ko Yahutuw ka siya bɛɛ niin be Yezu saya koo la? (1 Tes. 2:14, 15)

Ka tɛmɛ Bibulu fɛ ka hakilijagabɔ kɛ ni mɔgɔw ye, Piyɛri ye o koo ɲɛyira ka ɲɛ cogo di? (Kɛw. 2:16, 17, 29, 31, 36, 39; Kɔl. 4:6)

Yezu tun ko a bena 'sankolo masaya konnigɛw' di Piyɛri ma. Piyɛri ye baara kɛ cogo di ni konnigɛ fɔlɔ ye? (Kɛw. 2:14, 22-24, 37, 38; Mat. 16:19)