Maana 93nan: Yezu be jamaw balo
Maana 93nan: Yezu be jamaw balo
KOJUGUBA dɔ kɛra. U ye Zan Batizelikɛla faga. A koo tun man di masacɛ ka muso Erɔdiyadi ye. A ye masacɛ lasun a y'a to u ye Zan kuun tigɛ.
Yezu ye Zan fagako mɛn minkɛ, a dusu kasira kosɔbɛ. A tagara yɔrɔ dɔ la a dan na. Nka, jama tugura a kɔ. A ye jama ye tuma min na, u hinɛ donna a la. O kama, a y'u kalan Ala ka Masaya koo la, ani a y'u ka banabagatɔw kɛnɛya.
Wulafɛ, a ka kalandenw gwɛrɛla a la k'a fɔ a ye ko: 'Suu be ɲini ka ko, yan do ye yɔrɔ lakolon ye. Sira di jama ma u ka taga dafɛduguw la ka dumuni san u yɛrɛw ye.'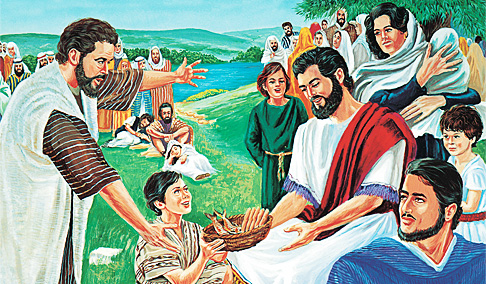 Yezu y'u jaabi ko: 'U man kan ka taga, aw yɛrɛ ka dumuni di u ma.' A y'i yɛlɛma k'a Filipu ɲininga ko: "An bena taga dumuni san min k'a di jama nin ma waasa u bɛɛ ka se ka fa?"
Filipu y'a jaabi ko: 'Ka buru san walisa bɛɛ ka se ka dɔɔni dɔɔni yɛrɛ sɔrɔ, o bena kɛ wari caaman ye dɛ!' Andere y'a fɔ ko: 'An ka dumuni be cɛdennin nin bolo, burukun duuru ni jɛgɛ deen fila lo. Nka o be mun ɲɛ nunu bɛɛ ma.'
Yezu ko: ' A' y'a fɔ jama ye ko u ka sigi biin kan.' O kɔ, a y'o dumunifɛnw ta ka barika la Ala ye ani a y'a daminɛ ka buruw karikari. Sisan, a ka kalandenw ye buru ni jɛgɛ tilan jama cɛ. Cɛɛw tun ye mɔgɔ waa duuru ye, musow ni denmisɛnw bele tun ka ca n'o ye. U bɛɛ ye dumuni kɛ fɔɔ ka fa. A ka kalandenw ye dumuni tɔɔ cɛ ka segi tan ni fila fa n'o ye!
Sisan, Yezu y'a fɔ a ka kalandenw ye k'u ka don kuru kɔnɔ ka Galile baji tigɛ. Sufɛ, fɔɲɔba dɔ wulila ani jikuru ye u ka kurun fifafifa. Kalandenw siranna kosɔbɛ. O kɔ, dugutilama u ye mɔgɔ dɔ ye a be tagamana jii kan ka na u fan fɛ. Siranya kosɔn u tora ka kule, sabu u m'a lɔn fɛɛn min lo.
Yezu ko: 'Aw kana siran, ne lo.' U bele ma la a la. O kama, Piyɛri ko: "Matigi, ni ele lo tiɲɛ na, a fɔ ko ne ka na e fɛ yen jii kan." Yezu y'a fɔ a ye ko: "Na." Piyɛri bɔra kurun kɔnɔ ka tagama jii kan! Nka siranya y'a minɛ minkɛ, a y'a daminɛ ka jigi jii jukɔrɔ. Yezu y'a kisi.
Kɔfɛ, Yezu ye dumuni di mɔgɔ waa caaman ma tugun. A y'o kabako kɛ ni burukun wolonfila ani jɛgɛmisɛn damanin ye. Bɛɛ fana ye dumuni kɛ fɔɔ ka fa. N'an be miiri Yezu ka mɔgɔ minɛcogo la, o tɛ an kabakoya wa? A ka masaya wagati la, foyi tɛna dɛsɛ an fɛ!
Matiyo 14:1-32; 15:29-38; Zan 6:1-21.
---
Ɲiningaliw
Kojuguba juman lo ye Zan Batizelikɛla sɔrɔ, ani o ye mun kɛ Yezu la?
Jama minw tugura Yezu kɔ, a ye mun lo kɛ k'u balo, ani dumuni hakɛ juman tɔɔ tora?
Mun lo ye kalandenw lasiran sufɛ, ani mun lo ye Piyɛri sɔrɔ?
Yezu ye mɔgɔ waa caaman balo cogo di siɲɛ filanan na?
Ala mana Yezu sigi masaya la a ka dugukolo mara, mun na o bena kɛ koo ɲuman daan ye?
Ɲiningali wɛrɛw
Matiyo 14:1-32 kalan.

Matiyo 14:23-32 b'an dɛmɛ ka mun lo faamu Piyɛri ka jogo koo la?

Bibulu b'a yira cogo di ko Piyɛri kɔgɔra ani ko a ye see sɔrɔ a ka yɛrɛminɛbaliya kan? (Mat. 14:27-30; Zan 18:10; 21:7; Kɛw. 2:14, 37-40; 1 Piyɛri 5:6, 10)

Matiyo 15:29-38 kalan.

Yezu Faa ye dumunifɛn minw di a ma, cogo di a y'a yira ko a be a Faa bonya o koo la? (Mat. 15:37; Zan 6:12; Kɔl. 3:15)

Zan 6:1-21 kalan.

Bi, kerecɛnw be se ka Yezu ladegi cogo di ka bonya la gofɛrɛnɛman kan? (Zan 6:15; Mat. 22:21; Ɔrɔm. 12:2; 13:1-4)