Maana 34nan: Dumuni sifa kura dɔ
Maana 34nan: Dumuni sifa kura dɔ
MƆGƆ nunu be mun lo tɔmɔna duguma ten? A bɔnin be sanbɛrɛ ma. A ka misɛn, a pɛtɛnin lo ani a gwɛnin lo. Nka sanbɛrɛ tɛ, dumunifɛn dɔ lo.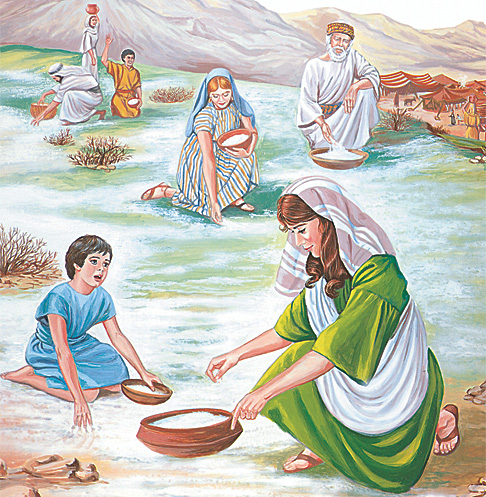 Israɛldenw bɔra Misira a ma kalo kelen bɔ fɔlɔ, u be kongokolon kɔnɔ sisan. Komi sɛnɛfɛn bɛrɛ tɛ falen yen, jama ŋunuŋununa ko: 'N'an tun sara Jehova bolo Misira, o tun ka fisa! O yɔrɔ la kɔni, an tun be dumuni sifa bɛɛ dumu ka fa.'
O kama Jehova y'a fɔ ko: "Ne bena dumuni jigi aw ye ka bɔ sankolo la i n'a fɔ sanji." A y'o lo kɛ. O dugusagwɛ, tuma min na Israɛldenw ye o fɛɛn gwɛman bɔnnin ye, u ye ɲɔgɔn ɲininga ko: 'Nin ye mun lo ye?'
Musa y'a fɔ u ye ko: 'Jehova be fɛɛn min di aw ma ka kɛ aw ka dumuni ye, o lo.' Jama y'o weele ko MAANƐ. A tun ka timi i ko lidigɛ.
Musa y'a fɔ jama ye ko: 'Aw kelen kelen be se ka min dumu, aw k'o lo cɛ.' U y'a kɛ ten sɔgɔma o sɔgɔma. Ni tile tun gwanna, maanɛ tɔɔ min tun be duguma, o tun be yeelen.
Musa y'a fɔ fana ko: 'Mɔgɔ si kana maanɛ dɔ mara sini kama.' Nka dɔw ma mɛnni kɛ. I b'a lɔn fɛɛn min kɛra wa? U tun ye maanɛ min cɛ ka mara, o dugusagwɛ tumuw donna a la fɔɔ k'a kasa bɔ!
Nka Jehova y'a fɔ jama ye ko lɔgɔkun tile wɔɔrɔnan loon, u tun be se ka tile fila ta cɛ. Ani Jehova ko u ka dɔ mara o loon dugusagwɛ kama sabu ale tɛna a to dɔ ka ben tile wolonfilanan loon na. U tun mana maanɛ dɔ mara tile wolonfilanan kama, tumuw tun tɛ don a la ani a kasa tun tɛ bɔ! Nin fana tun ye kabako dɔ ye!
Israɛldenw ye saan minw bɛɛ kɛ kongokolon kɔnɔ, Jehova y'u balo ni maanɛ ye.
Ɛkizɔdi 16:1-36; Nɔnburuw 11:7-9; Zozuwe 5:10-12.
---
Ɲiningaliw
Jaa nin kan, mɔgɔw be mun lo tɔmɔna duguma, ani o fɛɛn tɔgɔ ko di?
Musa ye cikan juman lo di jama ma maanɛ tɔmɔni koo la?
Jehova y'a fɔ jama ye ko a ka mun lo kɛ lɔgɔkun tile wɔɔrɔnan loon na, ani mun kama?
Jehova tun be kabako juman kɛ ni maanɛ tun marala ka bila tile wolonfilanan kama?
Jehova y'a ka mɔgɔw balo ni maanɛ ye fɔɔ tuma juman?
Ɲiningali wɛrɛw
Ɛkizɔdi 16:1-36; Nɔnburuw 11:7-9 kalan.

Ni Jehova ye mɔgɔ dɔw sigi a ka baara la kerecɛn kafo kɔnɔ, Ɛkizɔdi 16:8 b'a yira cogo di ko an ka kan k'u bonya? (Eburuw 13:17)

Kongokolon kɔnɔ, mun lo tun be Israɛldenw hakili jigi loon o loon ko u ka koow tɛ ɲɛ Jehova kɔ? (Ɛkiz. 16:14-16, 35; Dut. 8:2, 3).

A ka ntalen kumaw na, Yezu ye kɔrɔ juman di maanɛ koo ma, ani cogo juman na an be se ka nafa sɔrɔ o 'sankolola dumuni' na? (Zan 6:31-35, 40)

Zozuwe 5:10-12 kalan.

Israɛldenw ye maanɛ dumu fɔɔ saan joli, ani o ye u kɔrɔbɔ cogo di? An be kalan juman sɔrɔ o koo la? (Ɛkiz. 16:35; Nɔnb. 11:4-6; 1 Kor. 10:10, 11)