Maana 86nan: Lolo dɔ be cɛɛ dɔw ɲɛminɛ
Maana 86nan: Lolo dɔ be cɛɛ dɔw ɲɛminɛ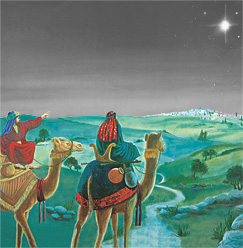 I ƝƐƐ be lolo manamanatɔ nin na, cɛɛ nunu la kelen be min yirala wa? Lolo nin y'i yira u la tuma min na u bɔra Zeruzalɛmu kɔnɔ. Cɛɛ nunu bɔra kɔrɔn fɛ ani lolow lɔnbagaw lo. U lara a la ko lolo kura nin be taga n'u ye mɔgɔba dɔ yɔrɔ.
U tun sera Zeruzalɛmu tuma min na, u ye ɲiningali kɛ ko: "Zuwifuw ka masacɛ min wolola sisan, a be min?" Israɛldenw be weele fana ko "Zuwifuw (Yahutuw)". Cɛɛw ko: 'An ye deen ka lolo ye k'an to kɔrɔn fɛ, ani an nana a bonya.'
Erɔdi min tun ye masacɛ ye Zeruzalɛmu, ale y'o kuma mɛn tuma min na, a hakili ɲagamina. A t'a fɛ masacɛ wɛrɛ ka sigi ale nɔɔ na. O la, Erɔdi ye sarakalasebagaw kuntigiw weele k'u ɲininga ko: 'layidu tara masacɛ min koo la, a ka kan ka wolo min?' U y'a jaabi ko: 'A fɔra Bibulu kɔnɔ ko Bɛtilehɛmu.'
O kama, cɛɛ minw bɔra kɔrɔn fɛ, Erɔdi y'u weele k'a fɔ u ye ko: 'Aw ye taga denɲɛnin nin yɔrɔ ɲini koɲuman. N'aw y'a ye, aw ye kɔsegi ka na o fɔ ne ye janko ne fana ka taga a bonya.' Nka tiɲɛn tiɲɛn na, Erɔdi tun b'a fɛ ka deen nin ye k'a faga le!
Lolo ye o cɛɛw ɲɛminɛ ka taga n'u ye Bɛtilehɛmu, ani deen nin be yɔrɔ min na, a tagara lɔ o yɔrɔ sanfɛ. U donna soo kɔnɔ ka Mariyamu ni Yezu sɔrɔ yen. U ye bonyafɛnw bɔ k'u di Yezu ma. Nka kɔfɛ, Jehova y'o cɛɛw lasɔmi siko la k'u kana segi ka taga Erɔdi fɛ. O kama, u kɔsegira u ka jamana na sira wɛrɛ fɛ.
Erɔdi y'a lɔn tuma min na ko o cɛɛw kɔsegira u ka jamana na, a dimina kosɔbɛ. O la, a ye cii di ko u ka deen cɛmanw bɛɛ faga Bɛtilehɛmu kɔnɔ minw sii ma tɛmɛ saan fila kan. Nka, Jehova kɔnna ka Yusufu lasɔmi siko dɔ la ani Yusufu n'a ka denbaya bolila ka taga Misira. Kɔfɛ Yusufu y'a mɛn ko Erɔdi sara. A ye Mariyamu ni Yezu minɛ ka kɔsegi a faso la ka taga sigi Nazarɛti. Yezu lamɔna o dugu lo la.
E ka miiri la, jɔn lo y'a kɛ o lolo kura nin manamanana? I hakili b'a la ko lolo yenin kɔ, cɛɛ nunu tagara Zeruzalɛmu fɔlɔ. Sutana Naafigi tun b'a fɛ ka Ala Dencɛ faga, ani a tun b'a lɔn ko Zeruzalɛmu masacɛ Erɔdi tun bena a ɲini k'o lo kɛ. O kama, Sutana lo tun be se k'a kɛ o lolo ka manamana.
Matiyo 2:1-23; Mise 5:1.
---
Ɲiningaliw
Jaa nin kan, cɛɛ nunu ye jɔn lo ye, ani mun na u la kelen y'a bolo sin lolo manamanatɔ dɔ ma?
Mun na masacɛ Erɔdi hakili ɲagamina, ani a ye mun lo kɛ?
Lolo manamanatɔ nin ye cɛɛ nunu ɲɛminɛ ka taga n'u ye min, nka mun na u kɔsegira u ka jamana na sira wɛrɛ fɛ?
Erɔdi ye cii di ko mun lo ka kɛ, ani mun na do?
Jehova y'a fɔ Yusufu ye ko a ka mun lo kɛ?
Jɔn lo y'a kɛ lolo kura manamanana, ani mun na do?
Ɲiningali wɛrɛ
Matiyo 2:1-23 kalan.

Yezu sii tun ye saan joli ye ani a tun be dugu juman na tuma min na lolo lɔnbagaw tagara bɔ a ye? (Mat. 2:1, 11, 16)