Maana 74nan: Cɛɛ min tɛ siran
Maana 74nan: Cɛɛ min tɛ siran
A FILƐ u be yɛlɛla kanbele nin na cogo min na! I b'a lɔn mɔgɔ min lo wa? Zeremi lo. Ala ka kiraba dɔ lo.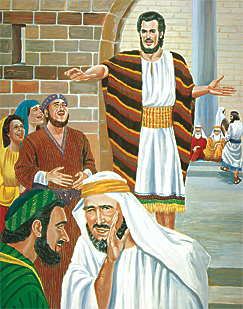 Zoziyasi y'a daminɛ ka joow karikari ka bɔ jamana na tuma min na, a ma mɛɛn Jehova ye Zeremi weele k'a kɛ a ka kira ye. Nka, Zeremi y'a miiri ko ale ye denmisɛn ye, ko ale tɛ se ka kɛ kira ye. O kama, Jehova y'a fɔ a ye ko ale bena a dɛmɛ.
Zeremi y'a fɔ Israɛldenw ye ko u ka kojugukɛ dabila. A tun b'a fɔ u ye ko: 'Siya wɛrɛw be ala minw bato, ngalon alaw lo.' Nka, joow batoli tun ka di Israɛlden caaman ye ka tɛmɛ tiɲɛn Ala Jehova batoli kan. Ni Zeremi tun b'a fɔ jama ye ko Ala bena u ɲangi u ka kɛwale juguw kosɔn, u tun be yɛlɛ a ma dɔrɔn.
Saan caaman tɛmɛna, Zoziyasi sara ani kalo saba o kɔ, a dencɛ Yoyakimu sigira masaya la. Ayiwa, Zeremi tora k'a fɔ jama ye ko: 'Ni aw ma aw ka tagamacogo jugu yɛlɛma, Zeruzalɛmu bena halaki.' Sarakalasebagaw y'a minɛ ka kule ko: 'Mun na i be kuma ten, i bena faga!' O kɔ, u y'a fɔ Israɛl ka masadenw ye ko: 'Zeremi ka kan ka faga sabu a ye kumajugu fɔ an ka duguba kama.'
Zeremi tun bena mun lo kɛ sisan? A ma siran. A y'a fɔ u bɛɛ ye ko: 'Aw ye kuma minw bɛɛ mɛn, Jehova lo ye ne ci ka na u fɔ aw ye. N'aw ma aw ka tagamacogo jugu yɛlɛma, Jehova bena Zeruzalɛmu halaki. Nka, aw ka nin lɔn ka ɲɛ, ni aw ye ne faga, aw ye mɔgɔ jalakibali lo faga.'
Masadenw m'a faga, nka Israɛldenw ma u ka tagamacogo jugu yɛlɛma. O kɔ, Babilɔni masacɛ Nabukodonozɔri nana Zeruzalɛmu kɛlɛ. A laban, a ye Israɛldenw kɛ a ka baaradenw ye. A ye u la mɔgɔ waa caaman minɛ ka taga n'u ye Babilɔni. E ka miiri k'a filɛ dusukasi min bena kɛ i kan ni lonanw ye i minɛ ka taga n'i ye jamana dɔ la, i tɛ min lɔn.
Zeremi 1:1-8; 10:1-5; 26:1-16; 2 Masacɛw 24:1-17.
---
Ɲiningaliw
Jaa nin kan, kanbele nin ye jɔn lo ye?
Ka kɛ kira ye, Zeremi tun be mun lo miiri o koo la, nka Jehova y'a hakili sigi cogo di?
Zeremi tun be to ka mun lo fɔ jama ye?
Sarakalasebagaw y'a ɲini ka Zeremi bali cogo di, nka a y'a yira cogo di ko a tɛ siran?
Komi Israɛldenw m'u ka tagamacogo jugu yɛlɛma, mun lo y'u sɔrɔ?
Ɲiningali wɛrɛw
Zeremi 1:1-8 kalan.

I ko Zeremi ka koo y'a yira cogo min na, mun lo be see di mɔgɔ ma ka Jehova ka baara kɛ? (2 Kor. 3:5, 6)

Zeremi ka koo be kerecɛn denmisɛnw jaa gwɛlɛya cogo di bi? (Waaj. 12:1; 1 Tim. 4:12)

Zeremi 10:1-5 kalan.

Zeremi tɛmɛna misali barikaman juman fɛ k'a yira ko hakilintanya lo k'i jigi la joow kan? (Zer. 10:5; Ezayi 46:7; Abak. 2:19)

Zeremi 26:1-16 kalan.

Jehova tun y'a fɔ Zeremi ye ko a "kana hali kuma kelen bɔ" ale ka cikanw na. Kerecɛn mɔlenw tɔɔ kɛtɔ ka lasɔmini kuma lase mɔgɔw ma bi, u b'o cikan ta sɔbɛ la cogo di? (Zer. 26:2; Det. 4:2; Kɛw. 20:27)

Bi, Jehova Seerew be kalan juman sɔrɔ Zeremi fɛ n'u be Jehova ka lasɔmini kumaw lase siyaw ma? (Zer. 26:8, 12, 14, 15; 2 Tim. 4:1-5)

An ka 2 Masacɛw 24:1-17 kalan.

Zuda ye bɔnɛ juman sɔrɔ a kɛtɔ ka Jehova kaan bila? (2 Mas. 24:2-4, 14)