Maana 71nan: Alijɛnɛ nata koo
Maana 71nan: Alijɛnɛ nata koo
ALA ye alijɛnɛ tagamasiɲɛ min yira a ka kira Ezayi la, o ɲɔgɔn lo yirala jaa nin kan. Zonasi sanin kɔ, a ma mɛɛn Ezayi wolola.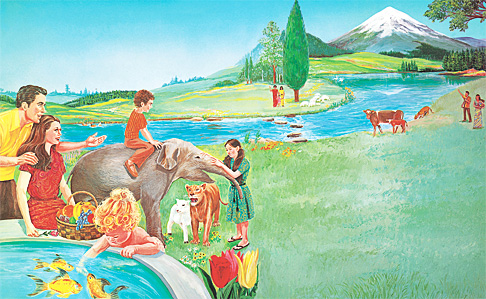 Alijɛnɛ kɔrɔ ko "nankɔ." I ɲɛɛ be alijɛnɛ min na yan, o tɛ i hakili jigi fɛɛn dɔ la wa? Jehova Ala tun ye nankɔ cɛɲumanba min labɛn Adama ni Awa ye, yala a bɔnin tɛ o fɛ wa? Yala dugukolo kuru bɛɛ bena kɛ alijɛnɛ ye tugun loon dɔ wa?
Ala bena alijɛnɛ min kɛ ka di a sagokɛlaw ma, a y'a ɲini a ka kira Ezayi fɛ a k'o cogoya lakali. A y'a fɔ ko: 'Kongo wulu ni baden bena to ɲɔgɔn fɛ. Misiden ni jaraden bena dumuni kɛ ɲɔgɔn fɛ, denmisɛn bena taga u dɛndɛ. Denɲɛnin bena tulon kɛ saa ka dingɛ daa la.'
Mɔgɔ caaman bena a fɔ ko 'ni tɛ se ka kɛ abada. Tɔɔrɔ ma daminɛ bi, ayiwa a yɛrɛ tɛna ban fana.' Nka, miiri k'a filɛ: Ala tun ye sigiyɔrɔ sifa juman lo labɛn ka di Adama ni Awa ma?
Ala tun y'u bila alijɛnɛ dɔ lo kɔnɔ. Komi u ye Ala kaan bila, o lo y'a to u bɔnɛna u ka sigiyɔrɔ cɛɲumanba la, u kɔrɔla ani ka sa. Nka, Adama ni Awa bɔnɛna fɛɛn ɲuman minw na, Ala ye layidu ta ko mɔgɔ minw be ale kanu a bena o di olu ma.
Alijɛnɛ nata kɔnɔ, tiɲɛni ni halakili tɛna kɛ yen fewu. Mɔgɔ bena sigi yen ɲɛsuma na. Bɛɛ bena to kɛnɛya ani hɛɛrɛ la. Fɛɛn bɛɛ bena kɛ i ko Ala tun b'a fɛ cogo min na a daminɛ na. An bena a ye kɔfɛ Ala bena o dafa cogo min na.
Ezayi 11:6-9; Yirali 21:3, 4.
---
Ɲiningaliw
Ezayi ye jɔn lo ye, a wolola tuma juman ani Jehova ye mun lo yira a la?
"Alijɛnɛ" kumaden kɔrɔ ko di, ani a be i hakili jigi mun lo la?
Jehova ko Ezayi ka mun lo sɛbɛ alijɛnɛ nata koo la?
Mun na Adama ni Awa bɔnɛna u ka sigiyɔrɔ cɛɲumanba la?
Mɔgɔ minw be Jehova kanu, a ye layidu juman ta u ye?
Ɲiningali wɛrɛw
Ezayi 11:6-9 kalan.

Hɛɛrɛ min bena kɛ adamadenw ni kongosogow cɛ duniɲa kura kɔnɔ, Ala ka Kuma b'o lakali cogo di? (Zab. 148:10, 13; Ezayi 65:25; Ezek. 34:25)

Jehova sagokɛlaw cɛma bi, cogo di Ezayi ka kumaw be dafara Alako ta fan fɛ? (Ɔrɔm. 12:2; Efɛz. 4:23, 24)

Yɛlɛmani min be kɛra adamadenw ka jogo la kabini sisan ani a fana bena kɛ duniɲa kura kɔnɔ, jɔn lo kɛra o sababu ye? (Ezayi 48:17, 18; Gal. 5:22, 23; Fil. 4:7)

Yirali 21:3, 4 kalan.

N'a fɔra ko Ala bena sigi adamadenw cɛma dugukolo kan, Bibulu b'a yira cogo di ko o tɛna kɛ yɛrɛ yɛrɛ la, nka tagamasiɲɛ koo lo? (Lev. 26:11, 12; 2 Til. Kib. 6:18; Ezayi 66:1; Yir. 21:2, 3, 22-24)

Ɲɛji ni dimi sifa jumanw lo bena ban? (Luka 8:49-52; Ɔrɔm. 8:21, 22; Yir. 21:4)