70: Jonás, ua dummadbo
DULE dermaryag gunaid be dake. ¡Dule wiles! ¡Uas dolegoanda! ¿Be wisi we dule, doagi? We dule nuga Jonás. Anmar dakoena igi we dule weyobi gueche owarmasa.
Jonás, Jehová gaya berbegedi. Eliseo, Bab gaya berbeged burgwisad sorbali, ichesaaledgi, Jehová Jonásga soggali: 'Neggwebur yeer dungueche be nao, Nínive neggweburse. E dulemar doggus isgus gubukwa, geb aa igargi ega be sunmaked an be abege.'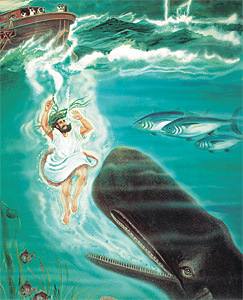 Auki Jonás budar Ninive sega nae. Degsoggua, ur baichik nadapid bali nade. Jehová nued daksuli Jonás wakinnedi. Degsoggu diburwa dummad yam onochunna. Yeer burwa gangusoggua, ur aibinbie. Ur selamala nue dobe itomala, geb na e bab dummaganse gotemala, bendaked egisega.
Napis Jonás we dulemarga soge: 'Andi, Jehová an Bab Dummadi, nibneg geb Napaneg imasadi. Jehová anga ibmar sogsad imakedgi an wakinmai.' Degsoggu ur selamar ese egisdemarsunna: '¿Igi anmar be imakosunna, diburwa bargaega?'
Jonás emarga soge: 'Dermar yagi be an metemala, geb dermar bogi guoed.' Selamala budar Jonás metemala, aukine diburwa bur gannaledgua, Jonás metemarsunna dermar yagi. Geb diburwa yog bogilegar gusa, geb dermar gannar daarmaksi gusbali.
Jonás dermar yag dogdegua, ua dummache dolesa. Aukine burgwichuli. Iba baagwa, ibgined bali geb mutikid bali ua saban yab mai gusa. Jonás bukib binsae, ibig Jehová soged bali imachur dibeye, ibig Nínives nachur dibeye. ¿Be wisi, degsoggu ibu imachunna?
Jonás, Jehovás gocha geb ese bendaked egicha. Degidgi, Jehová imasa ua neg dinnas agnaega. Sorbali Jonás, Nínives nade. Jehová anmarga ibmar soggalile bela anmar eba ibsaedi ¿nue abelesur be dake?
Libro bíblico de Jonás.
---
Egislenaid
¿Jonás doawa, geb ibu igar Jehová ega uksa?
Jehová eg igar uksadba budar nasoggua, ¿ibu Jonás imasa?
Diburwa bogi gueg, ¿ibu imakmalar gebye Jonás selamarga soge?
Sobaledgi be dake, Jonás dermaryag dogdegu, ¿igi gusa?
¿Ibbigwa Jonás ua saban yab mai gusa, geb degi maid gine, ibu imasa?
Ua saban yab mai nosgua, ¿bia Jonás nade geb ibu anmar egi durdake?
Bamalad egislenabalid
Absoge Jonás 1:1-17.

¿Nínive dorganga Bab igargi sunmaked Jonás igi daksa daklege? (Jon.1:2, 3; Pro. 3:7; Ecl. 8:12.)

Absoge Jonás 2:1, 2, 10.

¿Igi Jonás gusad anmarse oyoge, anmar Jehovás gollalile, Jehová anmar itogoe? (Sal. 22:24; 34:6; 1 Juan 5:14.)

Absoge Jonás 3:1-10.

¿Igi anmar ogannoe, Jonás gepe ega arbaed uklesad imachuli inigwale, Jehová amba eg arbaeg imasadi? (Sal. 103:14; 1 Ped. 5:10.)

Jonás, Nínive dorgangi binsasa yobi, ¿ibig anmar amba Bab igargi yoo dulemarga sunmake, emargi ichakwa binsaed suli? (Jon. 3:6-9; Ecl. 11:6; Hech. 13:48.)