68: Masmala warbo durgusmala
68: Masmala warbo durgusmala
BE BURGWIS gannar durgualile, ¿igi be nan itoder be binsae? ¡Be nan yeer itodele! Aukine, ¿dule burgwisale gannar nabir durgusbalile? ¿Iduar weyob ibmar gudii?
Sobar naidgi be dake, machered gunaid, ome machi bipibo gunanaid be dakbali. We macheredi Elías, Bab Dummad gaya berbegedi. Omedi Sarepta neggwebur ginedi, ei sui burgwisa, geb machigwadi we ome mimmi. Dakargu, ibagwengi we machigwa ueleali. Bur bule barbulosa, geb burgwenoniki. Degidgi Elías we omeg soge: 'Machigwa be anga udage.'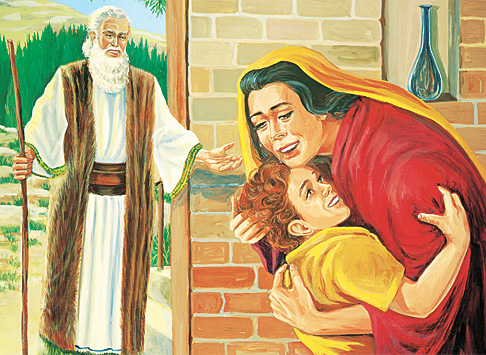 Elías machigwa burgwisad sesa aila niba geb camayag mesidapi. Degidgi Babse gotesunna: 'Jehová, gannar machigwa be wis oduloge.' ¡Geb machigwa bunnoali! Degidgi Elías gannar odesa, geb omeg soge: '¡Dake, be machi dula!' Geb ome yeer itonade.
Eliseo, Jehová gaya berbegedi, nug nika gudigusmoga. We dina, Elías bendakedgi arbae. Aukine, beechegi Jehová amba imasmoga Eliseo, ibmar dakledisurmalad nabir imakmogadi. Ibagwengi Eliseo Sunem neggweburse nade, geb ome wargwen nued Eliseo akwisa. Sorbali, we ome machi wargwen nikgunoniki.
Sorbali, we ome machi wargwen nikgunoniki. Ibagwengi, we machi bat birga yagbasaar nikadgi, sapurba e bab arbanaiche nade. Geb ukiar binnasur gollali: '¡An nono nunmake!' Negse sesmargu, burgwenoniki. ¡Ibiyob e nan nue wile itoge! Yog nade binne Eliseo sunaega.
Eliseo nonigua, cuarto machigwa burgwarmaiche dogdapi. Geb Jehovás gocha, geb burgwaled birgi megisa. Degidgi napis machi e sana uue gude, geb ilagugle ismisa. ¡Ibiyob e nan yeer ito nade dognonigua geb dakargua gannar e machi durgusa!
Bukidar dulemar burgwismalad. E gwenadgan nunmaked dummad sorbali itodii gusdamala geb e aimala deyobmoga. Anmardi geg burgwarmalad oduloge. Aukine Jehovádi nabir imake. Sorbali anmar dakoe igi Jehová, miyonba mergu gannar dulemar gudigumaladga imakoe.
1 Reyes 17:8-24; 2 Reyes 4:8-37.
---
Egislenaid
Sobaledgi dulemar warbaa be dakedi ¿doamala, geb igi ibagwen gine machigwa gusa?
¿Elías, machigwa ular ibu Babse egicha, geb igi sorba ibmar gusa?
Elías e bendaked ¿igi nuga?
¿Ibig Eliseo gala soglesa ome Sunem gined negse naoye?
¿Ibu Eliseo imasa, geb igi machigwa burgwisad gusa?
Elías ibmar imasadba geb Eliseo ibmar imasad bali, ¿ibu ibmar nabir imake Jehová na oyosa?
Bamalad egislenabalid
Absoge 1 Reyes 17:8-24.

¿Igi Elías wilup daklesa, bule Jehová sogedba ibmar imakdii, geb bule Jehová bensurbar dibeye? (1 Rey. 17:9; 19:1-4, 10)

¿Ibig geger daklege ome ei sui burgwisad, Sarepta gined Jehovág benguchurgua? (1 Rey. 17:12-16; Luc. 4:25, 26)

Ome Sarepta ginedga ibmar gusad, ¿igi oyoge Mateo 10:41, 42 gine Jesús ibmar sogsadi nue nabiri? (1 Rey. 17:10-12, 17, 23, 24)

Absoge 2 Reyes 4:8-37.

Ome Sunem gined, ¿emar akwedsik igi anmar odurdake? (2 Rey. 4:8; Luc. 6:38; Rom. 12:13; 1 Juan 3:17)

Emi iba gine, ¿ibu ibmar nuegan anmar nabir imakmoga dulemar Babga arbadimaladga? (Hech. 20:35; 28:1,2; Gál. 6:9, 10; Heb. 6:10)