64: Salomón Babse goled neg sobsa
64: Salomón Babse goled neg sobsa
BURGWED iduar, David, Bab Dummad Jehová neg soblegoed garda Salomónga uksa, Bab Dummad sega goled neg sobega. Birga bakegus neg dakmaidgi Salomón we neg sobedi onode, geb birga gugle abargi we neg obelononiki. Miliba dulemar alamasa we neg sobedgi. Ar or bukib ebulechoggua we neg sobega, yeer mani gargegu milesa, geb mani sibu bukib ebulesbali.
Igi iduale tabernáculo cuarto gwabo bur birigined nikgusa, ayobi we nega cuarto gwabo bur biriginedi nikmoga. Aukine we negdi e cuartomar ilabogwa wilup idualedba dungunane. Geb Salomón imasa, cuarto napi solabsiid yaba silegedi, Bab igar mesisad ulu; bamalad ibmar tabernáculo yab bukwa gusaddi, cuarto baidyab oubolesa.
We neg bela ogusgua, iba dummad onolesa. Salomón sindigar we neg asabin sigwisa geb Babse gocha, sobaledgi be dake yobi. Salomón Jehová gala soge: 'Be dule dummad gusoggua, bela nibneg bipirmaknaidi begardi yagba sulid, degisoggu, ¿igi we negdi bur be egi megosunna? Aukine, be an Bab Dummad guedi, be neggwebur we negsik bes gotemalale, wis be emar itoge.'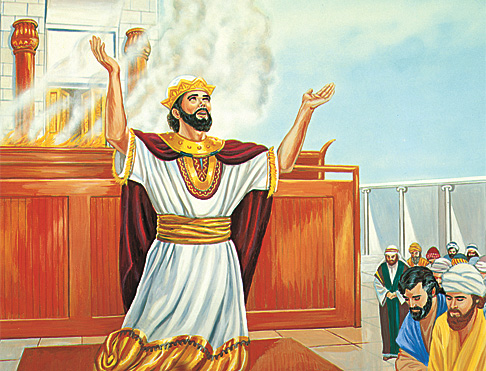 Salomón Babse goled ogusgua, nib soo aidenoniki. Bela ibdurgan Jehovág ukeg oburgwilesmalad ailabirgi mamaidi gummasa. Degine, Jehová bela we neg mee imaknoniki. Weyob oyolesa Jehová itomai, geb yeer itoge we neg soblesadba, degine, Salomón ese gochadba. Emisgi we negse dulemar Babse goleg nanae guarmala, tabernáculodi indaklesa.
Birga bali Salomón binsaed nika neg idumai gusa, geb dulemar yeer itobukwa gusa. Aukine Salomón bukidar omegan neggwebur bamalad ginmalad nikgusa, amardi Jehová na e Bab Dummadga imaksurmala. Be dakena we ome wargwen, ibmar sobaled asabinni ibmar oyonaid. Napis we omegan imasa Salomón ibmar sobarmalad na e bab dummadga imakmogadga. ¿Be wisi emisgi igi neg gusa? Salomón dule isganag gude, geb negwebur emisgi bar yeer itosuli.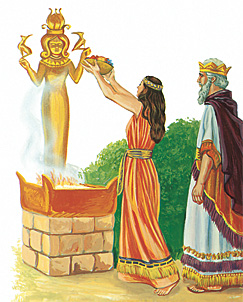 We ulale Jehová, Salomón abin istar itoali, geb ega soge: 'Be neg dakmaidgi an be obanoe geb dule baid an be anale mesoe. Be duladgi we ibmala an imakosuli, be machi neg dakmai gusale an we ibmar imakoe. Aukine be machig bela dulemala an obanosuli.' Anmar dakoena igi we ibmar gusa.
1 Crónicas 28:9-21; 29:1-9; 1 Reyes 5:1-18; 2 Crónicas 6:12-42; 7:1-5; 1 Reyes 11:9-13.
---
Egislenaid
¿Birga bigwa galesa Salomón, Jehovás goled neg sobega, geb ibig mani bipisur milesa?
¿We neg gwabigwa cuartomar bur birigined nikgusa, geb ibu ibmar silesa cuarto napi solabsiid yaba?
Bela we neg soblesgu, ¿igi Salomón sogsa Babse gochagu?
¿Igi Jehová oyosa yeer itoge Salomón ese gochadba?
Salomón omegan, ¿ibu imakeg Salomón imasa, geb igi gusa?
¿Ibig Jehová, Salomón abin istar itosa, geb igi Jehová, Salomón gala sogsa?
Bamalad egislenabalid
Absoge 1 Crónicas 28:9, 10.

David, 1 Crónicas 28:9, 10 gine sogsad bali, ¿ibu ibmar bane bane anmar imakedgi alamaked abelege? (Sal. 19:14; Fili. 4:8, 9.)

Absoge 2 Crónicas 6:12-21, 32-42.

¿Igi Salomón oyosa, dule wargwensaar neg sobdisuli Bab Dummadi egi nabir megega? (2 Cró. 6:18; Hech. 17:24, 25.)

Salomón ibmar sogsadi 2 Crónicas 6:32, 33 gine, ¿ibu gine anmar odurdake Jehová siki? (Hech. 10:34, 35; Gál. 2:6.)

Absoge 2 Crónicas 7:1-5.

Jehová neg mee imas daksamargu, Israel dorgan Jehová nug odummosmala yobi, ¿ibu anmar imakedmoga Jehová na e neggweburga ibnuegan imakmai anmar daker? (2 Cró. 7:3; Sal. 22:22; 34:1; 96:2.)

Absoge 1 Reyes 11:9-13.

¿Igi Salomón gudigusad oyoge burgweche anmar Babba nue nai gudigued abelege? (1 Rey. 11:4, 9; Mat. 10:22; Rev. 2:10.)