61: David reiga megnoniki
61: David reiga megnoniki
SAÚL gannar David gae soggarbali. Geb soldadomar 3,000 mergu amisad, soldadomar bur buleganad, David amiega. David we ibmar wisgusgua, neg argamaladi barmisa, dake gala bia Saúl we mutiki gabmadibeye. Degidgi, e sordagan warbo sega egicha: '¿Doa an bogwa naoedi Saúl gabmaiche?'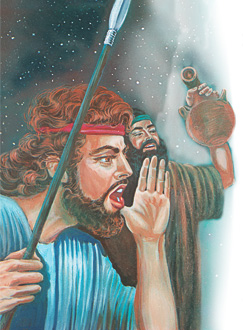 Abisai soge: 'Ani an naoe.' Abisai dina, Seruya machi, geb Seruya dina, David buna. Degidgine Saúl geb e sordamarmala amba gabmamaidgi, David, Abisai bogwa arbakee emar imbagine dogsamala. Geb Saúl nono naga bali e lanza maidi ei susmala, geb e dii gobed buglu ei susmarbali. Belagwable nue gabmamasoggua, daklechurmala, dule wargwensaale itochuli.
Emisgi be dakena, David, Abisai bogwa. Wakichamala, geb yar birgi gwismala. Emisgi David binnasur gote Israel soldadomar e dummache: 'Abner, ¿ibigala be, nue be rei gala nakulesuli? ¡Dakena! ¿Bia e lanza nade, geb bia nade e dii gobed buglu?'
Geb Saúl atakali. Mag itoge David sunmake, geb egichali: '¿Be David?' ¿Be daksa Saúl, Abner bogwa urbali gwismaladi?
David abin soge: 'Eye, dummad.' Geb David degi ese egisdesunna: '¿Ibigala an gaedbinale be alamakdii? ¿Ibu ibmar ichakwa an imasa? Rei, an be lanza ganikid be dakena. Lanza sued gala, dule wargwen dagdo.'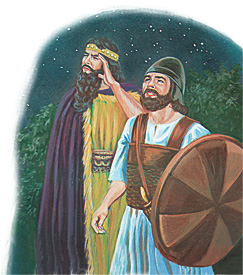 Saúl mag na nosad itoge, geb soge: 'An ibmar ichakwa imasa. An dule binsaed sulid yobi gusa.' Sorbali David nade, geb Saúl na negse nadmoga. Aukine David na wargwengi soge: 'Ibagwengi Saúlse an oburgweledapoed. An Filistea yarse wakinner geboed.' Geb deyobi imasa. David nabir Filistea dorgan yardasa, geb imasa wemala binsaega, emisgindi bar e istarad surye.
Beechegi, Filistea dorgan Israelbo urwe soggarmala. We urwedgi Saúl, Jonatán bogwa burgwismala. David nue wile itoge we ibmar gusadba, geb namaked soggwen yeer namakleged narmasa, aa gine wegi soge: 'An nue wile be bali itoge, gwenad Jonatán. ¡Ibiyob an be sabgudii gusa!'
We ibmar sorba David gannar Israelse nade, Hebrón neggweburse. Wegine urwed nonai. Abar abemala Saúl machi Isbóset nugad, reig megedi, geb baigandi David reig imakbimala. Aukine Davidba nanaidi un obinnonimala. David reig megnonigua 30 año nika. Hebrón neggweburgi neg dakmai gusa, birga gugle abar. Abar e masmala agine ega gwalulesmalad nugnanae: Amnón, Absalón geb Adonías.
Beeche gine, David geb e sordagan Jerusalén, neggwebur yeer daklegedi, sunae soggarmala. David buna Seruya nugadi, machi baid nikbali, adi nuga Joab. We urwelenaidgi Joab emar iduge. Agala David, Joabga arbaed nued soggwen uksa, onugsasa soldadomar e dummadga. Emisgi David, Jerusalén neggweburgi, reig arbachunna.
1 Samuel 26:1-25; 27:1-7; 31:1-6; 2 Samuel 1:26; 3:1-21; 5:1-10; 1 Crónicas 11:1-9.
---
Egislenaid
Saúl amba gabmaid gine, ¿ibu imasmala David, Abisaibo?
¿David igi Saúl sega ibmar egisnai guali?
Saúlbo sunmasad sorba, ¿bia David nade?
¿Ibig David nue wile itoali, geb aular namaked soggwen narmaksa?
¿Igi birga David nika reig imaklesgu Hebrón neggweburgi, geb abar e masmala igi nugmala?
¿Sorbali bia David neg dakmai gusbali?
Bamalad egislenabalid
Absoge 1 Samuel 26:1-25.

David ibmar sogsadi 1 Samuel 26:11 gine, ¿igi oyoge David igi daksa Bab Dummad dule wargwen susale emar idugega? (Sal. 37:7; Rom. 13:2.)

Anmar bela bela alamakdi dibe emarga ibmar nuegan imakega, auki bamaladi gwen we ibmar nued daksurmar daklegele, David 1 Samuel 26:23 gine ibmar sogsadi ¿igi nabir anmar bendasale, ibmar nuegan imakdii guega? (1 Rey. 8:32; Sal. 18:20.)

Absoge 2 Samuel 1:26.

¿Igi cristianomar 'na bur bule muchup muchup sabgusmalale', David, Jonatán bogwa na sabgusmaladyob? (1 Ped. 4:8; Col. 3:14; 1 Juan 4:12.)

Absoge 2 Samuel 5:1-10.

¿Birga bigwa David reig megisa, ibu neggweburmar gine geb igi birga neggweburmar irbali megisa? (2 Sam. 5:4, 5.)

¿Ibig David nabir dule dummadga gunoniki, geb emi iba gine ibu ibmargi anmar obinsae? (2 Sam. 5:10; 1 Sam. 16:13; 1 Cor. 1:31; Fili. 4:13.)
NABBI WISGUEGA
BAB IGARGI BE MIMMI ODURDAGGO
Anmar Bibliagi absogoena durdaggega doa David bendasa.