60: Abigaíl, David bogwa
WE OME yeer dakleged, David sega danikidi, ¿be wisi doawa? We ome nuga Abigaíl. We ome yeer binsaed nika, ibagwengi imasgusa David mer ibmar isgana imakega. Aukine we ibmar daked iduale, bin anmar dakoloe igi David gudigusa.
Saúlgi wakichad sorbali, David akwa ollormalad yab dukudi gusa. E iamala geb bela e gwenadgan bamaladi, David sega nonigusmala. Macherganbi, 400 mergusaar David sega nonimala, geb David wemar dummadga gunonisunna. Degidgi, David, Moab neggwebur reis nade gusa geb David ega soge: 'Wis an bab an nan bogwa bemar walik meged an abegwele. An bin dakolo igi andi an gudo dibe.' Sorba David geb e sordaganmar sapurba dukudi gudmala.
Beeche gine, David Abigaíl mag dake gunoniki. We ome, e sui nuga Nabal. Nabal, dule mani ibedi, nagnumar bukidar nika. Ovejamarbi 3.000 mergu nika geb cabramar 1.000 mergu nikbali. Aukine, Nabal dule nallegala gue. E ome Abigaíldi ome yeer daklegedi. Ukine ibmar nuegan imakbali. Ibagwengi na gwenadgan bendasgusa. Anmar dakoena igi we ibmar gusa.
David geb e sordaganmar nued Nabalgi gusmala. Nabalga oveja akwemalad bendasgusmala mer ei atursalemalaga. Ibagwengi David na sordamar barmisa Nabalse wis ibmar egisega. Web modapmargua, dakargu, Nabal geb ega arbamalad burakwa oveja absar eninanai. Iba onolenai, degsoggu Nabal bukidar mas nuegan daksii. Degidgi, David sordamar ega sogdemala: 'Anmardi be bogwa dule nued gusmalad. Bei oveja wargwensaale anmar atursachulid, bur anmardi beg akwisad. Degsoggu, be wis anmarga mas uked anmar abegena.'
Nabal ogwichiali geb soge: 'Dulemar begimaladga an mas ukosuli.' Sae ito sunmake, geb David siki ibmar nuegan gwen sogsa suli. Davidga sognonimargua deyob Nabal sogye, David bela bela sae itoge. E sordamarga soge: '¡Espadamar nasikmalo!' Geb nadmarsunna Nabal oburgwega geb e sordagan oburgwe baliga.
Nabal e sorda wargwendi itoargua Nabal gwen gaya nabirid sunmachuli, Abigaílga sognade igi ibmar gusa. Abigaíl yog mas guakwa imakar imasa, asnomar birgi nasik nasik imasa geb degi nade. David abin gunonigua, Abigaíl asnogi aides imasa, geb David abinni dullu imasa geb degine soge: 'Mer be an sui Nabaldi itoge. Ar wedi dule binsaed satedid, degine, yogasaar ibmar imaked. An beg ibmar sedanikid. Mer be an abin obanen gadina, geb ibmar gusadi ies sao.'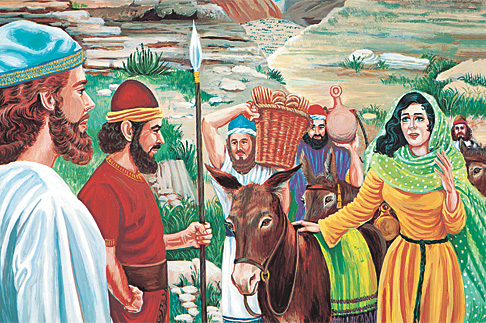 David abin soge: 'Be yeer binsaed nika. Nabal sabsur daed bali mer an Nabal oburgwega be an bargasa. Be negse be na gannar nuedgi nao.' Sorbali, Nabal burgwisgua, David, Abigaíl nikgunonibali.
1 Samuel 22:1-4; 25:1-43.
---
Egislenaid
Sobaled be dake, ¿igi nuga ome David daknadapidi geb we ome dule igi daedi?
¿Doagi Nabal?
¿Ibigala David abar e sordagan barmisa Nabal sega ibmar egisnaega?
David e sordaganga, ¿Nabal igi soge, geb David abin igi guali?
¿Igi Abigaíl na oyosa nue binsaed nika dae?
Bamalad egislenabalid
Absoge 1 Samuel 22:1-4.

¿Igi David gwenadgan nagi dae oyosmala, geb igi weg anmarse oyolege, na muchup muchup anmar ogannoed abelege, gwenadgan Cristob nanaid yagine? (Pro. 17:17; 1 Tes. 5:14.)

Absoge 1 Samuel 25:1-43.

¿Ibig Nabal gine ichakwa sunmakledae? (1 Sam. 25:2-5, 10, 14, 21, 25.)

¿Ibu igar nued omegan Cristob nanaid nabir durdake Abigaíl (Abigail) gine? (1 Sam. 25:32, 33; Pro. 31:26; Efe. 5:24.)

¿Ibu igar sogbo ichakwamalad imakedgi, Abigaíl (Abigail) David bargasa? (1 Sam. 25:31, 33; Rom. 12:19; Efe. 4:26.)

Abigaíl (Abigail) eg ibmar soggargu, ¿David igi abin imasa, geb igi we daedi machergan bendake nabir igi Jehová omegan dakdae deyobi dake gumarmogaga? (Hech. 21:8, 9; Rom. 2:11; 1 Ped. 3:7.)