51: Rut, Noemí bogwa
BIBLIA gine be dakdele, garda soggwen nai nugad Rut. Sunmaknai dule wargwen e gwenadganmar epenne gudigusmaladgi, Israelgi juezmar neg dakmamai unni. Rut dina, yagwa Moab neggwebur ginedi geb Bab Dummad e neggwebur Israel e sorda suli. Aukine Rut Bab Dummad napiragwad Jehovásik durdasgua, nue Jehová bali naigusa. Muukwa Noemí nugadi, Rut bendasa Jehová siki ibmar wisguega.
Noemí, Israel ginedi. Israelgi mas galakgudgua, Noemí e sui bogwa Moab neggweburse megnadmala geb e masmala warbogwadi eba nadmarmoga. Ibagwengi Noemí sui burgwenoniki. Sorbali, Noemí masmala, omegan Moab ginmalad nikgunonimala; we omegan nugnanae Rut geb Orpa. Aukine 10 añosaar nasad sorbali, Noemí masmala warbober burgwenonimarmoga. ¡Mandur nabed! ¿Ibu emisgindi Noemí imaksunnoe?
Ibagwengi Noemí gannar e dulemarse nae soggali, dikasur gaamakdoe. Rut, Orpa bogwa Noemígi bangubisurmala, degsoggu, Noemí bali nadmala. Igarba suiti nanasmaladgi, Noemí we omeganga soggali: 'Gannar bemar negse bemar nae. Agine bur bemar gudigumalo, bemar nangan walik.'
Noemí naed iduar, Noemí omegan wagar usa. Rut, Orpa bogwa nue bomala, ar wemarde nue Noemí sabmalad. Soggarmala: '¡Suli! Anmar be bali namarmogoe be dulemarse.' Geb Noemí abin sogde: 'Bemardi gannar naer gebed. Bur nued bemar gudiguoe be dulemar abargi.' Degsoggu Orpa gannar e negse nachunna. Aukine Rut dina nachuli.
Noemí gannar Rutga soggali: 'Orpa bat nade. Be eba namoga.' Aukine, Rut abin imakde: '¡Mer anga soge, naye! An beb nabie. Bia be naddibe, an beb namogoe, bia be megnaddibe, aagi an megnamogoe. Be neggwebur an neggweburga gumogoe geb be Bab Dummad an Bab Dummadga gumogoe. Bia be burgoe, agi an burgwemogoe, geb agine an digmarmogoe.' Rut we ibmar sogsagua, Noemí egi bar alamachuli gannar barmidega.
Ebober we omegan napis Israelse owarmakdapmarsunna. Aagi megdapmala. Abgayala Rut yog sapurba arbaali, ar ibmar weed ibagangi owarmasad. Rut, dule Booz nugad nagnugangi ibmar wesa, ar Booz sogedba. ¿Be wisi doa Booz e nana? Rahab, Jericó neggwebur ginedi.
Ibagwengi Booz, Rutga soggali: 'An itosdae sunmakmala, be ibmar nuegan Noemíga imakdiid siki. An wisi be sergangi be bangusa geb be neggweburgi be banguarbali, geb neggwebur dakdisuliche be megnoniki. ¡Jehová beg ibmar nuegan imasan gadina!'
Rut abin sogde: 'Be dule nued dae. Ibmar nuegan be anga sogsadba nued ito be an imasa.' Booz nued Rut dake geb sanar guchulidgi na nikgusmala. ¡We ulale Noemí nue yeer itoali! Ar bur Noemí nue yeer itogusa Rut, Booz bogwa gepe goe susugwa nikgunonimargu, Obedye we goe onugsalesa. Sorbali Obed, David e dadga gunoniki; David siki sorba bur bule anmar ibmar durdakoed.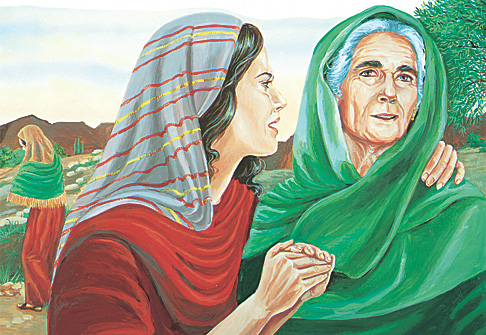 Libro bíblico de Rut.
---
Egislenaid
¿Ibig Noemí Moab neggweburse nade?
¿Rut, doawa geb Orpa doamoga?
¿Igi sogsamala Rut, Orpabo, Noemí emarga soggargu bemar neggweburse gannar namarye?
¿Doawa Booz, geb igi Rut bendasa, igi Noemí bendasbali?
¿Igi onugsalesa Booz, Rut bogwa goe nikgusadi, geb ibig anmar we goe ebinsaedi?
Bamalad egislenabalid
Absoge Rut 1:1-17.

¿Igi Rut bela belad Noemí sabe na oyosa ega ibmar sogsad gine? (Rut 1:16, 17.)

Rut igi ibmar imakdi gusa, ¿igi oyoge emi iba "ovejamar baigan" igi nibnegse namaloed dakmarmoga? (Juan 10:16; Zac 8:23.)

Absoge Rut 2:1-23.

¿Ibu ibmar gine Rut igar nued yaagan gala mesisa? (Rut 2:17, 18; Pro. 23:22; 31:15.)

Absoge Rut 3:5-13.

Rut, Booz (Boaz) nikgubie bur machered nuchukwagwad nikgued anale, ¿igi Booz wegi daed daksa?

Rut daed gine, ¿ibu anmar durdake bela belad napiragwad emar sabgued siki? (Rut 3:10; 1 Cor. 13:4, 5.)

Absoge Rut 4:7-17.

¿Igi machergan Cristob nanaid, Booz (Boaz) yobi dae gusmarmogale? (Rut 4:9, 10; 1 Tim. 3:1, 12, 13; 5:8.)