50: Omegan warbogwad buleganad
50: Omegan warbogwad buleganad
ISRAEL dulemarga neg beeche gualile, wemar Jehová sega gote damala. Jehová wemar itomadae, geb wemar bendakega idumalad bulegan barmiardae. Biblia we dulemar bie juezmarye. Josúe gebe juezga megisadi, geb abar we sorba juezmar megismaladi: Otniel, Aod geb Samgar. Auki dulemar Israel neggwebur bendasmaladi, warbogwa omeganana, nugmalana Débora geb Jael.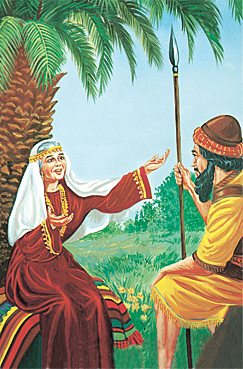 Débora Bab Dummad gaya burba berbegedi. Yoo ibmar guoed Jehová ega sogdae, geb degi Débora we ibmar Jehová sogdaedi dule bamaladga sogdamoga. Débora juez bali. Sapursik ogob urbali sigwisdae geb dulemar ese nonidamala ega igar aburnaid nudakega.
Aa ibagangi Jabín Canaán gine reiga mai. Carromar urwedgad 900 mergu nika. Jabín sordagan yeer gangumarsoggu, budikar Israel dulemar Jabínga arbamaladga gusmala. Jabín urwemalad e dummadi nuga Sísara.
Ibagwengi Débora, juezse gocha, Baracye nugadi, geb ega soge: 'Jehová sogsa: "Dulemar 10.000 mergu be sue geb Tabor yarse be sede. Geb Sísara an bes sedagoe. Geb an imakoe be nakwedi Sísaragi geb bela e sordagangi."'
Barac, Déboraga soge: 'Be anbo naerdi, an naodo.' Débora eba nade, auki Barac gala soge: 'We urwedgi nakwilegoed bali be nug odummolego suli, ar Jehová imakoe ome wargwen Sísara oburgwega.' Geb weyob ibmar gunoniki.
Barac, Tabor yar birgi gudii aideali Sísara e sordagan abinguega. Ukiale Jehová neba naidi odosa geb bukib e istarmaladi gundulesmarsunna. Sísara carro yagsii aidesa geb wakite.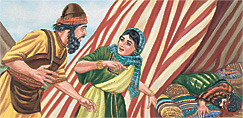 Undar nanachuli, Sísara, Jael urmor neg owarmakdapi. Jael ega soge be dogye, geb wis bipi gobega leche ega uksa. Gobsad bali gabbiguali, geb sanar guchuli gabide. Degidgi Jael suar suchuigwad susa geb Sísara nono gine we suar bioksa. ¡Sorba, Barac nonigua, Jael, Sísara bat burgwar mai ese oyosa! Débora ibmar sogsad gunoniki.
Napis rei Jabín oburgwilenoniki; degidgi wis undarsaar Israel dulemar nuedgi gudigusmarsunna.
Jueces 2:14-22; 4:1-24; 5:1-31.
---
Egislenaid
¿Juezmar doamala, geb abar igi nugmala?
¿Ibu arbaed nued akarsaila Débora nikgusa, geb we arbaed dega ibu imakedi?
¿Ibu Jehová sogsadi Débora, juez Baracga sogsa, geb doa nug dunguoye ega sogsa bali, aunni rei Jabín geb Sísara, Jabín urwemalad e dummadi, Israel oitosoggar gunanamargua?
¿Igi Jael na oyosa ome buled gue?
Rei Jabín burgwisad sorba, ¿ibu ibmar gusa?
Bamalad egislenabalid
Absoge Jueces 2:14-22.

¿Ibu ibmar imasmalad bali Jehová Israel dulemar abin istar itosa, geb ibu anmar egi durdake? (Jue. 2:20; Pro. 3:1, 2; Eze. 18:21-23.)

Absoge Jueces 4:1-24.

Débora daedgi geb Jael daedgi, omegan Cristob nanamaladi, ¿ibu durdakmala mer Bab bengued siki geb na buled imaked siki? (Jue. 4:4, 8, 9, 14, 21, 22; Pro. 31:30; 1 Cor. 16:13.)

Absoge Jueces 5:1-31.

Barac, Débora bogwa, nakwisadba namasmalad yobi, ¿ibu anmar Babse gollalile emaryob egichamogale, Armagedongi urwed danikid siki? (Jue. 5:3, 31; 1 Cró. 16:8-10; Rev. 7:9, 10; 16:16; 19:19-21.)