44: Rahab neg argamalad odukgusa
44: Rahab neg argamalad odukgusa
WEMALA Israel dulemala, neg argaeg gudidiinad. Wakinsoggarmala, mer oburgwelemalaga. Geb ome wemar bendaknaid dina nuga Rahab. Rahab neg sii Jericó neggwebur muro maidgi. Anmar dakoena igi we ibmar gusa.
Israel dulemar Jordán diwar obaksoggar bukmala, Canaán neggweburgi dogega. Canaán neggweburgi doged iduar, Josúe dule warbo barmisa neg argaega. Geb wemarga soge: 'Jericó neggwebur daknamalo geb e napa dakmarbalo.'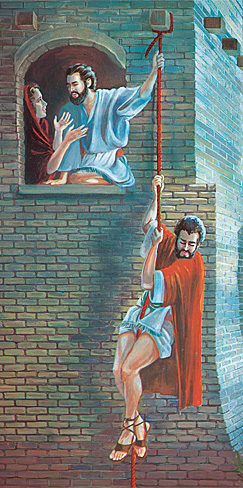 Neg argamalad Jericó neggweburse dogsamargua, Rahab negse nadmala. Geb dule wargwen Jericó e reiga soge: 'Mutik warbo Israel dulemar wes nonimala, neg argaega.' Rei we ibmar itoargua dulemar barmisa Rahabse geb Rahabga sogdapmala: '¡Be neg yaba machergan bukwadi onoge!' Auki Rahabdi neg birgi machergan odukgusa. Degsoggu sogde: 'An negse machergan arbimala, aukine an wichuli biamaladina. Neg sichi sichi gude nadmala, neggwebur wagag atiged iduar. ¡Bemar abarmakele, bargasmalale!' Degsoggu abarmadmala, bargaega.
We dulemar nadmargua, Rahab abarmakar abarmakar neg niba nakwide. Geb neg argamaladga soge: 'An wisi Jehová bemarga we napa ukoe. Anmar itosa Jehová, dermar Ginnid odinnosye, bemar Egiptogi nosgua, geb bemar rei Og geb rei Sehón oburgwismar barye. An bemar bendachoggua wis innikigwadgi bemar anga soged an abege, bemar an bendakmarmogoye. An bab, an nan, an susmar, an urbamar geb an yormarde, wis wemar bendakmalo.'
Neg argamaladi ega sogmala bendakmaloye, aukine Rahab ibmar soggwen imakmogar gebe. Neg argamalad ega sogmala: 'We dub ginnid sue, geb ventanag edinno, geb bela be gwenadgan be neggi burakwa urbo. Anmar bela gannar nonikir Jericó ginmalad annig neg suega, geb anmar we dub daksale, anmar dule wargwensaar be negyab bukwad oburgosuli.' Neg argamalad Josúese gannar owarmaksamargua, bela ibmar gusad ega sogdapmala.
Josué 2:1-24; Hebreos 11:31.
---
Egislenaid
¿Bia Rahab neg sii?
Sobaledgi dulemar warbo be dakedi, ¿doamala, geb ibigala Jericó neggweburgi gudimala?
Jericó rei, ¿ibu imakye Rahab gala sogsa, geb igi Rahab abin sogsa?
¿Igi Rahab dulemar warbogwad bendasa, geb ibu wis ega imakmaloye wemarse egicha?
Neg argamaladi, ¿ibu Rahabga imakmaloye sogsamala?
Bamalad egislenabalid
Absoge Josúe 2:1-24.

Éxodo 23:28 gine Jehová ibmar sogsad, ¿igi gunoniki, Israel dulemar Jericógi napa egwannadmargua? (Jos. 2:9-11.)

Absoge Hebreos 11:31.

¿Igi Rahab ibmar imasadi anmarga oyoge, nue abelege mer Babgi bengued? (Rom. 1:17; Heb. 10:39; Sant. 2:25.)