43: Josúe dummadga gunoniki
43: Josúe dummadga gunoniki
MOISÉS, Israel dulemarba Canaánse dogbie. Agala weyob soge: 'Jehová, an Jordán diwar obakbie, napa nued dakega.' Jehová dina weyob ega soge: '¡Gusa! ¡Mer bar we ibmar obaro!' ¿Be wisi ibigala weyob Jehová ega sogsa?
Moisés akwa sarsosgua ibmar gusad ulale. Ebinsao: Moisés, Aarón bogwa Jehová e nug odummochurmala. Neggweburga sogsasurmala Jehová dii akwagi aryoedga imakmainye. Agala Jehová sogsa wemar Canaán neggweburgi dogosurye.
Degidgi, Aarón burgwisad sorbali nii ichesur nanachuli, geb Jehová Moisésga soggali: 'Be Josúe sue, geb be ogwisoe sacerdote Eleazar asabinni, geb neggwebur asabinni. Agine, bela dulemar asabinni, be sogoe Josúe dummadga nug salesye.' Moisés bela Jehová ega ibmar sogsad bali imasa, weg sobarnaidgi oyolenaiyob.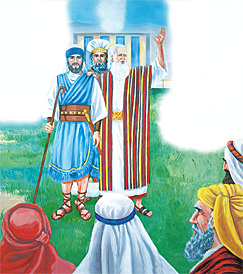 Degidgi Jehová Josúeg soge: 'Mer be sikirmako, geb mer be dobgubalo. Be Israel dulemar idugoe geb Canaán neggweburse Israel dulemar be sedoe igi an sogsa aa yobi, geb ani an be bendakoe.'
Jehová sorba Moisésga soge, Moab neggweburgi, Nebo yar dukuse nakoye. Wegine Moisés nabir dakoe Jordán diwar daksiki, Canaán neggwebur yeer daklegedi. Jehová soge: 'We neggwebur an ukoye sogsa Abrahán mimmiganga, Isaac mimmiganga geb Jacob mimmiganga. Dakedga an be imasa, aukine agindi an be odogosuli.'
Wegine, Nebo yar birgi, Moisés burgwisa. Aa unni 120 año nikana. Amba dutusulina geb amba bole bole ataksurbalina. Neggwebur wile itosa geb belagwable wemar beeche Moisésga bodii gusmala. Aukine yeer itosmala emisgi Josúe e idugedga gunonikid bali.
Números 27:12-23; Deuteronomio 3:23-29; 31:1-8, 14-23; 32:45-52; 34:1-12.
---
Egislenaid
Sobaledgi dulemar warbo Moisésbo gwichid, ¿doamala?
Jehová, Josúe gala ¿igi soge?
¿Ibig Moisés Nebo yar birgi nakwisa, geb igi Jehová ega sogsa?
¿Birga bigwa nika Moisés burgwisa?
¿Ibig neggwebur wile itobukwa, aukine ibu ulale yeer itobukmarbali?
Bamalad egislenabalid
Absoge Números 27:12-23.

Jehová, Josúe gala ¿ibu arbaed nued uksa, geb emi ibag igi mag daklemoga Jehová na E neggwebur gine binsamai? (Núm. 27:15-19; Hech. 20:28; Heb. 13:7.)

Absoge Deuteronomio 3:23-29.

¿Ibig Jehová, Moisés geb Aarónbo dogega imachuli, Israelga napa ukoye sogsadse, geb we gine ibu ibmar anmar durdake? (Deu. 3:25-27; Núm. 20:12, 13.)

Absoge Deuteronomio 31:1-8, 14-23.

Moisés napi Israel neggweburga sunmasad gine, ¿igi na oyosa sae itochuli Jehová e odurdaksad bali? (Deu. 31:6-8, 23.)

Absoge Deuteronomio 32:45-52.

Bab Gaya Burba, ¿ibu imakedga anmar imakoe? (Deu. 32:47; Lev. 18:5; Heb. 4:12.)

Absoge Deuteronomio 34:1-12.

Amba Moisés, Jehová daksasuli inigwale, Deuteronomio 34:10 gine ¿bule Moisés, Jehovábo walikagwanye oyoge? (Éxo. 33: 11, 20; Núm. 12:8.)