28: Goe Moisés bendaklesa
28: Goe Moisés bendaklesa
BE DAKE we goe yaagwa goo gine akaniki bomaidi. We goe nuga Moisés. ¿Be wisi we yaagwa yeer daklegedi doawa? Egipto rei e sisgwa, Faraón e sisgwa sunnadi.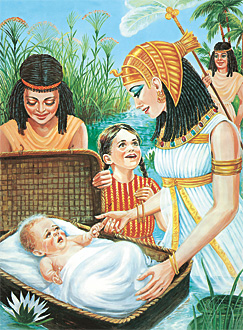 Moisés nan goe odukusa nii warbaa wilup, mer Egipto dorgan we goe oburgwemala gala. Aukine e nan wisinad sun nabir Moisés amismalale, degsoggua bendake gala weyob imasa.
Garba ise sobale imasa mer egi dii doge gala. Sorbali aa yagine Moisés mesisa geb we garba gagan matusurmalad imbabali nasisa Nilo diwar gaka gine. Geb e bun Míriamye nugad gala sogsa, mer egi banguoye dake gala igi gudo dibeye.
Sanar guchuli Faraón e sisgwa Nilo diwarse obnoniki. Geb ukiar gaganmar imbabali garba nai dakali. Geb egala arbaed wargwen gala sogsa: 'We garba be anga sunae.' Geb rei e sisgwa garba egaargua, ¡goe yeer dakleged mai dakali! Goe Moisés ogormakmaina, geb rei sisgwa wile goe dakali. Egipto rei sisgwa we goe oburgwed abechuli.
Degid gine Míriam nonimoga. Be dakena bia Míriam gwichi sobarnaid gine. Míriam, Faraón e sisgwa sega egicha: '¿Israel gined ome be gala goe akweg an aminae?'
'Eye be anga aminae,' rei e sisgwa abin sogsa.
Degsoggua Míriam abarmade e nanga soge gala. Moisés e nan nonigua, rei e sisgwa ega sogsa: 'We goe be sede geb be anga odummogo, aa ular an be bennukoed.'
Degsoggu Moisés e nan aka na e mimmi akwisad. Sorbali, Moisés nuegwad dungusgua, gannar Faraón e sisgwa sega sesad, geb we na susad, e machi yobi na imasad. Agala Faraón neg yagine Moisés dunguali.
Éxodo 2:1-10.
---
Egislenaid
We sobaledgi goe be daked, ¿doasunna, geb doa goo gine akaniki?
¿E nan ibu imasa mer Moisés iblomalaga?
Bunolo sobaledgi be dakedi, ¿doasunna, geb ibu imasa?
Faraón e siskwa goe selenai amisgua, ¿igi Míriam ega sogsa?
Rei siskwa, ¿igi Moisés nanga sogsa?
Bamalad egislenabalid
Absoge Éxodo 2:1-10.

Moisés nan, ¿igi nabir Moisés bipigwa unni odurdasa geb ounas bali, geb emi ibag, igi babgan deyob imasmogale? (Éxo. 2:9, 10; Deu. 6:6-9; Pro. 22:6; Efe. 6:4; 2 Tim. 3:15.)