22: José eskaryag mellesii
22: José eskaryag mellesii
JOSÉ unnila 17 año nika Egipto neggweburse sesmargua. Webali ukdapmala dule Potifarye nugadga. Potifar dina Egipto reiga arbae, we rei Faraónye bilege.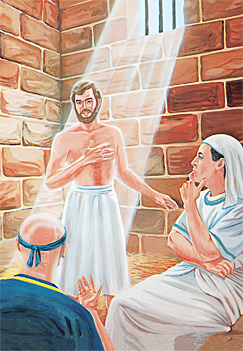 José bela bela arbadae e ibed Potifarga. Degsoggua, José nue dungusgua, Potifar onugsasa bela eg neg dakega. Degitega, ¿ibigala José eskaryagi mellesisunna? Potifar e ome ulale.
José dungudgua yeer dakle gunoniki, geb Potifar e ome e suiga imakbi guali. Aukine Josédi wisi we ibmar nuechuli, agala we ibmar imakbisuli. Potifar e ome sae itode. Degsoggua, e sui nonigu, ega gakansasa geb ega sogde: '¡We José dule isgana, e omega an imakbi guali!' Potifar na e ome soged bur itosa, geb sae José dakali. Geb imasa eskaryagi José metemalaga.
Eskarya daksiidi, sanar guchuli daknoniki José dule nued dae. Degsoggua onugsasa bela bamalad galesimalad dakega. Beechegi Faraón e nog daked abin sae itoali geb amba e madu sobed abin sae itodbali, geb wemar eskaryagi mellesmarmoga. Ibagwengi mutikid bali, we dulemar warwargwena gabgin negburgan daksamalad auki aku itosmala. Oibosgu José emarga soge: 'Bemar gabdasad anga sogmalana.' Degiidgi José, Bab Dummad ganguedba emarga sogsa we gabdaked ibu obare.
Nog dakedga José sogde: 'Ibabaas be onolego, geb gannar Faraónga nog dakedga be arbaoed.' Degsoggu José ega soge: 'Be nosale angi be sunmako Faraónga, geb be an bendako an weg nomogaga.' Aukine madu sobed gardina, José soge: 'Ibabaas Faraón be dukar egwanoed.'
Ibabaagi José sogsad yobi ibmar gunoniki. Faraón madu sobed e dukar egwacha. Geb nog daked dina eskaryagi siid onolesad geb gannar rei gala arbaded. ¡Aukine Joségi bar binsachuli! Faraónga gwen José gine sunmachuli, degsoggua José eskaryagi amba sige dakleali.
Génesis 39:1-23; 40:1-23.
---
Egislenaid
¿Birga bigwa José nikadgi Egiptos sesmala, geb aa gine ibu gunoniki?
¿Ibigala José eskaryas mellenade?
Eskarya gine ¿ibu arbaed Joség uksamala?
José eskaryag siigua, ¿ibu imasa, Faraónga nog dakedga geb e madu sobedga?
¿Ibu ibmar gusbali Faraónga nog daked eskaryag onolesad sorba?
Bamalad egislenabalid
Absoge Génesis 39:1-23.

José ibagangi Bab igar narmakar masulin inigwale, mer abirgin yardakmaloye, degite, ¿ibig José dina, Potifar ome idu wakicha? (Gén. 2:24; 20:3; 39:9.)

Absoge Génesis 40:1-23.

Wis soge ibu gine gabdasa Faraónga nog daked, geb Jehová, ibu obarye Joség sogsa we dule gabgin ibmar daksad (Gén. 40:9-13).

¿Igi gabdasa madu sobed, geb ibu we obarisa? (Gén. 40:16-19.)

Nibnegse namaloed emi iba ginmaladi, ¿igi na oyomarmosunna José yobi damala? (Gén. 40:8; Sal. 36:9; Juan 17:17; Hech. 17:2, 3.)

¿Igi Génesis 40:20 anmar bendake mag dake guega gwaluleged iba onoedi bia daniki? (Ecl. 7:1; Mar. 6:21-28.)