20: Dina boni dummad aminoniki
20: Dina boni dummad aminoniki
¿BE DAKSA, Dina doamarse ataknadapi? Canaán neggwebur ginmalad yaaganse ataknadapi. E bab Jacob, ¿bur yeer we ibmar daksa dibe? Be wisguega, be binsaena Abrahán, Isaacbo, igi omegan Canaán ginmaladgi binsadamala.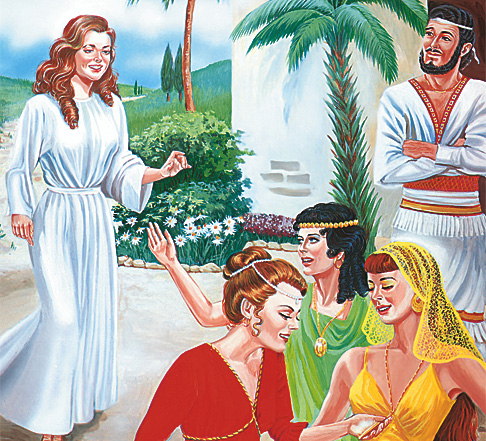 ¿Abrahán abes be binsae e machi Isaac Canaán gined ome nikguedi? Suli. ¿Isaac, Rebecabo abesmar be binsae e machi Jacob, Canaán gined ome nikguedi? Suli. ¿Be wisi ibigala?
Ar Canaán ginmalad ibmar baigan na e bab dummadga imakbukwa gusmala. Amba dule nuegan surmarbarsoggu, e machergan gwen nikgued sulid, e omegan gwen omeg sued sulid, amba gwen aimar nueganga imaked surbalid. Degsoggua anmar bensuli, Jacob nued daksasurmoga e sisgwa Canaán ginmalad ayamar amigele.
Dina, boni dummad amisa. ¿Weg sobarnaidgi be daksa we machered, Dina dakgwichidi? We machered Canaán ginedi, nuga Siquem. Ibagwengi Dina emarse atakdiidgi, Siquem yam ebo gabedga imasa, amba Dina abechur inigwale. We ibmar gusadi nuechuli, ar unnila machergan geb omegan na nikgumamaidbii nabir nabo gabmalad. Weyob Siquem ibmar isgana imasadba, Dina gine dodosgua, aka bur bule neg gagalede.
Dina e susmala we ibmar gusad wisgunonimargu, bela bela sae itosmala. Warbogwa, Simeón, Levíbo bela belad sae itogedba, espadamar annik, neggweburgi, ukiagwar emargi dognonimala. Wemala, e gwenadgan burakwa Siquem oburgwismala geb bela bamalad machergan oburgwismar bali. Jacob masmala weyob ibmar isgana imasadba, Jacob nue sae itosad.
¿Ibigala weyob neg beeche guali? Wegi ibmar gunoniki Dina, dulemar Bab igarba dasurmalad e aimarga imasad bali. Anmardi dulemar wegimalad anmar aimarga imakbisulid, ¿insoa?
Génesis 34:1-31.
---
Egislenaid
¿Ibigala Abrahán, Isaacbo abechurmala e mimmigan Canaán ginmalad nikguedi?
¿Jacob bule nued daksasunna e sisgwa Canaán ginmalad yaagan ayag guedi?
We sobaledgi machered Dina dakgwichid, ¿doawa geb ibu ibmar isgana imasa?
Dina e susmala, Simeón, Levíbo, ¿ibu imasmala ibmar gusad wisgunonimargua?
Simeón, Levíbo ibmar imasadi, ¿Jacob, bule nued daksa?
We neg yaginmaladga, ¿ibigala neg beeche guali?
Bamalad egislenabalid
Absoge Génesis 34:1-31.

¿Unnila aunbi Dina, Canaán yaaganse atakdii gusa? Nuekwa soge (Gén. 34:1).

Machered Dina gine dodosgu, ¿ibig Dina na dukinsaar imasa? (Gal. 6:7.)

¿Igi emi ibag nusganamar oyosmalale, Dina gusad dodoakwa daksurmala? (Pro. 13:20; 1 Cor. 15:33; 1 Juan 5:19.)