14: Abrahán wilup daklesa
14: Abrahán wilup daklesa
BE DAKENA, ¿Abrahán ibu imaknai? Estin ganiki, e machi iblosoggaliyob daklege. ¿Ibigala we ibmar imaknai? Bin anmar dakoloena igi Abrahán, Sara bogwa nabir mimmi nikgusmala.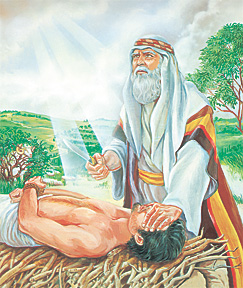 ¿Be ebinsae? Bab Dummad wemarga sogsa, bemar mimmi nikguoye. Aukine we ibmar gwen gued daklesulina, ar Abrahán, Sara bogwa bat nue sered gusmalanad. Aukine Abrahán dina benguchuli Bab Dummad nabir imake ibmar gwen gued daklesulidi. Degsoggu, ¿igi we ibmar guchunna?
Bab Dummad Abrahánga ibmar sogsad sorba birgagwen nasa. Degiidgi, Abrahán 100 año nikadgi geb Sara 90 año nikadgi goe nikgusmala, nuggusa Isaac. ¡Bab Dummad na ibmar sogsadi, imasa!
Aukine Isaac bat yagba gusadgi, Jehová, Abrahán wilup dake soggali, bule e bensur dibeye. Jehová ese gocha: '¡Abrahán!' Geb Abrahán abin sogsa: '¡Anna, an be itomai!' Geb Bab Dummad ega sogsa: 'Be machi be sue, be machi wargwennagwad, Isaac, geb an bese yar oyogoeche nao. Agine be machi oburgo, geb ibdurgan anga ogummakar uklegedyob be anga ukoe.'
¡Abrahán nue bukib itosa, ar Abrahán na bela belad machi sabe itoged! Geb be ebinsabalina, Bab Dummad sogsa Abrahán mimmigan Canaán yargi ambakgumaloye. Ar ¿igi we ibmar gusarsunna Isaac burgwisale? Abrahán aku itoge inigwale, amba Bab Dummad sogedba ibmar imasa.
Yarbirse owarmaksagua, Abrahán, Isaac edicha geb aila imasad birgine mesisa. Geb degidgi estin onoali e machi oburgwega. Aukine we ibmar gued iduale Bab Dummad anger ese gornoniki: '¡Abrahán, Abrahán!' Geb Abrahán abin imakde: '¡Weg an gunai!'
Bab Dummad soggali: 'Mer machigwa oakalogo. Emisgindi an wisi be an bensulid, ar be machi wargwennagwad bela, melle anga ukoye be sogsasuli.'
¡Ibiyob Abrahán Bab Dummad bensuli! Ar Abrahán dina benguchuli Jehová ibmar soggwen geg imakedi sate, geb nabir Isaac gannar odulosale burgwarmalad abargine. Auki Bab Dummad abesulinad Abrahán Isaac oburgwedi; imasa sapi matukwagwadgi oveja galegedi geb Abrahánga sogsa we oveja egala ogummakar ukoye, Isaac anar.
Génesis 21:1-7; 22:1-18.
---
Egislenaid
¿Ibu ibmar Jehová, Abrahánga imakoye sogsa, geb igi na sogsadba imasa?
Igi sobaledgi oyolenai, ¿igi Jehová, Abrahán wilup daksa?
¿Ibu Abrahán imasa, amba aku itoge inigwele Bab Dummad ega ibmar sogsad?
Abrahán es onosgua e machi iblogega, ¿doa ese gornoniki geb igi ega sogsa?
¿Bule nue Abrahán, Bab Dummadgi benguchuli?
¿Ibu Jehová, Abrahánga uknoniki eg ogummakar ukega, geb igi we ibmar ega uklesa?
Bamalad egislenabalid
Absoge Génesis 21:1-7.

Abrahán e machi iba baabak nikadgi, ¿ibig e abgan duku ei sigsa? (Gén. 17:10-12; 21:4.)

Absoge Génesis 22:1-18.

¿Igi Isaac na oyosa e bab sogedba dae, geb we ibmar gusadi yooeche ibu ibmar bur dummad guoed oyosa? (Gén. 22:7-9; 1 Cor. 5:7; Fili. 2:8, 9.)