13: Abrahán…Bab Dummad ai
13: Abrahán…Bab Dummad ai
DII Dummad wisad sorbali abar dulemar gudigunadmala neggwebur Ur nugache. Ur, neggwebur dummadga gunoniki, e negmala yeer daklege. Auki we neggweburgi dulemar gudimaladdi ibmar baigan na e bab dummadga imakbukwa gusmala. Amba Babel neggweburgi deyob imakbukwa gusmarmoga. Noé e machi Sem nugadbo, Jehovág arbadii gusmala, auki Ur ginmalad geb Babel neggwebur ginmaladi, Jehovág arbachurmala.
Dii dummad wisad sorba, 350 año nasadgi, Noé, dule nue Bab Dummadba nai gudigusadi burgwenoniki. We sorba birgabogi gwalulenoniki, machered gwichi be dakedi we sobarnaidgi. Bab Dummad bur bule we dule binargusa. Onugsalenoniki Abrahán. Ur neggweburgi na e gwenadganbo gudigusa.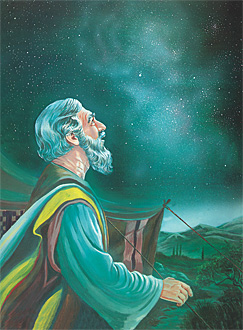 Ibagwengi Jehová, Abrahánga soggali: 'Ur neggweburgi noo geb be gwenadgangi banguo, geb neggwebur an bese oyogoeche nao.' We dule, ¿Bab Dummad sogedba ibmar imasa? Geb Ur neggweburgi na ibmar nikadi, ¿bela indasa? Eye. Abrahán bela Bab Dummad sogedba ibmar imachoggua, onugsalenoniki Bab Dummad aiye.
Abrahán Ur neggweburgi bangudgua, abar e gwenadgan eba nadmarmoga. E bab Taré nadmoga. E nig Lot amba eba nadmoga. Geb e ome Sara amba eba nadmoga, ar sun adi mellegosi. Beechegi belagwable owarmasmala Haránse, geb Taré aagi burgwenoniki. Aunni bat Ur neggweburgi dikasur gusmala.
Sorba Abrahán e gwenadgan burakwa Harángi nodmarbali geb owarmasmala Canaánse. Agine Jehová ega soggali: 'We yala an be mimmiganga ukoe.' Abrahán, Canaán neggweburgi megisa geb gudigusa urmor neggi.
Bab Dummad Abrahán bendakali geb Abrahán ovejamar bukib nikgunoniki geb bamalad ibmar durgana geb dulemar ega arbamalad nikgusbali. Aukine Abrahán, Sara bogwa, mimmigandi satemalana.
Abrahán 99 año nikadgi Jehová ega soggali: 'An beg soge be neggweburmar bukib e babga guoe.' Auki Abrahán, Sarabo bat seredmala mimmi nikguega, ¿igi we nabir guoe?
Génesis 11:27-32; 12:1-7; 17:1-8, 15-17; 18:9-19.
---
Egislenaid
¿Dule igimalad Ur neggwebur gine gudimalana?
We dule sobarnaidgi gwichid, ¿doawa? ¿Ingu gwalulesa? ¿Bia gudiina?
¿Bab Dummad igi Abrahánga soggali?
¿Ibigala Abrahán onugsalesa Bab Dummad e aiye?
Abrahán Ur neggweburgi nosgua, ¿doamar eba nadmarmoga?
Abrahán, Canaánse owarmasgu, ¿igi Jehová ega soggali?
Abrahán 99 año nikgu, Bab Dummad ¿ibu imakoye ega sogsa?
Bamalad egislenabalid
Absoge Génesis 11:27-32.

¿Abrahán, Lotbo na e ibumala? (Gén. 11:27.)

Amba sogle inigwale Taré e gwenadgan sesye Canaánse, ¿igi anmar wisi bur Abrahán emar idusadi, geb ibig we ibmar imasa? (Gén. 11:31; Hech. 7:2-4.)

Absoge Génesis 12:1-7.

¿Doamala Jehová, Abrahánbo igar mesisadgi dogsamarmoga, Abrahán, Canaánse owarmasgua? (Gén. 12:7.)

Absoge Génesis 17:1-8, 15-17.

Abrahán 99 año nikgua, ¿igi onugsalenoniki geb ibigala ei nug ogwalesa? (Gén. 17:5.)

Jehová, Sara gala, ¿ibu ibmar nuegan yoogiche imakoye sogsa? (Gén. 17:15, 16.)

Absoge Génesis 18:9-19.

Génesis 18:19 gine, ¿ibu babgan imakmaloye soglenai? (Deu. 6:6, 7; Efe. 6:4.)

¿Sara igi gusadgi anmarse oyolege anmar geg Jehová gine ibmar odukue? (Gén. 18:12, 15; Sal. 44:21.)