4: Ibigala neg surgusmala
4: Ibigala neg surgusmala
BE DAKE weg ibmar gunaidi. Edén neg yeer daklegedgi, Adán, Eva bogwa onolenanai. ¿Be wisi ibigala?I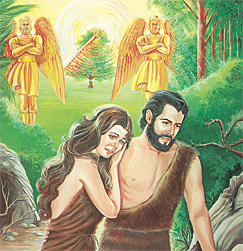 Ar ibmar isgana imasmalad. Ar aaga Jehová neg yeer daklegedgi onochunna. ¿Be wisi Adán, Eva bogwa ibu ibmar isgana imasmala?
Bab Dummad ibmar mer imakoye sogsadi imasmala. Bab Dummad wemarga sogsana sapimar neg yeer daklegedgi gwismaladi, e sanmar nabir gunmaloye. Aukine sapi wargwena gwisbali, adi wemarga sogsa mer we sapi san dina gunmaloye; guchamalale, bemar burgwemaloye. Wedina Bab Dummad gadina. Ar ibmar dule baid gadile ei suedi nuechulid, ¿nabirsursi? Degite, ¿neg igi guchunna?
Ibagwengi Eva neg yeer daklegedgi walagwen gudiid gine, naibe ega sunmasa. ¡Nue be itogena! Naibe, Eva gala sogsa we sapi e san be gunye, Bab Dummad wemarga sogsadi mer aa sapi e san bemar gunmaloye. Ar Jehová naibemar imasgua sunmakega imachulinad. Degisoggua dule baid yamo naibe osunmasad. ¿We dule doagi?
Adán suli. Napaneg imaked iduale Jehová dulemar imasa; we dule wargwena gudiinar gebed. Wemar angermala, geb akudaklemala. We anger na dummarba imasa. Binsaali, ee, Bab Dummad yobi neg seedga guedgi. Geb dulemar eba ibsaed abeali, bur Jehová bali ibsamaladba. We dule naibe sunmakega imasa.
We anger nabir Eva yardaknonigusa. Ega sogsagua be we sapi san guchale Bab Dummad yobi guoye, Eva ese binsaed galesa. Aa gala gucha, geb Adán amba guchamoga. Adán Eva bogwa Bab Dummad itochurmala, ar aaga e neggi onolesmala, neg yeer daklegedgi.
Aukine ibagwengi Bab Dummad imakbaloe Napaneg yeer dakle guedi, Edén neg yeer daklegedyob. Sorba anmar dakoe igi be nabir neg yeer dakle imakedgi arbasmogale. Emisgindi anmar dakoena Adán Eva bogwa igi gusmala.
Génesis 2:16, 17; 3:1-13, 24; Revelación 12:9.
---
Egislenaid
Sobaled be dake. ¿Igi Adán, Evabo imaklenanai?
¿Ibig neg yeer dakleged gine onolesmala?
Naibe, ¿ibu Eva gala sogsa?
¿Doa imasa naibe Eva gala sunmaked?
¿Ibig Adán, Evabo e neg gine onolesmala, Neg yeer daklegedgi?
Bamalad egislenabalid
Absoge Génesis 2:16, 17 geb 3:1-13, 24.

¿Igi naibe Jehová nug oichosa Evas ibmar egisdegu? (Gén. 3:1-5; 1 Juan 5:3.)

¿Ibu anmar durdake Eva ibmar imasadgi? (Fili. 4:8; Sant. 1:14, 15; 1 Juan 2:16.)

Adán, Evabo ibmar isgana imasmalad dule baitgi nasikeg, ¿igi sogsamala? (Gén. 3: 12, 13.)

Angermar querubinye nugmalad dadnakwed siki Edén neg yeer daklegedgi ogwichilesmalad, ¿igi oyosmala Bab Dummad na wargwen neg semaidba namala? (Gén. 3:24.)

Absoge Revelación 12:9.

¿Bule nue Nia, dulemar oaibicha Bab Dummad neg semaid gine? (1 Juan 5:19.)