113: Pablo Romagi
BE DAKENA Pablo esgoro dubgi sakwag atinar gwichid, Roma soldado egi nakulegwichid be dakbalina. Pablo galesii Romagi. Unnila abitodii César, Roma gined sogedi, igi Pablo imaklegoe. Amba galesii inigwale, nabir ese atakmala.
Roma mosad sorbali ibbaagi, Pablo judiomar Bab igargi emar idumaladse gocha e dakdamaladga. Degsoggu, bukidar judiomar Roma ginmalad nonimala. Pablo wemarga sunmasa Jesús siki geb Bab Dummad e reinosik. Abala eba nagusmala geb cristianomarga gunonimala, aukine bamaladdi itosurmala.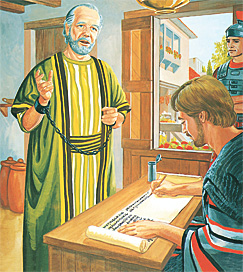 Pablo amba Bab igargi sunmasbali, soldadomar baid baid egi nakulenonidamalad gala. Pablo birgabo wegine galesii gusadgi, bela es nonidamaladga Bab igargi sunmasdae. Aa ulale, César neg yaginmaladi amba Reino ibmar nuegansik itosmarmoga, geb abar cristianog gunonimarmoga.
Geb, we dule mese asabin garda narmaksiidi, ¿doasunna? ¿Be wisi doawa? Wedi Timoteo. Timoteo galesii gusmoga Reinog sunmaked ular, aukine emisgindi onoles gudii. Pablo bendakeg noniki. ¿Be wisi ibu narmaksii? Dakmaloena.
¿Be ebinsae neggweburmar nugadi Filipos geb Éfeso, Sunmaked 110 gine nanaidi? A gine Pablo bendasa bukidar dulemar urbedgi, Cristo sordagan gala guega. Emidi galesi, Pablo garda narmake soggarsunna we gwenadganse. Gardamar, Efesios geb Filipenses nugmaladi, Bibliag nanai. Pablo emisgi Timoteog soggwichi igi garda narmakoe cristianomar Filipos ginmalache.
Filipos ginmalad Pablo eskaryag sigua, ega ibmar barmismala, geb agala Pablo gardag wemarga nuedye sogsid. Epafrodito ega we ibmar seali. Aukine yeer uelema we duledi gusa, geb burgwed naga gusa. Emisgindi gannar nugusbali geb na gannar negweburse naed mosbali. Pablo, Timoteo bogwa Epafrodito bali garda barmidmaloe, Epafrodito gannar Filipos nadele.
Eskaryag sii Pablo garda matabo narmasbali, geb we gardamar Bibliag nanai. Matagwena cristianomar Colosas neggwebur ginmalad gala. ¿Be wisi igi aa garda nuga? Colosenses. Baiddi e ai wargwenga narmasa, e ai nuga Filemón, Colosas gined moga. We garda sunmaknai Onésimogi, Filemón e maig gudigusadi.
Onésimo wakicha gusa Filemóngi geb Romas noniki. Degidgi Onésimo wisguali Pablo aag eskaryag galesiye. Geb Onésimo Pablos atakapi, degine, Pablo ega Bab igargi sunmasa. Geb Onésimo sanar guchuli cristianog gunonimoga. Emisgi Onésimo bukib binsae wakichadba. Agala, be wisi Pablo, Filemónga garda narmasgu, ¿ibu sogsa?
Pablo, Filemónga soge, Onésimo wis nosadi ega iechaye. Pablo ega soge: 'Gannar an bes barmidoe. Auki emisgindi, bar binsa be maig guegarbi suli. Emidi nue Cristob nagusmoga.' Onésimo gannar Colosache nadgu, we gardamar sesa, soggwen gwenadgan Colosas ginmaladga geb baiddi Filemónga. ¡Ibiyob yeer Filemón itosmodibe, wisgunonigu e maig gudiidi, eyob emidi cristianog gunonimoga!
Pablo garda narmasgua Filipos ginmalache geb Filemónse, igar nuegan obarnai. Filipos ginmalad gala Pablo soge: 'An bemarga Timoteo barmimai, auki emichaale an bemarse nadapmogoe.' Geb Filemónse narmasa: 'An idu, be neg nudako, an egi megega.'
Pablo galesiidgi nosgu, bukidar gwenadgan neg baid baichik bukmalache atakapi. Auki, sorba gannar Pablo eskaryag mellenonibali Romagi. Emidi wisi e iblomaloe. Degsoggu, Timoteos garda barmisa, ega sogsa gwae dagoye. 'Andi Babga innikigwadba arbasad,' gardag narmasa, 'geb Bab anga ibnued ukoed.' Pablo burgwisad sorba, wis birgamar ichesaar nanasadgi, Jerusalén gannar obelolenonibali, emidi Roma ginmalad egi ubononimala.
Auki, Bibliag ibmar bamalad soglenabali. Jehová imasa, apóstol Juan napi gardamar narmakedi, soggwen nuga Revelación. We gardadi sunmake neg yoo gunonikoedgi. Anmar dakoena, igi yoogi neg gunoniko dibe.
Hechos 28:16-31; Filipenses 1:13; 2:19-30; 4:18-23; Hebreos 13:23; Filemón 1-25; Colosenses 4:7-9; 2 Timoteo 4:7-9.
---
Egislenaid
Pablo, Roma gine galesigua, ¿doa gala Bab igargi sunmasdae?
Mese asabinni dule siidi, ¿doawa, geb ibu Pablo gala imaknai?
¿Epafrodito doasunna, geb Filipos sega nadgua, ibu sesa?
¿Ibigala Pablo na e ai nued Filemón sega garda narmaksa?
¿Ibu Pablo imasa galesiid gine onolesgua, geb sorbali igi gusbali?
¿Jehová doa dule ebusa, Biblia gine napi solaba gardamar naidi narmake gala, geb garda Revelación nugadi, ibu gine sunmake?
Bamalad egislenabalid
Absoge Hechos 28:16-31 geb Filipenses 1:13.

Pablo galesii gusa inigwale, ¿ibu imaked indachuli, geb igi bamalad gwenadgan gannalesmarmoga Pablo sikirmachulid bali Jehová bensuli gudigusad gine? (Hech. 28:23, 30; Fili. 1:14.)

Absoge Filipenses 2:19-30.

¿Ibu ibmar nuegan Pablo narmasa Timoteo siki geb Epafrodito siki, geb igi anmar Pablo yobi imasmogale? (Fili. 2:20, 22, 25, 29, 30; 1 Cor. 16:18; 1 Tes. 5:12, 13.)

Absoge Filemón 1-25.

¿Ibig Pablo, Filemónga sogsa anmar na gwenadgan nued dakoye geb gwenadgan emar idudimaladi ibu we ibmargi durdakmala? (File. 9; 2 Cor. 8:8; Gál. 5:13.)

Filemón 13, 14 gine, ¿igi Pablo sogsad gine na oyoge gwenadgan bamalad gudimalad e binsaedi mag dake nanadii? (1 Cor. 8:7, 13; 10:31-33.)

Absoge 2 Timoteo 4:7-9.

Apóstol Pablo binsae yobi, ¿ibig anmar bensurmoga Jehová anmarga ibmar nued ukmogoe, anmar innikigwad bali bergueche eba nasundibe? (Mat. 24:13; Heb. 6:10.)