112: Dubganse mellenonimala
112: Dubganse mellenonimala
¡UR DOGDED be dake! ¡Bela ayarmai! ¿Dulemar dermar yas ichomasmalad be dake? Abar bat ukub birse owarmakmamai. ¿Pablo gudimogina? Anmar dakoena, igi adi gudigusmoga.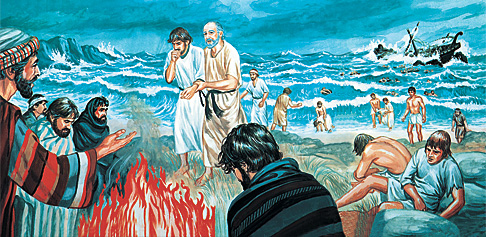 Ebinsao, birgabo Pablo galesii gusa Cesareagi. Sorbali, Pablo geb bamalad dulemar galesimalad sourgi barmilesmala Romase. Cretadub walikgusmargua, diburwa dummad noali. Geg bar nue sour see guarmala. Ibgin Dad gwen daklesuli, geb mutik niiskwamar gwen daklesurmoga. Napis, ibagan degi nanamaidgi, bar bendakleged na itosurmala.
Degidgi, Pablo gwichi guali, geb soggali: 'Bemar wargwensaale burgosuli; unnila urbi ayaroe. Ar mutiki Jehová anger anse arbi, geb anga sogsa: "¡Pablo, mer be dobguo! Ar César, Romag neg dakmaid asabinni be gwisgudapoed. Geb Bab Dummad bela dulemar bebo nadapmalad bendakoed."'
¡Diburwa dummad noalid akale 14 día gude, geb neg gabgwen gudgua, selamar itoali neg dinna guali! Ar neg sipusursoggua, akwadumma egwachamala mer akwadingi mellemalaga. Oibosgu neg sukun dakarmala. Geb sour ukub birse sede soggarmala.
Degidgi, ukubbir owarmakdanimargua, ukub dinnasaar naidgi sour mellenoniki, geb agine galenonisunna. Degidgi, dermar egi arwemai guarsunna, geb sour ayarisa. Emisgi, uryag idudiidi, soldado dummad gumogadi soggali: 'Bela nabir dommumakmaladi, dommu dommu ukub birse obakmalo; bamaladdi sorbali ichomakmalo, ur goagangi obakmalo.' Deyob imasmala, geb 276 mergu dulemar sourgi nadapmalad bela ukub birse owarmasmala, igi anger iduale sogsa.
Dubgan ese obaksamaladi, Malta nuga. E dulemar dule nuegan damala, geb urgi dulemar danigusmalad bendakarmala. Neg wis nugusbargu, Pablo sour baidgi onakwilesa, geb Romas selesa.
Hechos 27:1-44; 28:1-14.
---
Egislenaid
¿Igi ur egi Pablo nadedi gunoniki, Creta dub nagab nasgu?
¿Igi Pablo dulemar bamalad ebogwa sour gine nadapmalad gala sogsa?
¿Ibigala sour belagwable goamaksa?
Soldado dummad, urya idudiidi, ¿ibu imakmaloye sogsa geb dulemar ebigwa akar guchur ukub birse owarmasmala?
Dubgan ese obaksamaladi ¿igi nuga, geb neg wis nugusgua igi Pablo imasmala?
Bamalad egislenabalid
Absoge Hechos 27:1-44.

Pablo ur bali Romas barmilesye Bibliag sunmaklenaidi, ¿igi we ibmar Bibliag ibmar sognaid gine bur bule mer bengueg anmar imake? (Hech. 27:16-19, 27-32; Luc. 1:3; 2 Tim. 3:16, 17.)

Absoge Hechos 28:1-14.

Dulemar Malta ginmaladi, 'nue yeer Pablo bendasmalad', geb, dulemar bamalad Pablo bogwa sour gine nadapmalad 'bendasmar' bali, judíosurmar inigwale. Deyobi we dulemala imachoggua, ¿igi anmar dina cristianomarye sogmaladi daedi abelemosunna, geb ibu gine bur bule anmala deyobi daedi abelege? (Hech. 28:1, 2; Heb. 13:1, 2; 1 Ped. 4:9.)