107: Esteban akwag maklenaid
107: Esteban akwag maklenaid
WE DULE sindigar siidi, Esteban nuga. Jesúsba nue nai gudigusmoga. ¡Emisgi ibmar imaklenaid be dake! We dulemar akwa burwi burwi egi metenanasulid. ¿Ibig nue istar Esteban dakmarsunna, weyob imaknanaidde? Anmar dakoena.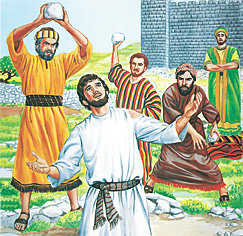 Jehová, Esteban bendakmai gusa, ibmar dakledisulid imakega. Geb we dulemardi we ibmar istar dakmala, geb abin abin Estebanbo na imakarmala, Esteban ibmar innikigwadgi emar odurdakdiid ulale. Auki Jehová imasa Esteban nue binsaed nikguega, geb Esteban oyosa we dulemar gakangi emar odurdakdimarye. Aag we dulemar bur nue sae itoarmala, geb Esteban gasmala, degi, dulemar bamalache gochamala Esteban ogakansamalaga.
Israel sacerdote e dummadga maidi Estebanse egichali: 'We beg ibmar sognanaidi, ¿bule nue nabirsunna?' Esteban Bibliag igar maidba abin sogsa. Napidgi sogsa, epennegi dule isganamar istar Bab gaya berbemalad daksamala. Geb sogde bali: 'Bemar wemaryob gumarmogad. Jesús, Jehová e mai gued, bemar oburgwismalad, geb Bab igarmar mamaidba be nanachurmalad.'
¡Emisgi Bab igargi emar idumalad aka bur sae itoarmala! Geb sae itogedba, ar ber nugar gunnagwaled. Auki Esteban nono onakwidgua geb sogdegua: '¡Be dake! Bab sakwa nuechik Jesús gwichi an daked nibneggi,' we dulemar na uaya moggasmala, degi, Estebangi duurmakdemala. Geb ebipiale neggwebur magab onosmala.
Degi na mor asgi yoyoidi unnusmala geb Saulog uksamala edarbega. ¿Be daksa bia Saulo gwichi? Degidgi abar dulemar Estebangi akwa miarmalad. Geb Esteban sindigar sigisa, igi sobaledgi be dake, degi, Babse gotesunnad: 'Jehová, we ibmar isgana imaknanaidba mer be akar imako.' Ar edi wisi, abar we dulemar yardakles gudidii Bab igargi emar idumalache. We sorbali, Esteban burgwisa.
Dule akar be imasale, ¿abin saedgi be binsadae, Babse be gochadae we dule akalogegar dibe? Estebandi geb Jesúsdi deyob imachurmalad. Wemardi amba dulemar sabsur e imasmaladbo nued dae gusmalad. Anmar deyobi daeche imakmogar gebe.
Hechos 6:8-15; 7:1-60.
---
Egislenaid
¿Esteban doawa, geb ibu imaked gine Bab Dummad bendakmai gusa?
¿Igi Esteban sogsad bali, Bab igargi emar idumalad istar itoarmala?
Esteban neggwebur magabali ebipismalad sorbali, ¿igi imasmala?
Sobaled gine sapingwa mor nagab gwichidi, ¿doawa?
Burgwed iduale, ¿ibu Esteban, Jehová sega egicha?
Dule wargwen akar anmar imasale, ¿igi anmar Esteban yobi dae na oyosmogale?
Bamalad egislenabalid
Absoge Hechos 6:8-15.

Bab igargi emar idumaladi ¿igi emar yardaksadamala, Jehovág sunmakmalad e ibmar odurdakedi mer nasgue gala? (Hech. 6:9, 11, 13.)

Absoge Hechos 7:1-60.

Sanedrín gine ¿ibig Esteban nued sunmasa Bab ibmar nuegan mamaidgi, geb ibu igar nued anmar we gine durdake? (Hech. 7:51-53; Rom. 15:4; 2 Tim. 3:14-17; 1 Ped. 3:15.)

Dulemar anmar arbaed nued daksurmalad bogwa, ¿igi anmar daed abelege? (Hech. 7:58-60; Mat. 5:44; Luc. 23:33, 34.)