106: Eskarya gine onolesmala
106: Eskarya gine onolesmala
ANGER wagag egaar gani gwichid, be dakena. Jesús apóstolmar galebukmalad ononai. Anmar dakoena, ibig galebukmalana.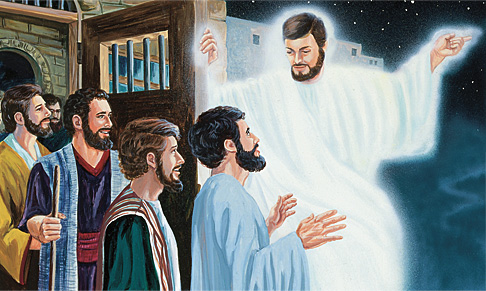 Bab burba nued Jesús sapinganga uksad, dogdar undar guchuli. Geb weyob ibmar gunoniki: Pedro, Juanbo sedogidba Jerusalénse nadmala, Babse goled negse. Aa gine, wagag nagabali dule wargwen sii, we duledi gwalulesad akale gusgu geg nanagua. Degine, bane bane dulemar yam sesdamala we negse, mani egisega dulemar Babse goled negse danidamalache. Geb we dule Pedro, Juanbo daniki dakargu, ese ibmar egichali. ¿Ibu Pedro, Juanbo imakmalodibe?
Pedro, Juanbo gwisgusmala geb nuu we dule dakdemala. Geb Pedro soge: 'Mani an sate, auki an ibmar nikad an beg ukoe. ¡Jesús nuggi, be gwisgue, be nanae!' Geb Pedro we dule sakwa nuechik gasgua, we dule ichomasa yog gwisguar, geb nanaali. Dulemar we ibmar gudi sulinad gusa dakargua, geg dakarmala geb yeer itoarmarbali.
Geb Pedro emarga soge: 'We ibmar dakledisulid anmar imasa, Bab ganguedba, ar Bab gannar Jesús odurgusadid.' Degi Pedro, Juanbo sunmakgwismaladgi, dulemar Bab igargi emar idumalad danimala. Wemardi istar itomala, ar Pedro, Juanbo dulemarga sogdimala, Jesús gannar durgusye. Degsoggu gasmala geb eskaryag metemala.
Oibosadgi, Bab igargi emar idumalad, igar itoged dummad nikmala. Degine, Pedro, Juanbo selenonimala wemar asabin, geb amba dule nudaklesad selenonimogad. Geb Bab igargi emar idumalad egicharmala: '¿Ibu ganguedba bemar we ibmar imasmala?'
Pedro soge Bab ganguedbarye, geb we Bab Dummad gannar Jesús odurgusye. Sacerdotemala suritomala ibu imakmaloe, ar we ibmar gudi sulinad guchurye geg sogmala. Degsoggu, urwedgi apóstolmarga sogmala mer bar Jesúsgi sunmakmaloye, geb sorba gannar onosmala.
Ibamar nanamai gusa, geb apostolmardi Jesús nuggi sunmakdii gusmala, boni nikmalad nudakdii gusmarbali. We ibmar bela dulemar wisguarmala. Agala, Jerusalén nagab neggwebur bukmalad e dulemar, bukidar daniki daklearmala, dulemar boni nikmalad senonimala apóstolmar nudakega. Degsoggu, Bab igargi emar idumaladi, nobedba apóstolmar gannar gasmarbali. Auki ibmar soggwen emisgi gunoniki.
Neg mutikidba, Jehová anger eskarya wagag eganoniki, igi sobaledgi be dake. Geb anger soge: 'Be namalo, degine, Babse goled negse gwisgudapmalo, emarga sunmaked mer bogigumalo.' Oibosgua, Bab igargi emar idumalad sogmala gannar Jesús apóstolmar sedamaloye, aukine amilechurmala. Sorba amidapmala Babse goled neggi, geb igar itoged neg Sanedrín nugache sesmala.
Degidgi, Bab igargi emar idumalad wemarga soggarmala: 'Anmar bemarga sogsa, mer bar Jesúsgi emar odurdakmaloye. Auki bela Jerusalén gasa bemar gunaid bemar igar odurdakedgi.' Apóstolmar abin sogdemala: 'Ar Jehová anmarga neg semaichoggu, bur abali anmar ibsaoed dulemarba ibsaed iduar.' Degsoggu, amba sunmakdii gusmala. ¡Ibiyobi igar nued anmarga mesismala!
Hechos, capítulo 3-5 sega.
---
Egislenaid
Ibagwengi Pedro, Juanbo sedo Babse goled negse dogmamagua, ¿igi neg gusa?
¿Ibu Pedro, dule geg nanaed gala soge, geb ibu ibmar bur manib nued gued, Pedro ega uksa?
¿Ibig Bab igargi emar idumalad istar itomala, geb igi Pedro imasmala, degine, igi Juan imasmar bali?
¿Igi Pedro sogsa Bab igargi emar idumaladga, geb ibu mer imakmaloye wemar apóstolmarga sogsamala?
¿Ibig Bab igargi emar idumalad nobe itomala, auki apóstolmar gannar eskaryas mellenadmargu, igi neg gunoniki?
Sanedrín sega selesmargua, ¿igi apóstolmar abin sogsamala?
Bamalad egislenabalid
Absoge Hechos 3:1-10.

Emi ibag anmargardi gangued uklechuli inigwele, ibmar dakledisulid imakega, ¿igi Hechos 3:6 gine Pedro sogsadi anmar bendake Reino igar ibidar nued gue dake gala? (Juan 17:3; 2 Cor. 5:18-20; Fili. 3:8.)

Absoge Hechos 4:1-31.

Anmar istar daklearsogele Bab igar gine sunmaked ulale, ¿igi cristianomar gepe gudigusmalad yobi anmar daed abelege? (Hech. 4:29, 31; Efe. 6:18-20; 1 Tes. 2:2.)

Absoge Hechos 5:17-42.

¿Igi epenne abar dulemar amba Jehovág Sunmakmalad suli inigwele, Bab igargi sunmakleged nued daksamala, geb igi emi amba deyob gudabali? (Hech. 5:34-39.)