93: Jesús dulemar bukib ogucha
93: Jesús dulemar bukib ogucha
DUMMAD neg gagalesad. Juan emar Bautisar saedi oburgwilesa. Herodías, rei ome, istar we dule dakdae. Geb emisgi un igar amisa rei emarga sogega, Juan emar Bautisar saed nono sigmaloye.
Jesús we ibmar gusad wisguargua, wile itoalid. Walagwen gudisaega yarmar ukibbi bipirmaknaiche nade. Auki dulemar eba nadmala. Jesús dulemar bukib ebali nade dakargu, wile dakali. Degsoggu, emarga sunmakali Bab Dummad reinogi, geb dulemar boni nikmalad nudasbali.
Neg mutik gudgua e sapingan ese nonimala geb ega sogmala: 'Bat wachi dikasur gusad, degine, weg dulemar mamasurbalid. Be dulemar barmide, neggwebur itakaganse mas baknamalaga.'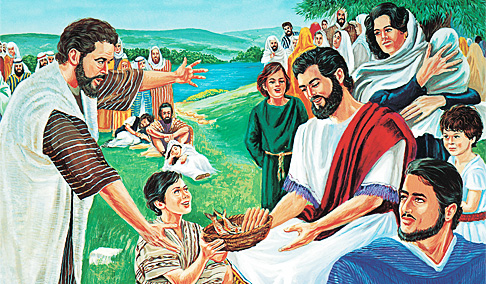 Jesús soge: 'Emar nasulir akarsulid, ar bemar emarga mas ukmaloedid.' Jesús Felipe siki atade, egisded: '¿Bia anmar mas unniguar baksale bela we dulemar ogunnega?'
Felipe abin sogde: 'Mani bipisur oeleger gebed, mas unniguar bakega bela we dulemar wis iche iche itomalaga.' Andrés sogdemogad: 'We machigwa madu walatar nikad geb ua ukabo nikbalid. Bela we dulemar ogunnega unnosulid.'
Jesús soge: 'Dulemarga sogmalo, gagan birgi sigmaloye.' Geb Jesús Bab Dummadga dog nuedye sogsa mas nuggi, geb biske biske imakali. Degidgi e sapingan, madu geb ua mimiarmala bela dulemarga. Macherganbi 5.000 mergu bukwa, geb omegan geb mimmigan amba miliba mergu bukmarmoga. Belagwable mas guchamala immeregeche. ¡Geb e sapingan mas obichadi wearmargua, 12 mergu garba enosmala!
Emisgindi Jesús e sapingan urgi barmisa, Galilea mata dummad obakmalaga. Mutikidba diburwa dummad wemarga noali, geb dermar abin ur yollemakali. Jesús sapingan gwayearmala. Degidgi, nue neg mutikid bali, dule dermargi emarsik gannamakdani dakarmala. Dobedba binnasur gotemala, ar wichurmalad bali ibu dakarmala.
'Mer dobgumala,' Jesús soge. '¡Ani an gudii!' Amba itosurmala. Degsoggu Pedro ega sogde: 'Dummad, ar bee gudiile, be anga sogdo, dermar birgi be anse obakdaye.' Jesús abin sogsa: '¡Dage!' ¡Geb Pedro aidesgua, dermar birgi ganna ganna nade! Auki egi dobed naguali geb dermar matag dogde, degine Jesús bendasa.
We sorbali, Jesús gannar miliba mergu dulemar masgi ogucha bali. We undina, Jesús madu wargugle gine emar ogucha geb ua burwigan ichegwad gine. Geb gannar bela dulemar mas gucha bali. ¡Ibiyob geger daklege, Jesús we yobi dulemar akwed bali! ¡E reinog, bar bipisaar anmar bukib binsadii guosuli!
Mateo 14:1-32; 15:29-38; Juan 6:1-21
---
Egislenaid
¿Juan Bautista igi imaklesa, geb Jesús igi itosa?
¿Jesús igi dulemar eba nadmaladi mas gine ogucha, geb bule mergu mas obicha?
¿Ibigala Jesús sapingana dobe itosmala mutikid bali, geb Pedro dina igi gusa?
¿Igi sorbali Jesús gannar miliba mergu dulemar masgi ogucha bali?
¿Ibigala nued guoe Jesús Bab Dummad soged bali Napaneg gine Rei gala neg dakmai guoed gine?
Bamalad egislenabalid
Absoge Mateo 14:1-32.

Mateo 14:23-32 gine, ¿Pedro dule igi daedi anmar sega oyolenai?

¿Igi Biblia gine anmar sega oyolege, Pedro e daedi na nudaksa geb gwae gwae ibmar imakbie daedi nabir bargae gusa? (Mat. 14:27-30; Juan 18:10; 21:7; Hech. 2:14, 37-40; 1 Ped. 5:6, 10.)

Absoge Mateo 15:29-38.

¿Igi Jesús oyosa, Bab Dummad mas ukmaid, nued dake? (Mat. 15:37; Juan 6:12; Col. 3:15.)

Absoge Juan 6:1-21.

¿Igi anmar cristianomar, Jesús yobi gobiernomar mag dake gusmalale? (Juan 6:15; Mat. 22:21; Rom. 12:2; 13:1-4.)