92: Jesús burgwarmalad odulosa
92: Jesús burgwarmalad odulosa
BUNOLO weg be dakedi 12 año nika. Jesús argangi ganigwichi, geb e nan, e bab bogwa walik gwismarmoga. ¿Be wisi ibigala yeer itomala? Anmar dakoena.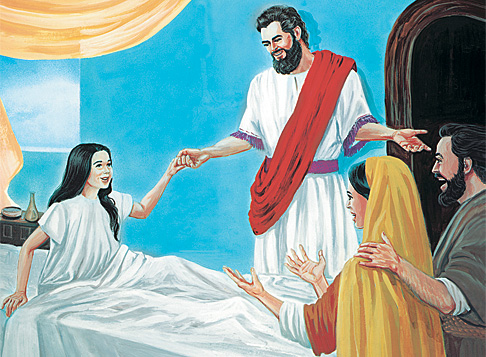 Bunolo bab nuga Jairo, dule dummadi. Ibagwengi e bunolo ueleali, geb camag na mesismala. Aukine gwen nugusuli; aka bur bule ueleali. Jairo e omebo nue bukib binsamala, ar daklegua bunolo burgo daklege. We bunolo, e bunolo wargwennagwad gue. Degsoggu Jairo, Jesús aminachunna. Jairo itodii, Jesús ibmar dakledisulid nabir imakye.
Jairo, Jesús amidapgua dulemar bukib Jesús ebiris bukwa daknoniki. Aukine Jairo dulemar imbabali doge doge nade, geb Jesús asabinni sindigar signoniki. Geb sogde: 'An bunolo nue geggusmai. Wis be anba dage, anga wis be an mimmi nudakdage,' Jesúsgi nai guali. Jesús soge naoye.
Degi nadapmaladgi, dulemar na barmetenanaid, Jesúsgi walika gubiedba. Geb Jesús ukiagwar boo gwisgunoniki, geb egichali: '¿Doa an ebusa?' Jesús wisi dule e ebusa, ar itosa egine gangued nosa. Aukine, ¿doa Jesús ebuchunna? Dakargu ome 12 año gusa boni nika gudiidi. ¡We ome noniki, Jesús mor ebusa, geb degidgi, nugusa!
Emisgi Jairo bur nued itonade, ar daksasoggu Jesúsga ibigwensuli emar nudaked. Aukine, emisgi dule wargwen Jairog sognoniki: 'Mer bar Jesúsgi alamaknague. Be bunolo burgwisa.' Jesús itosa geb Jairog sogde: 'Mer bai itogo; be bunolo akar guosulid.'
Jairo negse owarmakdapmargua, dulemar nue wile ito bobukmala. Aukine Jesús soge: 'Mer bomala. Bunolo burgwichulid. Binsa unnila gammaid.' Aka dulemar Jesúsga alliarmala geb egi dodoarmala, ar emar dina wisi bunolo burgwarmai.
Degidgi, Jesús, bunolo e baba geb e nana, degine, Jesús apostolmar warbaagwa, bunolo maid cuarto yabali dogsamala. Geb Jesús, bunolo gasa argangi, geb ega soge: '¡Gwisgue!' Geb bunolo gannar durgusa, igi weg be dake. ¡Gwisgusa geb ganna ganna nade! Agala e bab geb e nana yeer itomala.
Jesús we dule insogi odulochuli. Dule gebe odulolesadi, adi ome sui burgwisad e machi, neggwebur Naín nugad ginedi. Sorba, Jesús, Lázaro odulosbali, we duledi María e susu geb Marta e susu. Bab Dummad, reig Jesús imasale, Jesús, dule bukib gannar odulogoe. ¿We yeer ito anmar imakechur be binsae?
Lucas 8:40-56; 7:11-17; Juan 11:17-44.
---
Egislenaid
Sobarnaid gine, ¿biti bunolo e baba, geb ibig we dule e ome bogwa bukib binsamala?
¿Jairo ibu imasa Jesús amidapgua?
Jesús, Jairo negse nadapidgi, ¿igi neg gunoniki, geb Jairog igi dule wargwen sognoniki?
Jairo neggi dulemar bukmalad, ¿ibig Jesúsga alliarmala?
E sapingan warbaagwa geb bunolo e serganmar bunolo cuarto yab dogsamargu, ¿ibu Jesús imasa?
¿Jesús doa odulosbali, geb we ibmar imasad gine ibu oyolege?
Bamalad egislenabalid
Absoge Lucas 8:40-56.

Ome bonigan dakdiid gala, ¿igi Jesús sogsad gine na oyosa dule nuedi geb wile emar dakedi geb cristianomar idudimaladi ibu weg durdakmala? (Luc. 8:43, 44, 47, 48; Lev. 15:25-27; Mat. 9:12, 13; Col. 3:12-14.)

Absoge Lucas 7:11-17.

Jesús, Naín gined ome bodii wiledaksad bali, ¿igi we ibmar, dulemar ei gwenadagan burgwismalad bendake, mer bar doggus wile itodii gumalaga? (Luc. 7:13; 2 Cor. 1:3, 4; Heb. 4:15.)

Absoge Juan 11:17-44.

¿Igi Jesús oyosa, dule burgwisad ulale boedi na gusgu daniguye? (Juan 11:33-36, 38; 2 Sam. 18:33; 19:1-4.)