88: Juan, Jesús bautizar sasa
88: Juan, Jesús bautizar sasa
NUUGWA dule nono birgi aidemaid be dake. We dule Jesús. Emisgindi 30 año nika. Geb dule baiddi, nuga Juan. Bat anmar we dulesik wis ibmar durdasbali. María e gwenad Elisabetse atakapgua, Elisabet e goe yeer itogedba bilumasa, ¿be ebinsae? Juan we goe guena. Aukine, ¿ibu emisgi Juan imaknasunna Jesúsbo?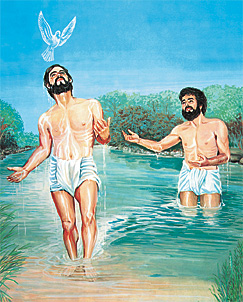 Jordán diwargi, Juan belagwable diayagine Jesús odosa. Weyobi bautisar imaklege. Dule diayagine bela odolegoe, geb sorba gannar onolegoe. Juan weyob dulemar imakdae, agala bidamala Juan emar Bautisar saed. Aukine, ¿ibigala Jesús bautisar imasa?
Juan we ibmar Jesúsga imasa, ibigala Jesús ese egisnoniki e bautisar saye. Juan bautisar imake dulemar na oyobimalad bukib binsamarye ibmar isgana imakdii gusadba. Aukine, ¿imasmoga Jesús ibmar soggwen eba bukib binsaega? Suli, Jesús ibmar isgana imakdi suli, ar dule nibneggi danikichoggu, geb Bab Dummad Machi gusoggua. Degsoggu, baid ibmar ulale Juanga sogsar gebe e bautisar imakye. Anmar dakoena ibu ibmar ulale.
Jesús, Juanse naed iduale, carpinterga arbaena. Carpinter urgomargi arbaed, mese sobe, ganmar sobe geb gan suigan sobbali. José, María sui, carpinter guena, geb José, Jesús odurdasa carpinterga gumogaga. Aukine, Jehová e Machi barmiar suli Napanegse carpinterga arbaega. Arbaed bamaladyob sulid ega ukoed, geb emisgindi we arbaed iba owarmasa. Agala, oyogega e Bab ibmar abeged imakega noniye, Jesús, Juanga sogsa e bautisar imakye. ¿Bab Dummad nued we ibmar daksa be binsae?
¿Bab Dummad nued we ibmar daksa be binsae? Eye, nued daksa, ar Jesús diayag noargua, nibneggi gaka burba gollali: 'We an Machi, an eba yeer itoge.' Amba nibneg ber argade yobi daklebali geb wee nuugwa Jesús siki aideali. Aukine, we nuugwa sanaled suli. Nuugwa sunnadyob daklege. Ar bur Bab Dummad burba nuedid.
Emisgi Jesús walagwen neg ukubbi bipirmaknaidba 40 día nade, ibmar bukidargi binsaega. Geb aag gudii, Nia ese noniki. Ilabaa Nia alamaknagusa, Bab igargi Jesús obanega. Aukine, Jesús ese binsaed galechuli.
We sorba Jesús gannar noniki geb dulemar gepe e sapingaga gunonimalad daknoniki. Abar weyob nugmalanad: Andrés, Pedro (amba bilebali Simón), Felipe geb Natanael (amba bilebali Bartolomeo). Jesús, e sordaganbo nadmala Galilea yarse. Aa mosmargua Canáse dogdapmala, Natanael e neggwebur. Agine dule wargwen ome nikgunai, geb Jesús aa gine ibmar dakledisulid gebe imaknoniki. ¿Be wisi ibua? Dii, vino gala obinnisa.
Mateo 3:13-17; 4:1-11; 13:55; Marcos 6:3; Juan 1:29-51; 2:1-12.
---
Egislenaid
Machergan warbo sobaled gine be dakedi, ¿doamala?
¿Igi dule bautizar imaklege?
¿Juan doamar bur bautizar imakdae?
¿Ibig Jesús, Juan gala sogsa e bautizar imakye?
¿Igi Bab Dummadi oyosa yeer itosa, Jesús bautizar imasgua?
Jesús walagwen neg dulemar satedba iba dulabo nadgu, ¿igi ibmar gusa?
¿Doamar insogi Jesús sapingan gala gusmala, geb gepe ibu ibmar dakledi sulid Jesús imasa?
Bamalad egislenabalid
Absoge Mateo 3:13-17.

¿Igi bautismo imaklegoye Jesús igar mesisa e sapingan gala? (Sal. 40:7, 8; Mat. 28:19, 20; Luc. 3:21, 22.)

Absoge Mateo 4:1-11.

Jesús nue wisi Biblia ebuchoggua, ¿ibig anmar Biblia durdakbier guedmoga? (Mat. 4:5-7; 2 Ped. 3:17, 18; 1 Juan 4:1.)

Absoge Juan 1:29-51.

Juan Bautista, ¿doa siki na e sapingan idusa, geb igi anmar aa yobi imasmogale? (Juan 1:29, 35, 36; 3:30; Mat. 23:10.)

Absoge Juan 2:1-12.

¿Igi Jesús gepe ibmar dakledisulid imasad gine oyosa, Jehová ibmar nuegan Eb nanamalad gine nallegumasuli? (Juan 2:9, 10; Sal. 84:11; Sant. 1:17.)