84: Anger, Marías atakapi
84: Anger, Marías atakapi
WE OME yeer daklegedi nuga María. Israel ginedi, geb Nazaret neggweburgi gudii. Bab Dummad wisi we ome dule nued gue. Agala e anger Gabriel barmiali ebo sunmakega. ¿Be wisi ibu anger Gabriel Maríag soge? Anmar dakoena.
Anger Gabriel ega soge: 'Degite, Bab Dummad beg nued binsaed. Jehová beb gudiguad.' María bipisaale we dule iduar dakdisuli. María bukib binsaali, ar aku itoged we dule ibu eg obare. Auki, Gabriel yog ega sunmakale, mer bukib binsaega.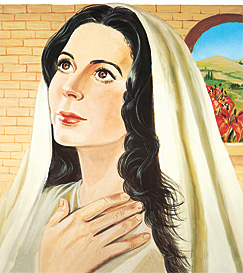 'María, mer be dobe itogo,' ega soge. 'Jehová yeer nue beg binsaed. Agala ibmar ibidar nued gued beg imakoe. Be goe machigwa nikguoe. Geb be onugsaoe, Jesús.'
Degine Gabriel ega sogde bali: 'We machigwa dule nug nikad guoed, geb onusalegoe Bab Dummad Bur Dummad gued e Machigwaye. Jehová we machigwa reig imakoe, igi David reig gusmoga. ¡Aukine Jesúsdi reig na sadegu mai guoe, geb e reino bipisaale berguosuli!'
Geb María soge: '¿Igi nabir we ibmar guosunna? Ande sui nikgumasulid geb machered wargwenbo an gudisulid, ¿igi nabir an goe nikguosunna?'
Geb anger Gabriel abin sogde: 'Bab Dummad gangued beg aidenonikoed. Degisoggu, machigwa bilegoe Bab Dummad Machiye.' Degine ega sogde bali: 'Be gwenad Elisabet, be ebinsae. Dulemar sogsa gusad we ome bat sered gusaddeye, sun bar goe bako sogeye. Aukine, emisgi goe machi baksoggali. Degsoggu, be dakena, ibmar soggwensaale Bab Dummad geg imakedi sated.'
Geb María sogdesunna: '¡Jehová e mai an gue! Igi an guoye soglesa, deyob an gusan gadina.' Degi, anger nade.
Emisgi María gwae gwae Elisabetse nade. Elisabet itosgua María es gole, e goe yeer itogedba bilumasa. Geb Elisabetgi Bab burba nued ubononiki, geb Maríag soge: 'Omegan baiganba Bab Dummadi beg bur nued binsasad.' María nii warbaagwa Elisabet walik gudigusa, geb sorba gannar Nazaretse nade.
Emisgi María sui nikgued owarmasa, machered nuga José. Aukine, José wisguargua María goe baksoggali, bur binsaali mer an nikguoye. Degine, Bab Dummad anger ega soggali: 'Mer dobguo; María sede, be na nikguo. Ar Bab Dummad sogedba we goe nikgusoggalid.' Degsoggu María, Josébo na nikgusmarsunna, geb emisgi abdakdii gusmarsunna Jesús gwaluleged.
Lucas 1:26-56; Mateo 1:18-25.
---
Egislenaid
Sobaled gine ome be dakedi, ¿doawa?
¿Igi Gabriel María gala soge?
Macheredbo gudisur inigwale, ¿igi nabir goe nikguoye Gabriel, Maríag sogsa?
María atakapgua e gwenad Elisabet sega, ¿ibu ibmar gusa?
José wisguargua María goe baksoggarye ¿igi binsaali, auki ibig sorba binsaed ogwasbali?
Bamalad egislenabalid
Absoge Lucas 1:26-56.

María, Adángi danimosoggua, egi isgued namogana. Lucas 1:35 sognaid gine, Jesús gwalulenonigua, ¿igi nabir María ese isgued ogwachuli? (Ageo 2:11-13; Juan 6:69; Heb. 7:26; 10:5.)

Amba yoo gwaluleged idu, ¿igi Jesús e nug bat odummoleali? (Lucas 1:41-43.)

¿Ibu ibmar imasadba María igar nued mesisa, cristianomar ibmar soggwen imakega nugsalesmaladi eb imakmalaga? (Luc. 1:38, 46-49; 17:10; Pro. 11:2.)

Absoge Mateo 1:18-25.

Jesús, Emmanuelye onugsalechuli inigwale, ¿igi e daed gine na oyosa we nug soged bali gudigusa? (Mat. 1:22, 23; Juan 14:8-10; Heb. 1:1-3.)