83: Jerusalén muro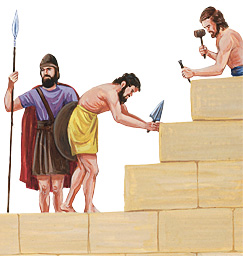 ¡BE DAKE, yeer gangu weg arbalenai! Israel dorgan Jerusalén muro sobnanai. Nabucodonosor Jerusalén obelosad akale, 152 año gusa, aunni e muro earilesa geb neggwebur wagagmar ogummaklesa. Aukine Israel dorgan Babiloniag gudii nonimargua, abgayala muro gannar sobsasurmala.
¿Igi itodii gusmar be binsae bela we birgamar nasadgi, e neggwebur muro sate gudigusmaladgi? Dobgubukwa gusmala. E istarmalad ibigwensur egi dogsamalale. Aukine emisgindi we dule nononiki, nuga Nehemías. Nehemías, dulemar bendakali Jerusalén muro gannar sobedgi. ¿Be wisi, we Nehemías doa dule gue?
Nehemías, Israel dule, Susa neggweburgi daniki, Mardoqueo Ester bogwa aa neggweburgi gudimarmoga. Nehemías rei neggi arbaena, degsoggua Mardoqueo ai nued gusar gebed, geb amba Ester ai nued gusbalir gebed. Auki, Bibliadi sogsuli, Nehemías arbasdeye rei Asueroga, Ester sui. Bur arbasgusa rei sorba megnonikidga, rei Artajerjes gala.
Ebinsao, Artajerjes rei nuedi, Esdrasga mani bukidar uksa gusadi, Jerusalénse sedega geb Jehovás goled neg nudakega. Auki Esdrasdi neggwebur e muro ayarisadi, sobsa suli. Anmar dakoena igi Nehemías we ibmar imakedgi dognonimosunna.
Artajerjes, Esdrasga mani uksad akale Babse goled neg nudakega, 13 año gusa. Emisgindi Nehemías, reig nogdaked dummadga gue. Reig vino eyogedgi arbae, geb ise dakagwale gudidae, abakale ina nusu egi eyolesale. Degsoggu, we arbaedi binsa yogasaaled suli.
Degine, ibagwengi Hanani, Nehemías gwenad daniki dakleali bamalad dulemar Israel neggwebur ginmaladbo, Nehemías sega atakdanimala. Geb we dulemar Nehemíasga soggarmala, Israel dorganga neg ibigwensur gusurye, geb Jerusalén muro amba ayarar mellediye. Nehemías wile itoali, geb Jehová sega gocha we ibmar ulale.
Ibagwengi rei dakali Nehemías wile itoge, geb ese egichali: '¿Ibig be wile itoge?' Nehemías ega soge, Jerusalén sunnasur daklesiye, e muro ayarisad barye. Geb rei ese egichali: '¿Be ibu abesunna?'
Nehemías rei abinni soge: 'Jerusalénse be an barmide, an nabir gannar muro sobega.' Artajerjes dule nued dae. Degsoggu Nehemíasga soge be nabir naye, geb ega urgomar amisbali nabir muro soblegega. Jerusalénse owarmasad sorba, Nehemías bela neggweburga sogsa ibu imakdaniki. Bela dulemar nabir itomala, geb sogmala: 'Anmar arbaed onodoye.'
Israel dorgan e istarmaladi dakarmargu, muro onaklemai, soggarmala: 'Anmar emar oburgwenamala, mer bar muro soblegega.' Nehemías we ibmar wisguargua, bela arbananaidga espadamar geb lanzamar uke uke imasa, degine, wegi emarga sogsa: 'Mer dobgumalo. Bemar gwenadgan ulale urwemalo, bemar mimmigan ulale, bemar omegan ulale, geb bemar negmar ular.'
Dulemar bulegana. Ibginedba geb mutikidba guakwa gudidamala, geb arbaed indachurmala. Degsoggu, unnila 52 día gine, muro soblegedi obelolenoniki. Emisgi neggweburgi dobsuli nabir gudigumala. Degine, Nehemías, Esdrasbo Bab Dummad igar odurdakarmala, geb neggwebur yeer itobukwa gusa.
Aukine, neg naid, Israel dorgan Babiloniag galebukwa gusad idualed yobsuli. Persia rei emisgindi neg dakmai, geb bela neggwebur we rei e maig gue daklearmala. Aukine Jehová sogsa gusa rei gwapid barmidagoye, geb we reidi neg boogwad neggweburga sedagoye. ¿Doagi we rei? ¿Igi neg boogwad sedagoe Napanegga? We igar durdakleged iduale, 450 añosaar nanasgwele. Geb ibmar bur birigined gunoniki, goe gwalulenoniki. Auki we ibmar gusaddi, igar gwapid gubali.
Nehemías, capítulo 1-6 sega.
---
Egislenaid
¿Igi Israel dorgan itodii gusmala, Jerusalén neggwebur muro sated bali?
¿Nehemías doawa?
¿Nehemías ibug arbae, geb ibig we arbaed yogasaaled suli?
¿Ibu itosad bali Nehemías wile itosa, geb ibu imasa?
¿Igi Artajerjes nued Nehemías gine dae na oyosa?
¿Ibu Nehemías imasa, Israel dorgan istarmalad mer emar ibe arbaed gaega?
Bamalad egislenabalid
Absoge Nehemías 1:4-6 geb 2:1-20.

¿Ibu Nehemías imasa, Jehová e bendakega? (Neh. 2:4, 5; Rom. 12:12; 1 Ped. 4:7)

Absoge Nehemías 3:3-5.

¿Igi teqoitamar e "dummaganyob" ibmar imachurmala, geb ibu Jehová neggweburgi idudimalad geb gwenadgan bendakmalad nabir we ibmargi durdakmala? (Neh. 3:5, 27; 2 Tes. 3:7-10; 1 Ped. 5:5.)

Absoge Nehemías 4:1-23.

¿Ibig Israel dorgan amba nabir arbanai gusmala, e istarmalad emar ibe arbaed gabi guarmargu? (Neh. 4:6, 8, 9; Sal. 50:15; Isa. 65:13, 14.)

Israel dorgan daed, ¿igi emi ibag anmar ogannoe?

Absoge Nehemías 6:15.

Jerusalén muro nii warbo gued iduar soblesadi, ¿igi anmarse oyoge Babgi bensur gued bali amba ibmar undar gue daklegele, nabir imaklege? (Sal. 56:3, 4; Mat. 17:20; 19:26.)