82: Mardoqueo, Ester bogwa
82: Mardoqueo, Ester bogwa
EMISGI anmar wis birgamar nasad siki nabaloe, Esdras Jerusalén sega naed iduale. Persia neggweburgi Mardoqueo, Esterbo bur Israel dorgan nug nikmaladi. Ester dina reina geb e mesad Mardoqueo dina rei yarba dummadga simoga. Anmar dakoena igi weyob ibmar gunoniki.
Ester amba bunolo bipigwa gue unni e sergan burgwisa, geb Mardoqueo na akwenoniki. Aunni Persiag, Asuero neg dakmai, geb Susa neggweburgi e neg sii, degine Mardoqueo we rei e mai gala gumoga. Degidgi, ibagwengi Vasti, rei ome, rei sogedba ibmar imachuli, geb rei baid ome amichunna reinag imakega. ¿Be wisi doa sulesa? Ester, we ome yeer dakleged.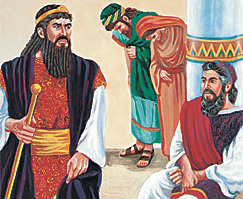 ¿Be daksa we machered na dummarba imakgwichidi, geb dule bamalad we abinni dullu dullu gunanaidi? We dule nuga Hamán, Persia neggweburgi dule nug nikad gue. We dule abitoge Mardoqueo, bia sii be dake, e asabinni dullu gumogadi bamalad yobi. Auki Mardoqueo dina dullu imachuli. Mardoqueo dina nued daksuli dule isgana gued asabin dullu guedi. Hamán sae itoali. Emisgi be dakoena ibu imasa.
Hamán gakan sanade reig Israel dorgangi. Soge: 'Wemar dule isgana gumala geb igarmar mamaidba dasurmarbali. Oburgwelemalar gebe.' Asuero dina wichuli e ome Israel dule gumogadi. Degsoggu, Hamán ega ibmar soged itosa, geb igar mesisa, ibagwengi bela Israel dorgan oburgwelemaloye.
Mardoqueo we igar megisad wisgunonigua, suritoali. Esterse gaka barmisa geb wegi soge: 'Reibo be sunmako, geb anmar bendakleged ese be egiso.' Persia e igargi soglemai, dule geg reis naye, ese gollechulile. Auki Esterdi nade ese gollechuli inigwale. Rei orsuar suui oyosa, sogega mer we ome oburgwemaloye. Ester reig sogsa geb Hamánga, mas gullegoedgi na abingumaloye. Agine rei, Esterse egicha, ibu egala imaked abeye. Ester soge, banegi baid mas gullegoeche naele geb Hamán namogale, ega sogoye.
Aa mas gullegedgi, Ester reig soge: 'An neggwebur oburgwelegoe geb an oburgwelemogoe.' Rei sae itoali. Geb egichali: '¿Doa dule we ibmar imakedgi binsanai?'
Ester abin soge: '¡Anmar istaradi, we dule isgana siidi, Hamán!'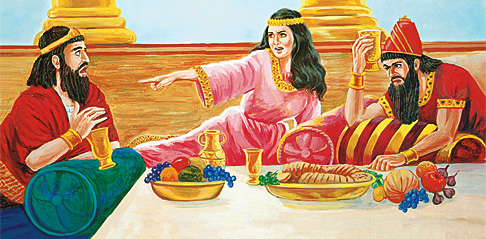 Emisgi rei bur nue sae itochunna. Geb igar uksa Hamán oburgwemalaga. Sorbali rei imasa, Mardoqueo e yarba dummadga sigmogadi. Degidgi, Mardoqueo igar gwapid mesichunna, we igar soge, Israel dorgan nabir urwemaloye, iba megisadgi oburgwelege soglearmalale. Ar emisgi Mardoqueo dule dummad gumosoggua, bukidar dule bamalad Israel dorgan bendasmala, geb Israel dorgan e istarmalache akar guchurmala.
Libro bíblico de Ester.
---
Egislenaid
Mardoqueo geb Ester, ¿doamala?
¿Ibig rei Asuero ome baid abege, geb doa sulesadi?
¿Hamán doawa geb ibig sae itoali?
¿Igi igar megnoniki, geb ibu Ester imasa Mardoqueo ese gaka barmisad sorba?
¿Igi Hamán gusa, geb Mardoqueo dina igi gudmoga?
¿Igi nabir Israel dorgan e istarmaladse akar guchurmala?
Bamalad egislenabalid
Absoge Ester 2:12-18.

¿Igi Ester oyosa, nuedi 'urwedgi ibmar imaklesulir'? (Est. 2:15; 1 Ped. 3:1-5.)

Absoge Ester 4:1-17.

Ester ibmar imasad gine na oyosa, nue Bab bali nai. ¿Igi Ester yobi, Jehová bali nue nai anmar na oyosmogale? (Est. 4:13, 14; Mat. 5:14-16; 24:14.)

Absoge Ester 7:1-6.

Ester yobi, ¿ibu imaked ular bukidar Babga arbamalad bargalemarmoga? (Est. 7:4; Mat. 10:16-22; 1 Ped. 2:12.)