DUL ME ANGWEN
Yecu Kricito En Aye Anga?
Yecu Kricito En Aye Anga?
Yecu tye ki tic ango ma pire tek?
En obino ki kwene?
En onongo obedo dano ma nining?
TYE dano ma guywek mapol i wi lobo. Jo mukene kingeyogi maber i kabedo, i boma, nyo lobo ma megi. Jo mukene guywek i wi lobo ducu. Kitung cel, ngeyo nying dano moni muywek keken pe te lokke ni nongo dong ingeye maber. Nongo pud pe ingeyo lok ducu ma i kome ki kit dano ango ma en obedo.
2 Dano guwinyo olo lok mo i kom Yecu Kricito i kabedo ducu i lobo-ni, kadi bed ni en okwo i wi lobo mwaki 2,000 mukato angec. Ento wa i kare-ni, jo mapol pe gingeyo nga ma Yecu obedo. Jo mukene giwacci en obedo laco mo mere ma kite ber. Jo mukene giwacci en obedo lanebi aye. Ento jo mukene gitye ki niye ni Yecu aye obedo Lubanga ma omyero kiwor-ni. Tika omyero kiwore?
3 Pire tek pi in me ngeyo lok ada i kom Yecu. Pingo? Pien Baibul waco ni: 'Man en kwo ma pe tum, ni ginge in Lubanga acel me ada, ki Yecu Kricito ma yam ioro.' (Jon 17:3) Dong tye ni, ngeyo lok ada i kom Lubanga Jehovah ki Yecu Kricito twero tero dano i kwo ma pe tum i lobo paradic. (Jon 14:6) Me medo i kom meno, Yecu oweko lanen maber loyo i kit me kwo ki tero jo mukene i yo maber. (Jon 13:34, 35) I dul me acel me buk man, wanyamo lok ada ma dok i kom Lubanga. Kombeddi kong dong wanenu gin ma Baibul pwonyo i kom Yecu Kricito.
MECIYA MA GICIKO PIRE-NI
4 Con ma peya kinywalo Yecu, Baibul onongo dong otito pi bino pa ngat ma Lubanga bicwalo macalo Meciya, nyo Kricito. Nying dog tic ni "Meciya" (oa i nyig lok me Ibru) ka dok "Kricito" (oa i nyig lok me Grik) gin aryo ducu gigonye ni "Ngat ma Kiwiro." Ngat man ma giciko pire-ni onongo kibiwire, ma tere ni nongo Lubanga ocimme me bedo i rwom mo ma pire tek. I dul mogo ma tye anyim i buk man, wabingeyo lok mapol i kom tic ma pigi tego ma Meciya otimo me cobo cikke pa Lubanga. Wabingeyo bene mot mapol ma Yecu twero kelo botwa kadiwa i kare man. Ma peya kinywalo Yecu, dano mapol gubedo ka penye kekengi ni, 'Meciya mono bibedo nga?'
5 I cencwari me acel K.M., lupwonnye pa Yecu me Najaret gungeyo atir ni en aye obedo Meciya ma kitito pire con-ni. (Jon 1:41) Ngat acel i kin lupwonnyene, Cimon Petero owaco ka maleng bot Yecu ni: "In i Kricito." (Matayo 16:16) Ento mono twere nining pi lupwonnye meno nyo pi wan me ngeyo ni Yecu aye ada obedo Meciya ma giciko pire-ni?
6 Lunebi pa Lubanga ma gukwo ma peya Yecu obino, gutito jami matut mapol i kom Meciya. Jami matut magi okonyo jo mukene me ngeyo en. Watwero porone kit man: Ka kiwaco boti ni iwot ka gamo welo mo ma in peya itye ki ngec mo i kome i bac pak nyo i citecen gar nyo i bar dege ka ma nongo dano tye mapol i iye kono. Mono pe rwatte ka kong kimini ngec manok ma dok i kome? I yo acelli bene, Jehovah otiyo ki lunebi me Baibul me miyo ngec matut ma nyuto jami ma Meciya onongo bitimo, ki kit kwo ma en biwok ki iye. Cobbe pa lok pa lunebi magi aye okonyo jo ma lugen me ngeyo en maber.
7 Tam kong i kom lanen aryo keken. Me acel, lok ma lanebi Mika okwongo titone ma pud onongo odong mwaki 700 anyim ni Ngat ma kiciko pire-ni kibinywalo i Beterekem boma mo matidi i lobo Juda. (Mika 5:2) Kinywalo Yecu kwene? I boma matidi meno kikome! (Matayo 2:1, 3-9) Me aryone, lok pa lanebi ma tye i Daniel 9:25, onyuto mwaka ma Meciya onongo omyero okatti iye kikome —i mwaka 29 K.M ma onongo pud odong mwaki miya mapol ata.* Cobbe pa jami magi ki lok pa lunebi mukene nyuto ni Yecu aye obedo Meciya ma giciko pire.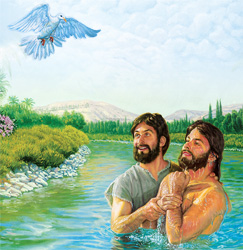 8 Jami mukene ma nyuto ni Yecu aye obedo Meciya onen maber i tum mwaka 29 K.M. Meno aye mwaka ma Yecu ocito kwede bot Jon Labatija wek obatija en i Kulu Jordan. Jehovah onongo ocikke me miyo lanyut wek Jon onge Meciya. Jon oneno lanyut meno i kare me batija pa Yecu. Baibul waco ni man aye gin ma otimme: 'I kare ma dong gityeko batija Yecu, ci en okatti woko ki i pii oyotoyot; cutcut polo oyabbe, ci oneno cwiny maleng pa Lubanga ma bino kun lyanne piny macalo akuri, ci opye i kome. Ci dwan ocako winnye ma a ki i polo ma wacci: Man aye Woda ma amare, ma cwinya yom i kome.' (Matayo 3:16, 17) I nge neno ki winyo gin ma otimme, Jon dong pe obedo ki akalakala mo ni Yecu aye obedo ngat ma Lubanga ooro-ni. (Jon 1:32-34) I kare ma cwiny pa Lubanga nyo teko ma en tiyo kwede oony i kom Yecu, cutcut Yecu otugi doko Meciya nyo Kricito, ngat ma kicimo me bedo Latela ki Kabaka.—Icaya 55:4.
9 Cobbe pa lok pa lunebi me Baibul ki lok ma Lubanga Jehovah kikome oloko, onyuto ka maleng ni Yecu obedo Meciya ma giciko pire-ni. Ento Baibul gamo lapeny aryo mukene ma pigi tego i kom Yecu Kricito: En obino ki kwene, dok en onongo obedo dano ma nining?
YECU MONO OBINO KI KWENE?
10 Baibul pwonyo ni Yecu kong okwo i polo ma peya obino i lobo. Mika owaco con ni kibinywalo Meciya i Beterekem dok ni En oa wa "i kare macon mada." (Mika 5:2) Pol kare Yecu kikome obedo ka waco ni en kong ebedo i polo ma peya ginywale macalo dano. (Jon 3:13; 6:38, 62; 17:4, 5) Yecu obedo ki wat macok tutwal gin ki Jehovah i kare ma en obedo i polo macalo cwec ma obedo cwiny.
11 Yecu obedo Wod pa Jehovah ma pire tek loyo ducu—dok pi tyen lok ma kakare. Kilwonge ni "latin kayo me ginaketa ducu," pien en obedo cwec pa Lubanga me acel.# (Jo Kolocai 1:15) Tyen lok mukene ma oweko Wod man pire tek tye ni, en obedo 'Wode ma en aye ocweyo en kikome.' (Jon 3:16) Man te lokke ni Yecu kene aye ma Lubanga ocweyo en kikome. Yecu keken aye bene Lubanga otiyo kwede me cweyo jami mukene ducu. (Jo Kolocai 1:16) Yecu bene dok kilwongo ni "Lok." (Jon 1:14) Man nyuto ni en oloko pi Lubanga, kun cwalo kwena ki cik bot lutino pa Wonne mukene ma gubedo cwiny wa ki ma danone ducu.
12 Wod me kayo-ni mono rom aroma ki Lubanga kit ma jo mukene gitamo-ni? Meno pe gin ma Baibul pwonyo. Kit ma waneno kwede i paragraf ma okato-ni, Wod obedo ginacweya. Labongo akalakala mo, en tye ki acakkine, ento Lubanga Jehovah pe tye ki acakki nyo agikkine. (Jabuli 90:2) Wod acel keken-ni pe bene otemme me tamo ni ebed rom ki Wonne. Baibul pwonyo atir ka maleng ni Won dit kato Wod. (Jon 14:28; 1 Jo Korint 11:3) Jehovah kene aye obedo "Lubanga Won Twer Ducu." (Niyabo 16:14) Pi meno en pe pore ki gin mo keken.%
13 Jehovah gin ki Wod me kayone-ni gubedo kacel pi mwaki bilion mapol ata—con ma peya kicweyo polo man ma nen-ni ki lobo. Pud dong gubedo ki mar madit i kin-gi ya! (Jon 3:35; 14:31) Wod me amara man obedo calo Wonne kikome. Meno aye oweko Baibul waco ni Wod obedo "cal pa Lubanga ma pe nen-ni." (Jo Kolocai 1:15) Ada, kit macalo awobi ma dano twero bedo cal ki wonne i yo mapol mapat pat, Wod me polo man onyuto kit pa Wonne.
14 Wod ma Jehovah ocweyo en kikome-ni oweko polo labongo dic mo ka obino piny i lobo me kwo macalo dano. Ento iromo dok penye ni, 'Twere nining me nywalo ginacweya ma obedo cwiny me doko dano?' Wek man otimme, Jehovah otimo tango. En onako kwo pa Wode me kayo man me a ki i polo ci oketo i ot nyodo pa nyako mo me Juda, ma pe ongeyo laco, ma nyinge Maliam. Pe obedo ki wonne mo ma dano. Pi meno Maliam onywalo latin ma peke ki roc, ci ocako nyinge ni Yecu.—Luka 1:30-35.
YECU ONONGO OBEDO DANO MA NINING?
15 Jami ma Yecu owaco dok otimo i kare ma en tye i lobo konyowa me ngeyo en maber. Medo i kom meno, watwero ngeyo Jehovah maber ki bot Yecu. Pingo dok tye kumeno? Wi opo ni Wod man aye obedo cal pa Wonne kikome. Meno aye oweko Yecu owaco ki lapwonnye mo acel ni: "Ngat ma oneno an dong oneno Won." (Jon 14:9) Bukke angwen me Baibul ma kilwong-gi ni Jiri—Matayo, Marako, Luka, ki Jon—gitito botwa jami mapol i lok kom kwo, tic, ki kit Yecu Kricito kikome.
16 Yecu onongo ngene maber tutwal calo "Lapwony." (Jon 1:38; 13:13) En opwonyo gin ango? Kwenane ma pire tek aye onongo "kwena maber me ker"—ma en aye Ker pa Lubanga, gamente me polo ma biloyo lobo-ni ducu dok bikelo mot madwong ata bot jo ma luwiny. (Matayo 4:23) Meno onongo obedo kwena pa anga? Yecu kikome owacci: "Pwony ma apwonyo pe mera, ento pa ngat ma ceng oora," ma en aye Jehovah. (Jon 7:16, NW) Yecu ongeyo ni Wonne mito ni dano guwiny kwena maber me Ker-ri. I Dul me 8, wabingeyo jami mapol i kom Ker pa Lubanga ki gin ma Ker meno bitimo.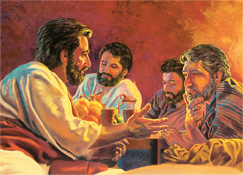 17 Yecu opwonyo pwonye i kabedo mene? Opwonyo ka mo keken ma en onongo iye dano—i boma, i kin caro, i cuk, ki i gangi. Yecu pe omito ni dano gubin bote. En aye ocito botgi. (Marako 6:56; Luka 19:5, 6) Pingo Yecu omiine tutwal dok okwanyo kare malac me tito kwena ki pwonyo dano? Pien meno aye onongo obedo miti pa Lubanga pi en. Yecu obedo ka timo mitti pa Wonne kare ducu. (Jon 8:28, 29) Ento tyen lok mukene ma oweko en opwonyo pwony pud tye. En obedo ka paro pi lwak dano ma gibedo ka bino bote. (Matayo 9:35, 36) Lutela dinigi onongo guwekogi ata, meka ka pwonyogi ki lok ada i kom Lubanga ki yubbe. Yecu onongo ngeyo mada kit ma dano mito winyo kwede kwena me Ker-ri.
18 Yecu obedo layom cwiny mada dok onongo paro pi dano. Jo mukene gunongo ni en lakica dok lok kwede yot. Kadiwa lutino bene guwinyo agonya me bedo bote. (Marako 10:13-16) Yecu pe obedo ki apokapoka mo. En okwero camcana ki ngolo kop alenga. (Matayo 21:12, 13) Kadi bed ni i kare meno mon onongo gimiyogi woro ki twero manok adada, en oterogi kiworo. (Jon 4:9, 27) Yecu onongo mwol adada. I kare mo acel, en olwoko wa tyen lukwenane, tic ma pol kare jo ma pe gitye ki cwinye me awaka keken aye onongo gitimo.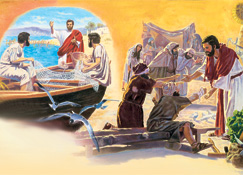 19 Yecu onongo tamo tutwal pi jami ma mitte bot jo mukene. Man onen ka maleng tutwalle i kare ma en obedo ka tic ki teko pa cwiny pa Lubanga me cango dano. (Matayo 14:14) Me lapore, ladobo mo obino bot Yecu ci owacci: "Ka imito, itwero lonyo koma." Yecu kikome owinyo malit pi arem ki canne pa laco-ni. Pi kica ma tye i cwinye, Yecu oryeyo cinge ka ogudo laco meno kun wacce ni: "Amito; komi olony." Ci laco ma kome lit-ti otugi cang cut! (Marako 1:40-42) Itwero tamo kong kit ma laco meno owinyo kwede?
EN OBEDO KI GEN NAKA WA I AGIKKI
20 Yecu omiyo lanen maber loyo me bedo lawiny dok lagen bot Lubanga. En obedo lagen bot Wonne ma i polo kadi bed ni kijemo nyo kikelo aunauna i kome i yo mo ducu. Yecu ocung matek dok oloyo atematema ducu pa Catan. (Matayo 4:1-11) I kare mo, wadi pa Yecu mukene kikome pe gubedo ki niye i kome, kun giwaco bene ni "en opo woko." (Marako 3:21) Ento Yecu pe oweko gubalo tamme woko; en omedde mere ameda ki timo tic pa Lubanga. Kadi bed kiyette nyo kicaye, Yecu odiyo cwinye, pe otemme me wano jo ma gukwere.—1 Petero 2:21-23.
21 Yecu obedo lagen nio wa i to—to alany malit i cing lumone ne. (Jo Pilipi 2:8) Kong itam ngo ma en ociro i nino me agikki me kwone macalo dano. Kimakke, lucaden me goba goba aye gudotte, lungol kop alenga aye gungolo kope, lwak maraco gungale, ka dok lumony guunne. Kigurre i kom yat, oomo cwinye me agikki ka odange ni: "Dong otum." (Jon 19:30) Ento ka nino adek okato inge to pa Yecu, Wonne me polo ocere dok i kwo me cwiny. (1 Petero 3:18) Inge cabit mogo manok en odok i polo. Ki kunnu, en "obedo piny i nget Lubanga tung acuc" me kuro kare ma kibimiye iye twero me loc.—Jo Ibru 10:12, 13
22 Gin ango ma Yecu otimo pi bedo ki gen nio wa i tone? To pa Yecu-ni ada oyabo botwa yo me nongo kwo ma pe tum i lobo paradic ma lubbe ki yub pa Jehovah mukwongo. Kibinyammo kit ma to pa Yecu oweko man twere kwede i dul ma lubo man.
GIN MA BAIBUL PWONYO
Cobbe pa lok pa lunebi ki lok ma Lubanga oloko en kikome, onyuto ni Yecu aye Meciya, nyo Kricito.—Matayo 16:16.
Yecu okwo i polo macalo ginacweya ma obedo cwiny pi kare malac ma peya obino i lobo.—Jon 3:13.
Yecu obedo lapwony, dano ma layom cwiny, dok obedo lanen maber i winyo Lubanga.—Matayo 9:35, 36.
---
*  Pi kop ma tito kit ma lok pa lanebi Daniel ocobbe kwede i kom Yecu, nen Lamed ngec.
#  Kilwongo Jehovah ni Won pien en aye Lacwec. (Icaya 64:8) Lubanga aye ocweyo Yecu, omiyo kilwonge ni Wod pa Lubanga. Pi tyen lok acel-li, omiyo kilwongo cwec mukene ma gubedo cwiny, kadi wa Adam bene ni awobe pa Lubanga.—Yubu 1:6; Luka 3:38.
%  Pi lok mukene ma nyuto ni Wod me kayo pe rom ki Lubanga, nen Lamed ngec.
---
Peny me Kwan
1, 2. (a) Pingo ngeyo nying ngat muywek pe te lokke ni nongo dong ingeye maber? (b) Kit anyoba nyoba ango ma tye i lok kom Yecu?
3. Pingo pire tek pi in me ngeyo lok ada i kom Yecu?
4. Nying me dog tic ni "Meciya" ki "Kricito" ni, gonye ningo?
5. Gin ango ma Lupwonnye pa Yecu onongo gingeyo atir i kome?
6. Mi lapor ma nyuto kit ma Jehovah okonyo kwede jo ma lugen me ngeyo Meciya.
7. Lok aryo ango ma kikwongo tito con ma gucobbe i kom Yecu?
8, 9. Jami ango ma onyuto ni Yecu obedo Meciya ma onen ka maleng i kare me batijane?
10. Gin ango ma Baibul pwonyo i kom kwo pa Yecu ma onongo peya en obino i lobo?
11. Baibul nyuto nining ni Yecu obedo Wod pa Jehovah ma pire tek loyo?
12. Wangeyo nining ni Wod me kayo pe rom ki Lubanga?
13. Ka Baibul owaco ni Wod obedo "cal pa Lubanga ma pe nen-ni," nongo tyen lokke ngo?
14. Yo ango ma kinywalo kwede Wod ma Jehovah ocweyo en kikome-ni macalo dano?
15. Pingo watwero waco ni ka wawoto ki bot Yecu ci watwero niang i kom Jehovah maber?
16. Kwena pa Yecu ma pire obedo tek onongo obedo ngo, dok pwonye onongo oa ki kwene?
17. Yecu opwonyo pwonye ka kwene, dok pingo en omiine tutwal me pwonyo jo mukene?
18. Kit Yecu mene ma in inongo yomo cwinyi mada?
19. Lanen ango ma nyuto ni Yecu onongo paro mada pi mitti pa jo mukene?
20, 21. Yecu omiyo lanen maber me bedo lawiny ma gene i kom Lubanga nining?
22. Gin ango ma Yecu otimo pi bedo ki gen nio wa i tone?