DUL ME APAR WIYE ABIC
Woro ma Lubanga Cwako
Woro ma Lubanga Cwako
Dini ducu mono ada yomo cwiny Lubanga?
Wan watwero ngeyo ni man aye obedo dini me ada nining?
Angagi ma gubedo jo ma woro Lubanga i ada i kare-ni i lobo?
JEHOVAH obedo Lubanga ma lagwok mada dok mito ni wan omyero wanong ber i telane me mar. Ka waworo en i yo ma atir, wabibedo ki yomcwiny dok wabigwokke ki i peko mapol. Wabinongo bene mot ki kony ma a ki bote. (Icaya 48:17) Kono, tye dini ma kato mia woko ma giwaco ni gin aye gipwonyo lok ada i kom Lubanga. Ento, inongo ni yo me pwonyogi i kom nga ma Lubanga obedo kacel ki ngo ma en mito nongo opokke woko mapat pat.
2 Dong in itwero ngeyo kit me woro Jehovah i yo matir nining? Pe tyen lokke ni omyero kong inge pwony pa dini mapol ata-ni ducu. Omyero inge lok ma Baibul ada pwony i kom woro me ada ci otum. Me labolle: Cente kikwangala tye ka nyayo peko i lobo mapol. Ka onongo gimini tic me yeko cente meno woko, kit yo ango ma in ibitic kwede? Ibitemme me mako kit ma cente kikwangala nen kwede i wi? Pe. Wek pe obal kareni, ibitemme me mako kit ma cente kikome-ni nen kwede ci otum. Ka dong ingeyo kit ma cente kikome-ni nen kwede, ci dong ngeyo cente kikwangala pe bibedo tek. I yo acel-lu bene, ka ipwonyo kit me ngeyo dini me ada, ci ngeyo dini me goba dong pe bibedo tek.
3 Pire tek ni omyero wawor Jehovah i yo ma en mito. Dano mapol gitamo ni dini ducu yomo cwiny Lubanga, ento Baibul pe pwonyo kit meno. Konnye peke me wacone awaca ki dog ni ngat moni obedo Lakricitayo. Yecu owaco ni: "Pe dano ducu ma gilwonga ni, 'Rwot Rwot' aye gibidonyo i ker me polo, ento ngat ma tiyo gin ma Wora ma i polo mito." Pi meno ka wamito nongo cwak pa Lubanga, omyero wapwony gin ma Lubanga mito ki botwa ka dok waket i tic. Yecu olwongo jo ma pe gitimo mitti pa Lubanga ni, "lutim gin maraco." (Matayo 7:21-23) Dini goba bene pe tye ki bakacic mo, konnye peke calo cente kikwangala. Ma dong rac loyo, kodi dini ma kit meno balo kwowa.
4 Jehovah omiyo kare bot dano acel acel ma i lobo-ni me nongo kwo ma pe tum. Pi meno ka wamito nongo kwo me labed naka i Paradic, omyero wawor Lubanga i yo ma tye kakare kun nongo wakwo i yo ma en mito i kareni. Ento lok marac tye ni, jo mapol gukwero timo meno woko. Pi meno, Yecu owaco ni: "Wudony ki i doggola mading, pien dogolla ma tero dano i to lac, dok yone gipiro maber, dok jo ma donyo ki iye pol. Pien doggola ma tero dano i kwo ding, ki yone bene rac, dok jo ma nongo yo meno ginok." (Matayo 7:13, 14) Dini me ada tero dano ikwo ma pe tum. Dini goba tero dano i to. Jehovah pe mito ni dano mo oto, en aye oweko en pud tye ka miyo kare ki dano ma i kabedo ducu me nongo pwony i kome. (2 Petero 3:9) Dong ada, kit ma waworo kwede Lubanga twero keliwa kwo nyo to.
KIT ME NGEYO DINI ME ADA
5 'Dogola ma tero dano i kwo' ni twero nonge nining? Yecu otito ni dini me ada binen i kwo pa dano ma gilubo en dini meno. "Wubingeyogi i kom kitgi." En bene owaco ni, "yat maber nyako nyige mabeco." (Matayo 7:16, 17) Nyo itwero wacci, dini me ada gibingene i pwony kacel ki ticgi. Jo ma lubo woro me ada macalo dul, giyenyo yo me timo mitti pa Lubanga kadi bed gubedo jo ma gitye ki roc dok bene gitimo bal. Kong dong wanenu jami abicel mapat pat ma nyuto jo mene ma lubo dini me ada.
JO MA GIWORO LUBANGA ME ADA
gijengo pwonygi ducu i Baibul
giworo Jehovah keken dok gitito pi nyinge
ginyuto mar kikome i kingi
giye Yecu macalo yo pa Lubanga me laro dano
pe gubedo jo me lobo
gitito pi Ker pa Lubanga macalo gen acel keken ma dano tye kwede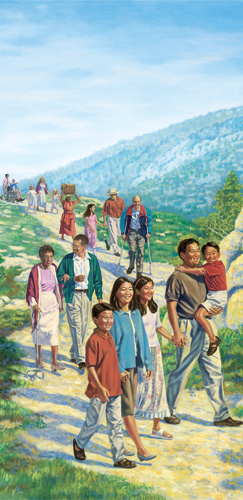 6Lutic pa Lubanga gicibo guti me pwonygi i Baibul. Baibul kikome otito ni: "Ginacoya ducu ma yam gicoyo, gicoyo pi teko pa [c]winy pa Lubanga. Konyo me pwony, me juko dano, me tiro kit pa dano, me nyebo dano wek gulub kit ma atir, wek dano pa Lubanga obed muteggi, ma bene oyubbe i yo ducu, ma romo tiyo kit tic maber ducu." (2 Temceo 3:16, 17) Lakwena Paulo ocoyo bot Lukricitayo lureme ni: "Man aye gin mumiyo wapwoyo Lubanga kare ki kare, pien cakke ma wugamo lok pa Lubanga ma wuwinyo ki botwa, pe wugamo macalo lok pa dano, ento macalo lok pa Lubanga." (1 Tecalonika 2:13) Pi meno, Pwony kacel ki tic ma tye i dini me ada pe cung i tekwaro pa dano. Gia ki i Baibul ma obedo lok pa Lubanga.
7 Yecu Kricito onyuto lanen maber ki jengo guti me pwonye i Lok pa Lubanga. I lega bot Wonne ma i polo, en owaco ni: "Lokki en ada." (Jon 17:17) Yecu obedo ki niye i kom Lok pa Lubanga, dok jami ducu ma en opwonyo onongo rwatte ki lok ma tye i Ginacoya. Pol kare Yecu obedo ka waco ni: "Gicoyo ni." (Matayo 4:4, 7, 10) Ka dong Yecu obedo ka cimo tyeng ma lok meno oa ki iye. Rom aroma ki lutic pa Lubanga ma i kareni, gin bene pe gipwonyo jami ma i wigi. Gin gitye ki niye ni Baibul obedo Lok pa Lubanga, pi meno, gin gijengo pwonygi i kom gin ma Baibul loko.
8Jo ma gilubo dini me ada giworo Jehovah keken dok gitito pi nyinge bene. Yecu owaco ni: "Wor Rwot Lubangani, dok bene iti pire keken." (Matayo 4:10) Pi meno, Lutic pa Lubanga pe gimiyo woro bot ngat mo mapat ki Jehovah. Woro man tye iye tito pi nying Lubanga bot dano ki dok ngat ma en obedo. Jabuli 83:18 (NW ) tito ni: "Wek gunge ni, in keni aye ma nyingi Jehovah in aye Ngat Mamalo Twal ma loyo wi lobo-ni ducu." Yecu onyuto lanen maber me konyo jo mukene me ngeyo Lubanga, kit ma owaco i lega ni: "Atyeko nyuto nyingi bot jo ma ceng imiya ki i lobo." (Jon 17:6) Kit meno bene, luworo me ada i kare-ni gipwonyo nying Lubanga, kite, ki yubbe, bot jo mukene.
9Jo pa Lubanga ginyuto mar me ada, ma pe wany i kingi kengi. Yecu owaco ni: "Dano ducu bingeyo ni wun lupwonnyena, ka mer tye i kinwu." (Jon 13:35) Lukricitayo me kare macon gubedo ki mar ma kit meno i kingi. Mar ma a ki bot Lubanga ribo dano me kaka, kit me kwo, ki wang lobo mapat pat kacel i mar mo me omego matek ma pe tur. (Jo Kolocai 3:14) Lumemba me dini goba pe gitye ki kodi mar me omego ni. Wangeyo man nining? Jo mukene gineko luwotgi pien ni gua ki kaki mapat pat. Lukricitayo me ada pe gimako jami lweny me neko utmegi-gi ma gubedo Lukricitayo nyo ngat mo keken. Baibul tito ni: "Man aye gin ma bimiyo gineno jo ma gin litino pa Lubanga ki jo ma gin litino pa Catan: ngat ma pe timo gin ma tye atir pe latin pa Lubanga, kadi wa ngat ma pe maro ominne bene.…Myero wamarre kekenwa. Pe wabed calo Kain ma yam obedo latin pa Larac, ci oneko ominne woko."—1 Jon 3:10-12; 4:20, 21.
10 Pe tyen lokke ni ka dong pe ineko nek ci nongo dong itye ki mar me ada. Lukricitayo me ada gitiyo ki karegi, kerogi, ki jami ma gitye kwede me konyo ki me cuko cwiny luwotgi labongo kit wanya mo. (Jo Ibru 10:24, 25) Gikonnye i kingi kengi i kare me peko, dok bene gitero jo mukene-ni maber. Adada, gin giketo tira me Baibul ni "watiyu gin maber bot dano ducu," i kwogi.—Jo Galatia 6:10.
11Lukricitayo me ada giye ni Yecu Kricito obedo yo pa Lubanga me laro dano. Baibul tito ni: "Pe tye larre mo i ngat mukene, pien pe tye nying mo mukene i wi lobo man ma gimiyo ki wan dano ma myero walarre iye." (Tic pa Lukwena 4:12) Kit ma waneno kwede i Dul me 5, Yecu omiyo kwone calo ginkok bot jo ma gin luwiny. (Matayo 20:28) Medo i kom meno, Yecu Kricito obedo Kabaka me Ker me polo ma Lubanga ocimo ma biloyo lobo-ni ducu. Dong, Lubanga mito ni wawiny dog Yecu dok waket pwony-nye i tic ka wamito kwo ma pe tum. Meno aye gin mumiyo Baibul tito ni: "Dano ma ye Wod tye ki kwo ma pe tum; ngat ma pe winyo dog Wod, pe bineno kwo."—Jon 3:36.
12Luworo me ada pe gubedo jo me lobo. I kare ma kikelle i nyim Pilato ma onongo obedo laloc me Roma, Yecu owaco ni: "Kerra pe me lobo man." (Jon 18:36) Jo ma gilubo kor Yecu ducu gimine i te Locce me polo dok gigwokke pe me donyo i tim me wi bye me lobo-ni, labongo paro pi lobo ma gibedo iye. Gin pe gidonyo i lweny me lobo-ni. Ento kono, jo ma giworo Jehovah pe gigengo ngati mo me donyo i pati moni, me bedo lacungo wibye, nyo me bolo kwir. Kadi bed jo ma giworo Lubanga i ada pe gicwako tung ka mo i tim me wibye, gin gigwoko cik mada. Pingo? Pien Lok pa Lubanga cikogi me bedo 'luwiny' bot luloc pa Gamente ma 'giloyogi.' (Jo Roma 13:1) Ka ma telo tol tye iye i kin cik pa Lubanga ki cik me loc me lobo, luworo me ada gilubo lanen pa lukwena ma guwaco ni: "Myero wawiny Lubanga makato dano."—Tic pa Lukwena 5:29; Marako 12:17.
13Jo ma lubo kor Yecu gipwonyo ni Ker pa Lubanga keken aye obedo gen pa dano. Yecu otito ni: "Dong lok man me kwena maber me Ker pa Lubanga gibitito i wi lobo ducu, me bedo caden bot rok ducu; ka dong lacen agikki piny bibino." (Matayo 24:14) Meka ka cuko cwiny dano me keto gen-gi i loc pa dano pi cobo pekogi, jo ma lubo kor Yecu Kricito gipwonyo ni Ker pa Lubanga keken aye obedo gen ma dano tye kwede. (Jabuli 146:3) Yecu opwonyowa me lego pi gamente ma peke ki roc meno i kare ma en owaco ni: "Ker meri obin; giti gin ma imito i lobo kit ma gitiyo i polo." (Matayo 6:10) Lok pa Lubanga otito ni Ker me polo man "bituro ker magi ducu [ma kombeddi-ni] ngidogi woko matitino, ci tyekogi woko ducu, en aye dong bicung bedo matwal."—Daniel 2:44.
14 Ma lubbe ki gin ma wa a ka nenone-ni, penye kong kekeni ni: 'Dul me dini mene ma pwonygi ducu cung i kom Baibul dok gimiyo nying Jehovah ngene? Dul mene ma giketo mar ma Lubanga pwonyowa kwede i tic, ginyuto niye i kom Yecu, dok pe gubedo jo me lobo man, kun gipwonyo ni Ker pa Lubanga keken aye obedo gen ma dano tye kwede? I kin dul me dini ducu ma tye i lobo, mene mono ma timo jami egi-ni ducu?' Nen ka maleng ni obedo Lucaden pa Jehovah.—Icaya 43:10-12.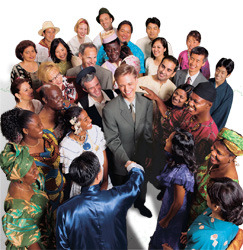 IN DONG IBITIMO NGO?
15 Ye mere ni Lubanga tye keken pe romo yomo cwinye. Pien Baibul waco ni kadi wa jogi bene giye ni Lubanga tye. (Yakobo 2:19) Ngene kene ni, gin pe gitimo miti pa Lubanga dok gipeke ki cwakke. Me wek Lubanga obed ki cwak i komwa, pe omyero waye ni en tye keken ento omyero watim mitine bene. Omyero wa a woko ki i dini goba ka wacak lubo dini me ada.
16 Lakwena Paulo onyuto ni pe myero waribbe i woro me goba. En ocoyo ni: "'Pi meno dong wua woko ki i kingi,' man lok pa Jehovah, 'pe wugud gin mo ma kome ki keni; miyo abijolowu.'" (2 Jo Korint 6:17; Icaya 52:11) Man omiyo Lukricitayo me ada gikwero gin mo keken ma make ki woro me goba.
17 Baibul nyuto ni dini me goba mapol ata ni ducu gubedo but "Babilon Madit."* (Niyabo 17:5) Nying meno poyo wi dano i kom boma macon me Babilon, ka ma yam dini goba ocakke ki iye i nge Pii Aluka me kare pa Nua. Pwony ki tim mogo mapol ma tye i dini goba kombeddi ni, gucakke wa yam con ki i Babilon. Me laporre, jo Babilon onongo giworo triniti, nyo lubanga ma igi opokke adek. I kare ni bene, pen pwony ma pire tek i dini mapol obedo Triniti. Ento Baibul gire pwonyo atir ni Lubanga me ada tye acel keken, Jehovah, ki ni Yecu Kricito obedo Wode. (Jon 17:3) Jo Babilon bene onongo gipwonyo ni dano tye ki gin mo ma obedo tipo ma pe to dok twero deno can i kabedo me pwod. Kombeddi lakodi pwony ni tipo nyo cwiny ma deno can i mac me kapiny-nyi, kipwonyo i dini mapol.
18 Kit macalo Babilon macon onongo dit ma omako lobo ducu ni, miyo wangeyo ni Babilon Madit me kare-ni obedo dini goba me wi lobo-ni ducu. Lubanga bene otito con ni dini me goba me wi lobo-ni ducu bigik atura. (Niyabo 18:8) Dong iniang gin ma omiyo pire tek ni omyero ia woko ki i dul mo keken ma obedo jang Babilon Madit? Lubanga Jehovah mito ni 'i a woko ki iye' oyot oyot ma peya kare okato.—Niyabo 18:4.
19 Macalo adwogi me a ni woko ki i tim me dini goba, jo mukene twero weko ribbe kacel kwedi woko. Ento ka in itiyo bot Jehovah kacel ki jone mukene-ni, in ibinongo larem mapol makato. Calo lukwena pa Yecu macon ma guweko jami mapol pi lubo en, in ibibedo ki utmego ki lumego mapol me cwiny. Ibibedo but dul pa Lukricitayo me ada ma gitye milion mapol ma gitye macalo luot acel, ma ginyuto mar me ada i lobo ducu. Dok ibibedo ki gen mamwonya me bedo pi naka i kare me 'yub me anyim.' (Marako 10:28-30) I kare mukene, jo ma gukweri pi niyeni-ni bene gibineno gin ma Baibul pwonyo ci gibidoko jo ma woro Jehovah.
20 Baibul pwonyo ni Lubanga dong cok kelo agikki i kom yub marac me jami me kare ni ka bileyone kakare ki lobo manyen me kit ma atir ma bibedo i te loc me Kerre. (2 Petero 3:9, 13) Lobo meno pud dong bibedo mamwonya ya! Dok bene i lobo manyen me kit ma atir meno, dini bibedo acel keken, woro acel me ada. In itamo ni pe bibedo me ryeko mada pi in me timo jami ducu ma mitte wek ibed i kin jo ma woro woro me ada labongo galle?
GIN MA BAIBUL PWONYO
Dini me ada tye acel keken.—Matayo 7:13, 14.
Dini me ada ngene ki pwony ki ticgi.—Matayo 7:16, 17.
Lucaden pa Jehovah gilubo woro ma Lubanga cwako.—Icaya 43:10.
---
*  Me nongo ngec mukene i kom tyen lok ma weko Babilon Madit cung pi dini goba me wi loboni ducu, nen Lamed ngec.
---
Peny me Kwan
1. Ngo maber ma wabinongone ka waworo Lubanga i yo matir?
2. Watwero ngeyo yo me ada me woro Jehovah nining, dok kit labol ango ma konyowa kwede me ngeyone?
3. Kit ma Yecu owaco kwede, gin ango ma myero watim ka wamito nongo cwak pa Lubanga?
4. Gin ma Yecu oloko i kom yo aryo-ni tyene ngo, dok yo magi tero dano kwene?
5. Yo ango ma watwero wageyo kwede jo ma lubo dini me ada?
6, 7. Lutic pa Lubanga gineno Baibul nining, dok Yecu onyuto lanen maber i lok man nining?
8. Miyo woro bot Jehovah kwako timo ngo?
9, 10. I yo ango ma Lukricitayo ginyuto kwede mar i kingi?
11. Pingo pire tek me ye ni Yecu Kricito aye obedo yo pa Lubanga me laro dano?
12. Bedo jo ma pe me lobo-ni kwako bedo ma nining?
13. I yo ango ma jo ma lubo kor Yecu gineno kwede Ker pa Lubanga, dok tic ango ma gin tye ka timone?
14. Ki tung boti, dini mene aye ma timo jami ducu ma jo ma woro woro me ada omyero gutim?
15. Gin ango mukene ma Lubanga mito mapat ki ye ni en tye keken?
16. Gin ango ma mitte me atima ma lubbe ki dini goba?
17, 18. "Babilon Madit" obedo gin ango, pingo mitte me oyot me 'a woko ki iye'?
19. Ango ma in ibinongo ka i doko latic pa Jehovah?
20. Gin ango ma tye i anyim pi jo ma gilubo dini me ada?