DUL ME ABONGWEN
Tika Ada Watye ka Kwo i "Kare me Agikki"?
Tika Ada Watye ka Kwo i "Kare me Agikki"?
Kit jami ango ma kitito pigi i Baibul ma tye ka timme i "kare me agikki"?
Gin ango ma Lok pa Lubanga waco pi kit ma dano bibedo kwede i "kare me agikki"?
Ma lubbe ki "kare me agikki," kit jami ango ma Baibul otito pigi ma cuko cwiny?
IN TIKA nino mo iwinyo lok angeya ki i redio nyo ineno anena ki i telebijon, ci ipenye kekeni ni, 'Anyim pa lobo-ni kono bibedo nining?' Peko mogo malit poto atura ma miyo dano adana pe twero byeko jami ma nongo twero timme orwone. (Yakobo 4:14) Ento, Jehovah aye gire ngeyo jami ma bitimme i anyim. (Icaya 46:10) Baibul ma obedo Lokke, pe otito pi timme pa jami maraco me karewa ni keken, ento, otito bene wa pi jami ma mwonya ma bitimme i anyim.
2 Yecu Kricito oloko i kom Ker pa Lubanga ma en aye bikelo agikki me tim maraco ducu, ka dok biloko lobo doko paradic. (Luka 4:43) Dano mapol gimito ngeyo awene ma Ker meno bibino iye. Pi meno, lukwena pa Yecu gupenye ni: "Kit gin ango ma binyuto dwogoni, ki agikki piny?" (Matayo 24:3) Yecu ogamo botgi-ni Lubanga Jehovah keken aye ngeyo awene ma agikki me yub me jami me kare ni bibino i iye kikome. (Matayo 24:36) Ento, Yecu otito botgi jami mogo ma bibedo ka timme i wi lobo i kare ma nongo Ker-ri dong cok kelo kuc ki piny ma opye mot pi dano. Jami ma en otito pigi-ni dong kombeddi gitye ka timme!
3 Ma peya wacako ngiyo jami ma nyuto ni watye ka kwo i kare me 'agikki me yub me kare ni,' kong wanenu lok i kom lweny mo ma otimme ma dano mo pe oneno. Lweny meno otimme i polo, ento adwogine gudo wa wan bene.
LWENY I POLO
4Dul me Aboro me buk man otito ni Yecu Kricito odoko Kabaka i polo i mwaka 1914. (Daniel 7:13, 14) Inge nongo twero me Loc, Yecu otugi cako tic magwar. Baibul otito ni: "I kare meno cutcut lweny ocakke i wi polo, Mikael [ma nyinge mukene Yecu] kacel ki lumalaikane gulwenyo i kom [Catan Larac] min kulu madit-ti. Min kulu madit-ti kacel ki lumalaikane bene gulwenyo."* Lweny ongayo wang Catan ki lumalaikane woko, kiryemogi woko ki i polo ci gubino i lobo. Cwiny lutino pa Lubanga ma gubedo cwiny ma gin lugen obedo yom mada ni, Catan ki jogine ducu kiryemogi woko. Ento bot dano, kuc onongo bibedo peke. Baibul oloko i kom kop meno ni: "Wun lobo…wubineno can malit atika, pien Ladot dong olor obino woko piny botwu ma tye ki akemo madwong, pien ngeyo ni karene tye manok!"—Niyabo 12:7, 9, 12.
5 Tam kong i kom adwogi me lweny ma otimme i polo-ni. Catan ki twon akemo ma en tye kwede onongo bikelo can ki ayelayela mapol i kom jo ma gibedo i lobo. Kit ma ibineno kwede, wan dong watye ka kwo i kare me twon can malit atika meno. Ento, bibedo pi kare mo macek—pi 'kare mo manok mada.' Kadi Catan bene ngeyo lok meno. Baibul lwongo kare meno ni "kare me agikki." (2 Temceo 3:1) Cwinywa yom ni Lubanga dong cok bijuko tic pa Larac-ci ki i wi lobo woko! Kong dong wanenu jami mogo ma tye ka timme i kare man, ma Baibul otito pigi con. Jami magi nyuto ni wan dong watye i kare me agikki dok bene ni Ker pa Lubanga dong cok ki kelo mot mapol ma bibedo pi naka bot jo ma maro Jehovah. Kong wanenu jami angwen mapat pat ma gitye calo but lanyut ma Yecu owaco ni bitimme i kare-ni.
JAMI MA DONGO MA ONONGO BITIMME I KARE ME AGIKKI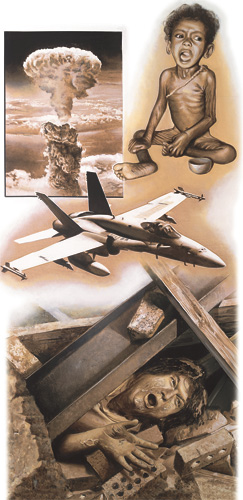 6'Rok bilweny ki rok wadi, ki ker bene bilweny ki ker wadi.' (Matayo 24:7) I cencwari mukato, dano milion mapol guto i lweny ma obedo ka timme. Dano mo me Britain ma ngeyo lok me tekwaro ocoyo ni: "Cenwari me 20 pud dong obedo kare ma remo oony mapol ma loyo i tekwaro.…Obedo cencwari ma opong ki lweny, kun kare mogo manok mada aye onongo lweny mo matek obedo peke i kabedo mogo." Dul mo me Worldwatch Institute otito ni: "Wel dano ma guto i lweny i mwaka 1900 ki wiye, kato wel dano ma oto i lweny nicakke i cencwari me acel K.M. nio kwede wa i mwaka 1899 tyen kidek." Dano makato milion 100 kulu guto calo adwogi me lweny mapol ma obedo ka timme cakke i mwaka 1914. Ka dong wangeyo kit ma to pa dano me amara lit kwede i lweny, ci dong cungo wiwa acunga me niang ni kodi arem ma kit meno dwong tyen milion mapol ata i lobo.
7'Kec bene bipoto i lobo.' (Matayo 24:7) Jo ma kwedo tyen lok gitito ni cek pa cam omedde matek mada i mwaki 30 ma okato angec. Kadi bed kit meno, cam pud tye manok pien dano mapol gipeke ki cente me wilo cam nyo poto me apwura. I lobe ma pud gidongo adonga, wel dano makato bilion kulu gikwo ki cente ma pe romo dolla acel pa jo Amerika nino acel acel. Pol pa jo magi dong gitye lukec pi kwogi kulu. Dul me World Health Organization gibyeko ni two neto aye pol kare kelo to pa lutino makato milion abic kulu mwaka ki mwaka.
8'Oyengyeng madongo biyengo lobo.' (Luka 21:11) Dul me U.S. Geological Survey gutito ni cakke i mwaka 1990 keken, oyengyeng matego ma balo wa odi kacel ki baro ngom-gu obedo ka timme tyen ma romo 17 mwaka ki mwaka. Mwaka ducu oyengyeng ma tekogi dongo ma turo wa odi-gu timme tyen mapol. Dul mukene dok otito ni: "Oyengyeng dong orwenyo kwo pa dano alip ki alip i kine ka mwaki 100 ma okato angec, jami lapim piny ma kiyubogi i kare-ni pe odwoko wel dano ma to piny tutwal."
9'Two gemo bipoto.' (Luka 21:11) Kadi bed ni ngec i kom yadi me cango two odongo malo, two manyen ki ma dong onongo tye con pud yelo dano. Lok mo ma kicoyo tito ni two ma romo 20 ma gingene tutwal calo aona-opiyo, maleria, ki kolera dong gudoko dwong tutwal ite mwaki apar mukato angec, dok ni cango kit two mogo ki yat dong tye ka doko tek tutwal. Tye kono dok ni, two manyen mukene ma romo 30 kulu dok gubino. Mukene i kin-gi pe twero cange, ma adwogine aye to.
KIT PA DANO MA GIKWO I KARE ME AGIKKI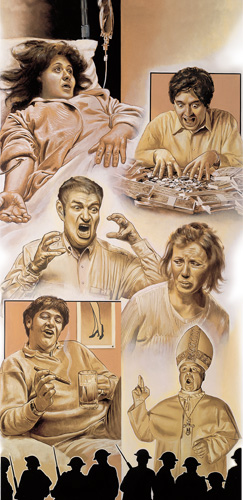 10 Ma pat ki tito jami madongo ma onongo bitimme i lobo, Baibul bene otito ni kit dano bilokke woko i kare me agikki. Lakwena Paulo otito kore ki kore kit ma dano bibedo kwede. I 2 Temceo 3:1-5, wakwano ni: "I kare me agikki, piny bibedo marac i kare mogo." Paulo otito ni dano
gibibedo lumar komgi kengi
gibibedo lumar lim
pe gibiwinyo lunyodogi
gibibedo lucac
pe gibimaro dano wadgi
gibibedo jo ma mitigi pe jukke
gibibedo jo mager
gibibedo jo ma maro yomcwiny ma ka maro Lubanga
gibimako dini dok gibilubo i kitgi ma nen ki woko keken
11 Dano mono dong gitye kit meno i kabedo ma in i kwo iye? Ngene kene. Dano ma kitgi raco dong gitye i kabedo ducu. Man nyuto ni Lubanga cok cako ticce kit macalo Baibul otito kwede ni: "Kadi lubal gidongo macalo lum, dok kadi lutim maraco gibedo ki kwo maber, ento gibityekogi woko matwal."—Jabuli 92:7.
JAMI MABECO MA BITIMME!
12 Kare me agikki opong ki can adada, kit ma macalo Baibul otito kwede con. Kadi bed ni lobo man opong ki peko, ento jami mabeco tye ka timme i kin jo ma woro Jehovah.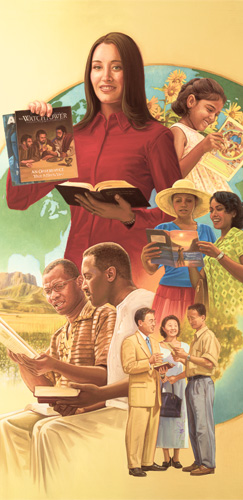 13'Ngec me ada bene bimedde,' buk pa Daniel aye otito lok man. Awene kono ma onongo gin man bitimme iye? "I kare me agik." (Daniel 12:4) Cakke wa i mwaka 1914, Jehovah okonyo jo ma gitye ki cwiny me ada me tic pire me dongo i niango me Baibul. Ngecgi omedde i lok ada ma dok i kom nying Lubanga, yubbe, tyer me ginkok pa Yecu Kricito, kit ma jo muto gitye kwede, ki kop i kom nicer. Luwor Jehovah bene gupwonyo kit me kwo ma keligi adwogi mabeco dok kelo kwogo i kom Lubanga. Gin bene gunongo ngec matut i kit ma Ker pa Lubanga bityeko kwede lok ducu ma mako lobo. Gin ango ma gin gitimo ki ngec man? Lapeny meno dok terowa i lok pa lunebi mukene ma dong tye ka cobbe i kare man me agikki-ni.
14'Dong lok man me kwena maber me ker pa Lubanga gibitito i wi lobo ducu.' Meno aye gin ma Yecu oloko i kom 'agikki me yub me jami me kare-ni.' (Matayo 24:3, 14) Kitye ka tito pi kwena me Ker-ri, ngo ma Ker-ri obedo, ngo ma Ker-ri bitimone, ki dok kit ma wabinongo kwede mot ma Ker-ri kelo, i lobe ma kato 230 kulu ki leb mapat pat makato 400. Lucaden pa Jehovah makato milion gitye ka tito pi kwena maber me Ker-ri ki mit kom. Gin gia ki i "rok ducu, ki i kaka ducu, ki dano ducu me wi lobo, ki leb ducu." (Niyabo 7:9) Lucaden-ni gitye ka kwano Baibul ki dano milion mapol ma gitye ki miti me niang gin ma ada Baibul pwonyo ki i gangi-gi labongo kit cul mo. Lok pa lanebi man pud dong ocobbe maber tutwal ka iporo ki gin ma Yecu owaco con ni "dano ducu bimon" ki Lukricitayo!—Luka 21:17.
GIN ANGO MA IN IBITIMONE?
15 Kit ma lok ma i Baibul dong tye ka cobbe kwede i kare-ni, in pe dong i ye ni wan watye ka kwo i kare me agikki? Ka dong kipwonyo lok man me kwena maber-ri ma Jehovah dong onongo ni oromo, ci "agikki" bibino labongo galle. (Matayo 24:14) "Agikki" aye obedo kare ma Lubanga bityeko kwede lutim maraco ducu ki i lobo. Jehovah bitic ki Yecu wa ki lumalaikane me jwero jo ducu ma pe ki winy i kom En. (2 Jo Tecalonika 1:6-9) Catan ki jogine pe dong gibibwolo rok mo. Inge meno, Ker pa Lubanga bionyo mot mapol bot jo ma gimine ite locce me kit ma atir-ri.—Niyabo 20:1-3; 21:3-5.
16 Kit macalo agikki me yub pa Catan dong cok-ki, mito wapenye kenwa ni, 'An mono omyero abed ka timo ngo?' Medo ngec i kom Jehovah ki lubo mitine obedo gin me ryeko. (Jon 17:3) Bed latin kwan me Baibul ma keto cwinye i jami ma en kwano. Ribbe kacel ki jo ma gitimo miti pa Jehovah kare ki kare. (Jo Ibru 10:24, 25) Nong ngec man me ada ma Lubanga Jehovah oweko tye ka romo dano ducu me lobo-ni, dok ilok kwoni i kit ma mitte wek ka twere in bene inong cwak pa Lubanga.—Yakobo 4:8.
17 Yecu otito ni pol pa dano gibicayo lanyut ma nyuto ni wan watye ka kwo i kare ma agikki. Jwero jo maraco bibino atura dok ma nongo pe kiyubbe iye. Kit macalo lakwo bino kwede i dyewor, agikki bituru dano mapol atura. (1 Jo Tecalonika 5:2) Yecu ociko ni: "Kit macalo ceng otimme i kare pa Nua, bitimme kit meno bene i kare me dwogo pa Wod pa dano. I kare ca ma peya pii aluka ocorre i wi lobo onongo gicamo, gimato, dok awobe ki anyira ginyomme, nio wa i nino ma Nua odonyo kwede i yeya; pe gumedo ki ngeyo gin mo nio ka pii aluka opong, ci omologi woko ducu. Bibedo kit meno bene i kare ma Wod pa dano bidwogo iye."—Matayo 24:37-39.
18 Pi meno Yecu otito bot jo ma winye ni: "Wugwokke kenwu, cwinywu owek doko nwang pi woro cam, ki mero kongo, ki pi lok me kwo man ma miyo wubedo ki tam mapol, wek nino-nu pe obin oumwu atura macalo akum; pien bibino i kom jo ducu ma bedo i wi lobo ducu. Ento wubed ma wangwu twolo i kare ducu, kun wulego ni myero wubed ki tek me bwot ki i lok magi ducu ma bitimme, ki cung i nyim Wod pa dano." (Luka 21:34-36) Pire tek me mako lok pa Yecu-ni i cwinywa. Pingo? Pien jo ma gibibedo ki cwak pa Lubanga Jehovah ki pa "Wod pa dano," Yecu Kricito, gen tye ni pe kibijwerogi kacel ki yub me jami pa Catan, ento, gibibedo i lobo manyen mamwonya ma dong onyiko cok mada-ni pi nakanaka!—Jon 3:16; 2 Petero 3:13.
GIN MA BAIBUL PWONYO
Kare me agikki-ni bipong ki lweny, kec, oyengyeng, ki two gemo.—Matayo 24:7; Luka 21:11.
I kare me agikki-ni, jo mapol gibimaro komgi kengi, gibimaro lim, dok gibimaro jami ma yomo cwinygi ento pe gibimaro Lubanga.—2 Temceo 3:1-5.
I kare me agikki-ni, kwena maber me Ker-ri dong kitye ka titone i wi lobo ducu.—Matayo 24:14.
---
*  Pi ngec ma nyuto ni Mikael obedo nying Yecu mukene, nen i Lamed ngec.
---
Peny me Kwan
1. Wan watwero ngeyo jami ma anyim ki kwene?
2, 3. Lapeny ango ma lukwena gupenyo kwede Yecu?
4, 5. (a) Gin ango ma otimme i polo i kare ma pud kiketo Yecu aketa calo Kabaka? (b) Ma lubbe ki gin ma tye i Niyabo 12:12, adwogi me lweny ma i polo-ni onongo bibedo nining?
6, 7. Kop ma Yecu otito i kom lweny ki kec-ci tye ka cobbe nining i kare-ni?
8, 9. Gin ango ma nyuto ni lok ma Yecu otito pi oyengyeng ki two gemo dong tye ka cobbe ada?
10. Kit tim ango ma kitito pigi i 2 Temceo 3:1-5 ma in ineno ni tye i kwo pa dano i kare ni?
11. I yo ango ma Jabuli 92:7 otito kwede pi gin ma bitimme i kom jo ma kitgi raco?
12, 13. I yo ango ma 'ngec me ada' odoko kwede mapol i "kare me agikki"?
14. Tito pi kwena maber me Ker-ri dong omako kabedo ma rom mene i kare-ni, dok anga-gi ma gitye ka tito pire?
15. (a) In mono i ye ni wan dong watye ka kwo i kare me agikki, dok pingo? (b) "Agikki" bitero jo ma pe woro Jehovah ki jo ma gimine i te loc pa Lubanga nining?
16. Gin ango ma bibedo me ryeko pi in me atima?
17. Pingo jwero jo maraco bituru pol pa dano atura?
18. Cik ango ma Yecu omiyo ma omyero wamak i cwinywa?