DUL ME ABIC
Ginkok—Mic Madit Loyo Ducu pa Lubanga
Ginkok—Mic Madit Loyo Ducu pa Lubanga
Ginkok mono obedo gin ango?
Kimiyo i yo ango?
Twero kelo jami ango pi in?
In itwero nyuto ni itye ki pwoc pire nining?
MIC ango madit loyo ducu ma dong ityeko nongone i kwoni? Pe ni wel mic moni omyero obed tek ka wek pire obed tek. I ada, dit pa wel mic moni pe kare ducu kipimo ki wel me cente. Kono do, ka mic-ce keli yomcwiny nyo cobo mitti me kwoni kikome, ci pire bedo tek boti.
2 I kin lwaki mic ducu ma cwinyi mito ni ka twere omyero inong, tye acel ma loyo mukene-ni ducu. En aye obedo mic pa Lubanga bot dano. Jehovah omiyo botwa jami mapol, ento micce madit loyo botwa aye ginkok pa Wode, Yecu Kricito. (Matayo 20:28) Kit ma wabineno kwede i dul man, ginkok aye obedo mic ma pire dit loyo ma itwero nongone pien twero keli yomcwiny ma pe tite dok twero cobo mitini ma pigi tego. Ginkok aye obedo gin ma nyuto mar pa Jehovah madit loyo ma en onyuto.
GINKOK MONO OBEDO GIN ANGO?
3 Ka kiketo i yo ma yot, ginkok aye obedo yo pa Jehovah me gonyo nyo laro dano ki i bal ki to. (Jo Epeco 1:7) Me niang te pwony me Baibul man, omyero wadwok tamwa cen wa i jami ma gutimme i poto me Eden. Ka dong waniang jami ma Adam orwenyo i kare ma en obalo ci watwero bedo ki pwoc ni ginkok obedo mic ma pire tek atika piwa.
4 I kare ma en ocweyo Adam, Jehovah omiye gin mo ma ada onongo pire dit adada.—kwo ma roc pe iye. Kong itam i kom gin ma Adam onongo. Kiyube ki kom wa ki adam ma roc pe iye, onongo pe two, ti, nyo to. Macalo dano ma pe ki roc mo, en onongo tye ki wat mo ma kite dok pat ki Jehovah. Baibul waco ni Adam onongo obedo "wod pa Lubanga." (Luka 3:38) Pi meno Adam obedo ki wat macok atika gin ki Lubanga Jehovah, calo kit ma bedo i kin latin gin ki wonne ma lamar. Jehovah obedo ka lok gin ki wode man me lobo-ni kun miyo bot Adam tic me atima me yomocwiny dok oweko en oniang jami ma mitte ki bote.—Acakki 1:28-30; 2:16, 17.
5 Adam onongo kiyubo 'i cal pa Lubanga.' (Acakki 1:27) Meno pe tere ni Adam onongo cal ki Lubanga i kom. Kit ma wakwano kwede i Dul me 1 me buk man, Jehovah obedo cwiny ma pe nen. (Jon 4:24) Pi meno Jehovah pe tye ki kom me del ki remo. Cweyo en i cal pa Lubanga onongo tyene tye ni kicweyo Adam ki kit macal ki pa Lubanga, ma i kine tye mar, ryeko, ngolo kop atir, ki teko. Adam onongo cal ki Wonne i yo mukene ma pire tek pien ni en onongo tye agonya me moko tamme pire kene. Pi meno, Adam onongo pe tye calo gar ma kiyubo me lubo yo ma dong kiyubo woko con. Ento, en onongo twero moko tamme i kom gin maber ki marac ma mako kwone. Ka onongo en owiny dog Lubanga kono onongo en obedo makwo i lobo i Paradic pi naka.
6 Dong, i kare ma Adam pe owinyo cik pa Lubanga onongo dong ngene kene ni kingolo to i wiye, en oculo pire ki wel matek. Balle oweko en orwenyo kwone ma roc pe iye macalo dano kacel ki jami mabeco ma bino pire ducu, nyo ma kwo man kelo. (Acakki 3:17-19) Ki cwer cwiny madit, Adam orwenyo kwo man ma pire tek-ki pe pi en keken ento wa pi lutinone ma en onongo binywalo. Lok pa Lubanga waco ni: "Pi meno, kit macalo bal yam obino i lobo kun wok ki i dano acel [Adam], ka dong to obino pi bal, kit meno bene to onya oromo kin dano ducu, pien dano ducu gubalo." (Jo Roma 5:12) Ada, wan ducu walako bal ki bot Adam. Pi meno, Baibul waco ni en 'ocate' kacel ki lutinone i opii ki to. (Jo Roma 7:14) Pe onongo tye kit gen mo pi Adam gin ki Kawa pien gin guyero pigi kengi pe me winyo dog Lubanga. Ento wan lutinogi kono?
7 Jehovah olaro dano kun tiyo ki ginkok. Ginkok mono obedo gin ango? Kop i kom ginkok mako tutwalle jami aryo. Mukwongo, ginkok aye gin ma kiculo me gonyo nyo culo pi gin moni-ni wek kidwok cen bot rwodde. Kitwero porone ki wel ma kiculo me gonyo lamabuc me lweny. Me aryone, ginkok aye wel ma kiculo ma rwatte ki wel gin moni. Rom aroma ki gin ma kiculo me culo ka wang awano ma ngati moni onongo. Me labolle, ka ngati mo otimo akciden, en myero ocul wel jami ducu ma rwatte ki, nyo ma rom aroma ki wel jami ma en obalo-ni.
8 Twere nining me culo twon peko ma Adam okelo i kom wan ducu ki me gonyowa ki i opii me bal ki to? Kong wanenu lok i kom ginkok ma Jehovah omiyo ki gin ma man twero kelone pi in.
KIT MA JEHOVAH OMIYO KWEDE GINKOK
9 Kit ma kwo ma pe ki roc aye orweny-nyi, kwo pa dano ma tye ki roc pe onongo twero dwokone cen. (Jabuli 49:7, 8) Gin ma mitte aye onongo ginkok ma welle rom aroma ki maca ma kirwenyo-ni. Man rwatte ki cik madit ma tye atir labongo roc mo ma nonge i Lok pa Lubanga, ma waco ni: "Kwo gibiculo ki kwo." (Nwoyo Cik 19:21) Dong, gin ango ma onongo biculo wel dit me kwo pa dano ma pe ki roc, nyo kwo ma Adam orwenyo-ni? Kwo ma pe ki roc mukene ma onongo mitte aye obedo 'ginkok ma rom aroma.'—1 Temceo 2:6.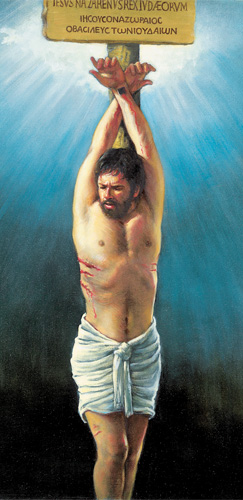 10 Jehovah omiyo ginkok nining? En ocwalo wode mo ma obedo cwiny ma pe ki roc i lobo. Ento Jehovah pe ocwalo cwec ma obedo cwiny mo keken ma onen. En ocwalo en ma pire tek dong loyo ducu ki bote, Wode acel keken ma en aye ocweyo kikome. (1 Jon 4:9, 10) Wode-ni oweko kabedone me polo labongo dic mo. (Jo Pilipi 2:7) Kit ma waneno kwede i dul ma okato i buk man, Jehovah otimo tango i kare ma onako kwo pa Wode man i i Maliam. Pi tek pa cwiny maleng pa Lubanga, kinywalo Yecu macalo dano ma pe ki roc pi meno en onongo pe i lok me bal-li.—Luka 1:35.
11 I yo ango ma dano acel keken twero bedo macalo ginkok pi jo mapol, i adane, pi dano milion mapol ata? Pe rac, dano ma welgi tye wa i milion mapol ata-ni kono gudoko lubal nining? Po ni pi timo bal, Adam orwenyo kwo ma pe ki roc ma pire tek-ki woko. Pi meno, en onongo pe twero miyone bot lutinone. Ma ka meno, en dok onongo twero miyo bal ki to aye. Yecu, ma Baibul lwongo ni "Adam me agikkine" onongo tye ki kwo ma roc pe iye, dok pe omedo ki balo bal mo. (1 Jo Korint 15:45) I yo eni, Yecu oleyo ka tyen Adam me larowa. Pi winyo Lubanga labongo balo bal mo, ki pi miyo kwone, nyo tyero kwone ma roc pe iye, Yecu oculo pi bal pa Adam. Pi meno Yecu omiyo gen bot lutino pa Adam.—Jo Roma 5:19; 1 Jo Korint 15:21, 22.
12 Baibul tito peko matut ma Yecu ociro ma onongo peya oto. En okato ki i pwod me lut malyet, kingabe i kom yat ki twon gero, oto to malit i kom yat. (Jon 19:1, 16-18, 30; Lamed ngec) Pingo onongo mitte pi Yecu me deno peko marac kumeno? I dul ma tye anyim i buk man, wabineno ni Catan okelo pyem i kom Jehovah ni dano mo pe bigwoko gene ka orwatte ki atematema. Yecu omiyo lagam ma dong ber loyo ducu i adot pa Catan-ni, ki gwoko gene kun ciro twon can madit. Yecu onyuto ni dano ma pe ki roc ma tye agonya me moko tamme pire kene twero gwoko gene labongo roc mo i kom Lubanga kadi bed Larac otim gin mo keken. Omyero obed ni Jehovah pud dong obedo ki yomcwiny pi gene pa Wode me amara-ni ya!—Carolok 27:11.
13 Ginkok-ki kiculo nining? I nino dwe 14 me dwe me Nican pa Lujudaya i mwaka 33 K.M., Jehovah oye ni kinek Wode ma pe ki bal kacel ki roc-ci woko. Pi meno Yecu otyero kwone macalo dano ma roc pe iye "kicel keken ma otyeko lok woko ducu." (Jo Ibru 10:10) Nino adek inge to pa Yecu, Jehovah ocere odwoke cen i kwo me cwiny. Ki i polo, Yecu otero wel dit pa kwone macalo dano ma kityero macalo ginkok pi wilo lutino pa Adam i nyim Lubanga. (Jo Ibru 9:24) Jehovah oye dit pa wel me gityer pa Yecu-ni macalo ginkok ma mitte me gonyo dano ki i opii pa bal ki to.—Jo Roma 3:23, 24.
JAMI MA GINKOK-KI TWERO TIMONE PI IN
14 Kadi bed watye ki bal, watwero bedo ki mot ma welle dit ma pe twere pi ginkok-ki. Kong wanenu jami mogo ma bino i kare-ni ki ma bibino i anyim pi mot man maber ma a ki bot Lubanga-ni.
15Weko bal. Wan watye ki lweny matek atika me timo jami matir pi bal alaka. Wan ducu wabalo i lok nyo i tic. Ento pi tyer me ginkok pa Yecu-ni, miyo 'weko balwa' twere. (Jo Kolocai 1:13, 14) Ento me wek kiwek balwa, omyero kong wakun balwa ki cwiny me ada. Dok bene omyero wakok bot Jehovah, kun wakwaye me weko balwa pi niyewa i kom tyer me ginkok pa Wode.—1 Jon 1:8, 9.
16Bedo ma cwinywa pe poto i nyim Lubanga. Poto cwiny twero weko kwowa pe bedo yot dok weko wawinyo mading. Jehovah ki kicane gire pud weko wawore ki cwiny ma opye mot kadi bed watye ki roc pi ginkok ma miyo weko bal twere. (Jo Ibru 9:13, 14) Man miyo twere piwa me lok ki Jehovah labongo gung cwiny. Pi meno, watwero bedo agonya me lega bote. (Jo Ibru 4:14-16) Bedo labongo poto cwiny miyo wiwa pye mot, ma pe wabedo ma yot i wangwa kekenwa dok kelo yomcwiny.
17Gen me kwo pi nakanaka i paradic i lobo. Jo Roma 6:23, waco ni: "Pien mucara me bal en to." Tyeng acel-li dok medo ni: "Ento mot ma Lubanga miyowa nono, en aye kwo ma pe tum i Yecu Kricito Rwotwa." I Dul me 3 me buk man, wanyamo lok i kom ber pa lobo Paradic ma tye ka bino-ni. (Niyabo 21:3, 4) Jami mabeco ma i kine tye iye kwo ma pe tum, yot kom, gitwere pien Yecu oto pi wan. Me nongo jami mabeco magi, omyero wanyut ni wapwoyo mic me ginkok-ki.
IN ITWERO NYUTO PWOCCI NINING?
18 Pingo omyero wabed ki twon pwoc madit bot Jehovah pi ginkok-ki? Kakare, mic moni pire bedo tek ka lami jami moni ni odyero cawane, kerone, nyo ka lami jami-ne ojalo ginne mo piwa. Cwinywa bedo yom ka waniang ni mic meno obedo pi cwiny me mar ma lamiyone ni onongo tye kwede piwa. Ginkok obedo gin ma pire dit kato ducu i kin mic ducu, pien Lubanga ojalo gin madit loyo piwa. Jon 3:16 (NW) waco ni: "Pien Lubanga omaro lobo matek oweko en omiyo Wode acel keken ma en ocweyo en kikome." Ginkok aye dong obedo gin ma nyuto mar madit loyo pa Jehovah i komwa. Nyuto bene mar pa Yecu, pien en obino labongo dic mo me miyo kwone pi wan. (Jon 15:13) Mic me ginkok-ki omyero dong owek waye ni Jehovah gin ki Wode gimaro wan ki acel acel.—Jo Galatia 2:20.
19 In dong itwero nyuto nining ni ipwoyo mic me ginkok pa Lubanga? Me acakki, nong ngec ma dok i kom Jehovah, Lami Mic Madit. (Jon 17:3) Kwano Baibul ki kony pa buk man bikonyi me timone. Ngecci bimedde i kom Jehovah, marri pi en bene bidoko tut. Mar meno bene biweko ibimito yomo cwinye.—1 Jon 5:3.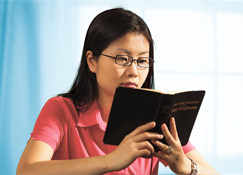 20Ket niye-ni i kom tyer me ginkok pa Yecu. Yecu kikome owaco ni: "Dano ma ye Wod tye ki kwo ma pe tum." (Jon 3:36) Watwero keto niyewa i kom Yecu nining? Niye ma kit meno pe nen i lok keken. Yakobo 2:26 waco ni "niye ka pe giketo i tic, nongo dong oto woko." Ada, niye me ada kinyuto i "tic," ma en aye ticwa. Yo acel me nyuto ni watye ki niye i kom Yecu aye me timo jami ducu maber ma watwero me poro en, pe i gin ma waloko keken ento wa i jami ma watimo bene.—Jon 13:15.
21Bed tye i nipo me Cam me Otyeno pa Rwot mwaka ki mwaka. I otyeno me nino dwe 14 me Nican i mwaka 33 K.M., Yecu ocako kwer ma dok pat ma Baibul lwongo ni 'Cam me Otyeno pa Rwotwa.' (1 Jo Korint 11:20; Matayo 26:26-28) Kwer man bene kilwongo ni Nipo me to pa Kricito. Yecu ocako kwer man me konyo lukwenane kacel ki Lukricitayo ducu ma bilubogi me mako i wigi ni, pi tone macalo dano ma pe ki roc, en emiyo kwone, macalo ginkok. Yecu ociko lok ma mako kwer man ni: "Wutim kuman me po pira." (Luka 22:19) Kwero Nipo man poyo wiwa i kom mar madit ma Jehovah kacel ki Yecu gunyuto ma mako ginkok. Wan watwero nyuto pwocwa pi ginkok ki bedo tye i kwero nino me Nipo me to pa Yecu mwaka ducu.*
22 Ginkok ma Jehovah omiyo ni ada obedo mic madit atika. (2 Jo Korint 9:14, 15) Mic man madit ma pe tite-ni twero konyo kadi wa jo ma oto. Dul me 6 ki 7 bitito kit ma man twere kwede.
GIN MA BAIBUL PWONYO
Ginkok obedo yo ma Jehovah tiyo kwede me gonyo dano ki i bal ki to.—Jo Epeco 1:7.
Jehovah omiyo ginkok ki cwalo Wode acel keken ma en aye ocweyo en kikome i lobo me to piwa.—1 Jon 4:9, 10.
Pi ginkok, weko kiweko balwa, wabedo ki leng cwiny, wabedo ki gen me kwo ma pe tum.—1 Jon 1:8, 9.
Wanyuto ni watye ki pwoc i kom ginkok ki bedo ka pwonyo lok mapol i kom Jehovah, ki bedo ki niye i kom tyer me ginkok pa Yecu, ki dong bedo ka kwero Cam me Otyeno pa Rwot.—Jon 3:16.
---
*  Pi ngec mukene ma dok i kom tyen lok ma mako Cam me Otyeno pa Rwot, nen Lamed ngec.
---
Peny me Kwan
1, 2. (a) Mic moni doko gin ma pire tek boti ka timo ngo? (b) Pingo kitwero waco ni ginkok aye mic ma pire tek loyo ma in itwero nongone i kwoni?
3. Ginkok obedo gin ango, dok gin ango ma wan omyero waniang ka wek wabed ki pwoc pi ber pa mic man?
4. Gin ango ma kwo ma pe ki roc okelo bot Adam?
5. Tyen lokke ngo, ma Baibul owaco ni kiyubo Adam 'i cal pa Lubanga'?
6. I kare ma Adam okwero winyo dog Lubanga, gin ango ma en orwenyo, dok ogudo kom lutinone nining?
7, 8. Kop i kom ginkok tutwalle mako jami aryo ango?
9. Kit ginkok ango ma onongo mitte?
10. Jehovah omiyo ginkok nining?
11. Twere nining pi dano acel keken me bedo macalo ginkok pi jo milion mapol?
12. Gin ango ma deno peko pa Yecu-ni onyuto?
13. Kiculo ginkok-ki nining?
14, 15. Myero watim gin ango wek 'kiwek balwa'?
16. Gin ango ma miyo waworo Lubanga labongo poto cwiny, dok berre tye ka kwene?
17. Kit jami ango mabeco ma twere pien ni Yecu oto pi wan?
18. Pingo omyero wabed ki pwoc bot Jehovah pi micce me ginkok?
19, 20. Yo ango ma in itwero nyuto ni ipwoyo mic me ginkok pa Lubanga?
21, 22. (a) Pingo omyero wakwer nipo me Cam me Otyeno pa Rwot mwaka ki mwaka? (b) Gin ango ma kibitito i Dul me 6 ki 7?