DUL ME APAR WIYE ABICEL
Cung Matek pi Woro me Ada
Cung Matek pi Woro me Ada
Gin ango ma Baibul pwonyo i kom tic ki cal apaya?
Lukricitayo gineno nino madongo me dini nining?
In iromo tito niyeni bot jo mukene labongo wango igi nining?
KET kong ni ka ma ibedo iye ducu dong otyeko bale woko. Ket ni i wi mung, dano mo obedo ka bolo awola mo marac kunnu, ma kwo pa jo ma kunnu kombeddi dong pe gene. In ibitimo gin ango? Labongo akalakala mo, itugi kobo woko mabor ki kunnu ka itwero. Ento inge timo meno, pud dok ibidong ki lapeny ni, 'Awola-ni mono pe dong tye i koma bene?'
2 Lok man cal ki jami ma tye ka timme i dini goba. Baibul pwonyo ni kodi woro ma kit meno otyeko bale woko ki pwony ki tic ma cilo. (2 Jo Korint 6:17) Meno aye omiyo pire tek ni in omyero ia woko ki i "Babilon Madit," ma obedo dul dini me goba ducu. (Niyabo 18:2, 4) In dong ityeko timo man? Ka dong itimo ci omyero kimini iye pwoc madit. Pe a-ni woko ki iye keken aye obedo gin ma mite. Ingeye, omyero ipenye kekeni ni, 'Pe tye kit gin mo me dini goba ma pud adong kwede?' Nen kong lapor mogo.
WORO CAL APAYA KI ABILA PA KWARO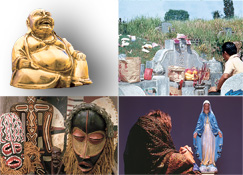 3 Jo mukene gubedo ki cal apaya nyo ka woro abila pa kwaro i pacogi pi kare malac. Nyo in bene itye ki jami magi i paconi ba? Ka tye kit meno, ci oromo bedo ni inongo ni pat mada nyo ni pe tye kakare me woro Lubanga labongo kodi jami magi. Twero bedo ni timo jamine mogo bene dong omoko woko i cwinyi. Ento Lubanga aye obedo ngat ma omyero owaciwa kit ma omyero wawore kwede, dok Baibul pwonyo ni en pe mito ni wan wati ki cal apaya. (Nia 20:4, 5; Jabuli 115:4-8; Icaya 42:8; 1 Jon 5:21) Pi meno iromo cung matek pi woro me ada ki wango jami mo keken ma itye kwede ma mako woro me goba. Cak neno jami magi kit ma Jehovah nenogi kwede—calo "gin me kwer."— Nwoyo Cik 27:15.
4 Woro abila bene tye mapol i pol pa dini goba. I kare ma jo mukene peya gukwano Baibul, onongo gitye ki niye ni jo ma guto gitye ma gingeyo komgi i kabedo mogo me cwiny dok ni gin twero konyo nyo wano jo makwo. Nyo gwok in bene con ibedo ka yelle matek me temo kweyo cwiny kwarini ma dong guto woko. Ento kit ma ikwano kwede i Dul me 6 me buk man, jo ma guto pe gitye ma gingeyo komgi ka mo keken. Dong temo lok kwedgi konnye pe. Kit kwena mo keken ma kitamo ni a ki bot dano mo me amara ma dong oto woko i adane nongo a ki bot jogi. Pi meno, Jehovah okwero ki Luicarael pe me temo lok ki jo ma guto nyo me donyo i kit tic mo keken me kwiya piny.—Nwoyo Cik 18:10-12.
5 Ka tic ki cal apaya nyo woro abila pa kwaro obedo kit yo me woroni macon, ngo ma in dong itwero timone? Kwan dok ilwod tyeng me Baibul ma nyutti kit ma Lubanga neno kwede jami magi. Leg bot Jehovah nino ducu wek i cung matek i woro me ada, dok ipenye wek okonyi me tam calo en.—Icaya 55:9.
LUKRICITAYO ME KARE MACON PE GUKWERO KARAMA
6 Dini me goba kacel ki woro nino madongo gitwero balo woro pa ngat moni. Ket kong Karama macalo laporre. Kiwaco ni Karama obedo nino me kwero nino me nywalo Yecu Kricito, dok dini ducu ma gilwonge ni gin Lukricitayo gikwero. Ento kono, pe tye lanyut mo ni lupwonye pa Yecu me cencwari me acel gukwero nino ma kit meno. Buk ma kilwongo ni Sacred Origin of Profound Things waco ni: "Pe onongo tye ngati mo ma ngeyo nino ma kinywalo iye Kricito pi cencwari aryo kulu inge nywale, dok jo manok keken aye onongo giparo pi nino ma kinywale iye kikome."
7 Kadi ka onongo lulub kor Yecu gunge nino ma kinywalo iye Yecu kikome, onongo kono pe gukwero. Pingo? Pien kit ma The World Book Encyclopedia waco kwede, Lukricitayo macon "onongo gineno kwero nino me nywal calo kwer pa lukamfiri." Kwero nino me nywal ma kicoyo pigi i Baibul obedo pa luloc aryo ma onongo pe giworo Jehovah. (Acakki 40:20; Marako 6:21) Onongo bene kikwero nino nywale pa jogi-gu me miyo itgi kwogo. Me laporre, i nino dwe 24 me Dwe me Abic, jo me Roma onongo gikwero nino ma kinywalo iye jok mo ma dako ma nyinge Daina. I nino ma lubo meno, onongo gikwero nino ma kinywalo iye lubanga me ceng, Apollo. Pi meno, nino me nywale onongo kitero calo nino pa lukamfiri, pe pa Lukricitayo.
8 Tyen lok mukene bene tye ma oweko Lukricitayo macon onongo pe gitwero kwero nino ma kinywalo iye Yecu. Lupwonyene nen calo onongo gingeyo ni kwero nino me nywale okubbe ki tim me kwiya piny. Me laporre, Lugrik ki Luroma mapol me kare macon onongo gitamo ni gin mo ma obedo cwiny bedo tye i ka nywale pa dano acel acel ka medde ki gwoko ngat meno i kare me kwone ducu. Buk ma kilwongo ni The Lore of Birthdays waco ni, "En cwiny meno gibuto calo laco gin ki dako ki lubanga moni ma kinywalo dano-nu i nino me nywalene-ni i yo mo ma pe niange." Labongo akalakala mo, Jehovah pe twero bedo ki yomcwiny pi kwero nino mo ma kubu Yecu ki tim me kwiya piny. (Icaya 65:11, 12) Dong jo mapol gucako kwero nino me Karama nining?
KIT MA KARAMA OCAKKE KWEDE
9 Kong mwaki mia mapol okato i nge bedo pa Yecu i lobo ka dano gucako kwero nino me nywalene i nino dwe 25 me Dwe me Apar wiye Aryo. Ento meno onongo pe obedo nino ma kinywalo iye Yecu, pien nen calo kinywale i Dwe me Apar aye.* Dong pingo kiyero nino dwe 25 me Dwe me Apar wiye Aryo? Jo mogo ma lacen gubedo ka lwonge ni gin Lukricitayo nen calo "gubedo ki miti ni nino meno omyero orwatte ki kwero nino pa lukamfiri me Roma, 'nino nywale pa lalo lweny ma obedo ceng-ngi.'" (The new Encyclopædia Britannica) I kare ma nongo piny ngic ma omakke pee, ma nongo ceng nen goro loyo, lukamfiri onongo gikwero kwer ni wek ceng ma miyo lyeto ki dero odwog woko ki i wotte me twon bor piny. Nino dwe 25 me Dwe me Apar wiye Aryo aye onongo kitamo ni obedo nino ma ceng cako kwede dwogone. I tutegi me loko lukamfiri, lutela dini gucako tic ki nino man kun giwiro ni wek onen calo nino pa "Lukricitayo."#
10 Dong kityeko ngeyo ni lwit kwer me Karama oa ki tim pa lukamfiri wacon. Kit ma lwite pe ocakke ki i ginacoya-ni, omiyo kijuko kwero Karama i lobo Ulaya kacel ki kabedo mogo ma gin onongo giloyo i Amerika i cencwari me 17. Ka ngat mo obedo i gang ma pe obino i tic i nino me Karama onongo kiweko culo pi keng tic. Pe ocwalo kare mapol, kwer macon-ni dok kidwoko cen, kun kimedo jami mukene i kome. Kwero Karama dok odoko nino madit aye, ma man aye dong kit ma tye kwede i kabedo mapol. Kit ma kubbe tye i kin nino me Karama ki dini me goba-ni, jo ma gimito yomo cwiny Lubanga pe gikwero, kadi ki nino madongo mukene ma lwitgi oa ki woro pa lukamfiri.%
KA MA NINO MADONGO OCAKKE IYE MONO PIRE TEK?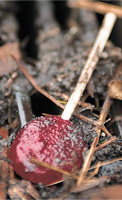 11 Jo mukene ye ni nino madongo calo Karama-gi gucake ki i tic pa lukamfiri ento gin pud ginongo ni kwerone pe rac. Ki lok ada, pol pa dano pe gitamo pi woro me goba ka gitye ka kwero nino madongo magi. Kare magi bene miyo kare ki jo me odi me rwatte kacel. Man mono aye kit ma in iwinyo kwede? Ka kit meno, ci nongo mar pi jo me odi, ento pe ni mar pi dini goba aye weko cung pi woro me ada nen calo tekki. Pe ibed ki akalakala mo, Jehovah ma en aye ocako te kwo me ot mito ni in ibed ki wat maber ki wadini. (Jo Epeco 3:14, 15) Ento iromo jingo kit wat ma kit meno i yo ma Lubanga cwako. Lakwena Paulo ocoyo i kom gin ma omyero waket iye cwinywa ma loyo, ni: "Wutem pwonyo gin ma yomo cwiny Rwot."—Jo Epeco 5:10.
12 Gwok nyo itamo ni ka ma lwit nino madongo ocakke iye pe tye ki kit kubbe mo ki kit ma kikwerogi kwede i kare-ni. Ka ma lwit nino magi ocakke iye mono pire tek? Pire tek! Me laporre: Ket-ti inongo cwit mo opoto i teng gudu ka ma col. Tika ada ikwanyo cwit-ti icamo? Ngene kene ni pe ikwanyo! Cwit meno nongo dong ocide woko. Kit meno bene, nino madongo oromo nen calo gin ma mit calo cwit, ento pe kikwanyogi ki ka maleng. Me cung pi woro me ada, omyero watam calo lanebi Icaya, ma owaco ki luworo me ada ni: "Pe wugud gin mo ma kome ki keni."—Icaya 52:11.
TI KI RYEKO I KIT MA OMYERO ITER KWEDE JO MUKENE
13 Atematema oromo bino ka imoko tammi pe me kwero nino madongo. Me lapore, lutic luwoti guromo bedo ki ur ni pingo in pe idonyo i tic mogo me kwero nino madongo i ka ticci. To ka kimini mic me Karama kono? Pe ber me gamone? Ka lawoti ma i ot pe tye i niye acel kwedi kono? Ngo ma itwero timone wek lutinoni pe guwiny ni gitye ka keng kwero nino madongo?
14 Ryeko mitte me ngeyo kit me tero lok acel acel ma bino. Ka kimoti ki mot me nino madongo i kit ma jwi, iromo mere pwoyo lamot mot-ti ki mwolo ci otum. Ento keti obedo ngat mo ma wurwatte nyo wutiyo kwede jwi. Ka kumeno, ci iromo lok ma kato kenyo. I kit mo keken, ti ki ryeko. Baibul miyo tam ni: "Lok ma wuloko myero obed lok mamit ma kado oromo maber, wek omi wunge kit ma myero wudok kwede i peny pa ngat acel acel." (Jo Kolocai 4:6) Gwokke, pe ica ngati. Ento tit ka cungoni ki ryeko. Tit ka maleng ni in pe idag mic nyo ribbe kacel kwedgi, ento ni imaro ka kitimo i kare mukene.
15 Ketti ka ngati mo mito mini mic kono? Polle dong cung i kom tyen lok ma omiyo en mito mini iye mic-ci. Lami micci oromo waco ni: "An angeyo gire ni in pe ikwero nino-ni. Ento amito ni igam gini eni." Iromo ye gamone ki tam ni meno pe tyen lokke ni nongo dong ikwero ninone. Tye kono ni ka lami mic-ci pe ngeyo niyeni, ci iromo wacce ni in pe ikwero nino meno. Meno konyo me niango gin ma omiyo in igamo mic ento pe imiyo gin mo i nino ma kit meno. Ki tungcel kono, pe bedo ber me gamo mic mo ma kimiyo ki tyen lok me balo cungo i niyeni nyo ni iye pi tyen lok me nongo jami me kom mamwa.
ENTO JO ME OT ACEL KONO?
16 Ka pe wutye i niye acel ki jo ma i otwu kono? Ti ki ryeko doki. Laro lok i kom kwer ki Karama ducu ma cwiny wadini oyero me kwerone pe konyi. Me kaka timo meno, wor twero ma gitye kwede i kom tamgi, ma rom aroma ki kit ma imito ni gin guwor kwede twero ni. (Matayo 7:12) Kwer kit gin mo keken ma weko ibedo i kin lukwer nino macalo meno. Ento ti ki ryeko i lok ma dok i kom jami ma pe kubbe ki kwer kikome-ni. Omyero itim jami i yo ma weko cwinyi pe ngoli kop.—1 Temceo 1:18, 19.
17 Ngo ma itwero timone wek lutinoni pe guwiny ni gitye ka keng gin mo pien ni pe gikwero nino ma pe rwatte ki ginacoya? Polle cung i kom gin ma imaro timone i kare mukene ata-ni i mwaka. Lunywal mukene giyubu kare mogo me miyo mic ki lutinogi. Mic acel madit ma itwero miyone ki lutinoni aye obedo kareni ki keto tammi i komgi.
LUB WORO ME ADA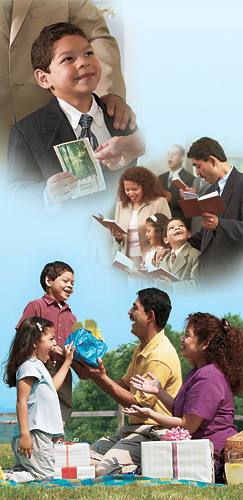 18 Me yomo cwiny Lubanga, omyero wakwer woro me goba kun wacung pi woro me ada. Man kwako jami ango? Baibul waco ni: "Dok bene myero watamu kit macalo watwero tugo kwede cwinywa kekenwa i mar ki i tiyo tic mabeco, kun pe waweko cokke kacel, kit macalo jo mogo dong guloko odoko kitgi-ni, ento myero wacuku cwinywa kekenwa, makatone kit macalo wuneno Nino maca dong tye ka nyiko cok-ki." (Jo Ibru 10:24, 25) Cokke pa Lukricitayo obedo kare me yomcwiny boti me woro Lubanga i yo ma en mito. (Jabuli 22:22; 122:1) I kacokke ma kit man aye Lukricitayo 'gibikonnye lawangacel' ma ngat man cuko cwiny lawote.—Jo Roma 1:12.
19 Yo mukene ma itwero cung kwede pi woro me ada aye me lok ki dano i kom jami ma ityeko pwonyone ki i kwano Baibul ki Lucaden pa Jehovah. Adada, jo mapol gitye ki "cwercwiny me can kun gicur" pi tim maraco ma tye ka timme i lobo i kare-ni. (Ejekiel 9:4) Kare mukene nyo ingeyo jo ma gitye ka winyo marac kit meno. Pingo pe ilok kwedgi i kom genni me anyim ma cung i Baibul? Ma nongo iwoto ki ribbe ki Lukricitayo kun iloko ki dano lok me ada me Baibul ma dong ipwonyo, ibinongo ni kit miti mo pi kwer me dini goba ma nongo oromo dong i cwinyi cako rweny mot mot. Bed labongo akalakala mo ni ibibedo ki yomcwiny dok ibinongo mot madwong ka icung pi woro me ada.—Malaki 3:10.
GIN MA BAIBUL PWONYO
Kadi cal apaya nyo woro abila pa kwaro omyero pe kiti kwede i woro me ada.—Nia 20:4, 5; Nwoyo Cik 18:10-12.
Pe tye atir me kwero kwer mogo ma gua ki i tim pa lukamfiri.—Jo Epeco 5:10.
Lukricitayo omyero guti ki ryeko ka gitye ka tito niyegi bot jo mukene.—Jo Kolocai 4:6.
---
*  Nen Lamed ngec.
#  Kwer me Saturnalia bene obedo i kin jami ma oweko kiyero nino dwe 25 me Dwe me Apar wiye Aryo. Kwer meno onongo miyo deyo bot lubanga me pur pa Jo Roma ma onongo timme i nino dwe 17-24 me Dwe me Apar wiye aryo. Cam madongo, yomcwiny, ki miyo mic onongo timme i kare me Saturnalia.
%  Pi lok i kom kit ma Lukricitayo neno kwede nino madongo, nen Lamed ngec.
---
Peny me Kwan
1, 2. Lapeny ango ma omyero ipenye kwede inge weko dini goba, ki pingo itamo ni man pire tek?
3. (a) Ngo ma Baibul waco i kom tic ki cal apaya, dok pingo ye tam pa Lubanga kare mukene bedo tek bot jo mukene? (b) Ngo ma omyero itim ki gin mo keken ma i tye kwede ma kubbe ki woro me goba?
4. (a) I yo ango ma wangeyo kwede ni woro abila pa kwaro konye pe? (b)  Pingo Jehovah okwero ki jone pe me donyo i kit woro mo keken me kwiya piny?
5. Ngo ma itwero timone ka tic ki cal apaya nyo woro abila pa kwaro onongo obedo kit me woroni macon?
6, 7. (a) Kiwaco ni nino me Karama obedo nino me kwero ngo, dok lulub kor Yecu me kare macon tika gukwero? (b) Nino me nywale onongo kitero nining i kare pa lupwonye pa Yecu macon?
8. Tit kit ma kwero nino me karama kubbe kwede ki tim me kwiya piny.
9. Kicako yero nino dwe 25 me Dwe me Apar wiye aryo calo nino ma kinywalo iye Yecu nining?
10. Pingo jo mukene pe gukwero Karama i kare ma okato angec?
11. Pingo jo mukene gikwero nino madongo, ento ngo ma omyero waket iye cwinywa loyo?
12. Mi lapor ma weko omyero wakwer tekwaro ki kwero nino ma gucakke ki ka ma cilo.
13. Atematema ango ma twero bino ka pe ikwero nino madongo?
14, 15. Ngo ma itwero timone ka kimoti ki mot me nino ma dit moni, nyo ka ngati mo mito mini mic mo?
16. Iromo tic ki ryeko nining me tyeko lok ma dok i kom kwero nino?
17. Yo ango ma itwero konyo ki lutinoni pe me winyo ni gitye ka keng gin mo pien pe gikwero nino madongo?
18. Bedo tye i cokke pa Lukricitayo twero konyi me cung pi woro me ada nining?
19. Pingo pire tek ki in me lok ki jo mukene i kom jami ma ityeko pwonyone ki i Baibul?